Most of the patent 'assertion' (shakedown) activity never becomes visible to the press/public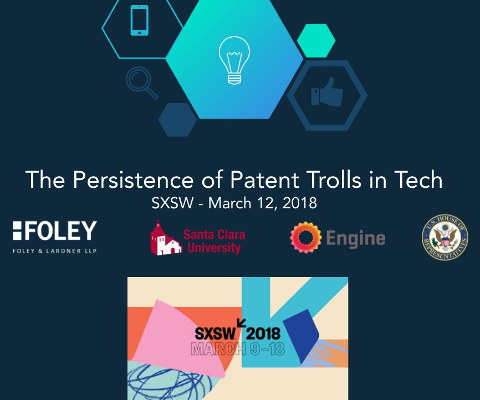 Summary: South by Southwest (SXSW Conference/Festivals in Austin, Texas) has a presentation about patent trolls, whose general message may be reaffirmed by recent legal actions in Texas and outside Texas
THE reforms leading to stricter examination at the USPTO (it's a lot harder to get software patents these days, let alone enforce them) has paid off for large companies. They very often beat trolls in court. That in its own right is a deterrent. But what happens when these trolls manage to avoid the courts and even PTAB altogether?
There's this new presentation this week (yesterday) that notes the following. Slide 16 says:
A shift in troll activity?



From high-profile cases against large entities with large damage demands…

… to large numbers of low-profile letters and lawsuits against small/medium size companies more likely to settle for nuisance value.

Still within the top three issues for startups.
Why did this new presentation (from a law firm together with Engine presenting some data) titled
"The Persistence of Patent Trolls in Tech"
get
twisted (by patent maximalists) as
"Is There Still a Patent Troll Problem"? They continue to attempt to deny that there is a problem because they
themselves
are connected to patent trolls.
Earlier today we found
this new report
about fraudulent lawsuits:
A New Jersey sports memorabilia dealer on Friday asked a federal judge for attorneys' fees as sanctions following the Federal Circuit's ruling that a payment processor's suit seeking a declaration it didn't infringe the dealer's purported interactive software patents was frivolous.

In a motion, Eric Inselberg and his company, Inselberg Interactive LLC, said payments processor First Data Corp.'s unsuccessful action was filed in bad faith because Inselberg didn't even own the patents at issue...
It is
far
from the first time we see this being done; we covered more such examples as recently as a couple of months back. Should it not be considered a crime (such as blackmail) to assert rights that you know you don't have?
There are other new stories this week, as well as old ones such as Watchtroll covering
one week late
how
InterDigital bought Technicolor's patents on the cheap
.
The Texas-based Portal Communications sued Apple in the Eastern District of Texas.
Looks like a patent troll to us
, having covered it over the weekend, based on an Apple advocacy site. Here's
WIPR
's coverage, which frames this as a 'monetisation' effort (a technical person passing the patents to a litigation front):
The three patents, US numbers 7,376,645; 7,873,654; and 8,150,872, are all called "Multimodal natural language query system and architecture for processing voice and proximity-based queries".

According to the claim, the patents were developed by inventor Dave Bernard and were assigned to Portal Communications.
Why isn't Bernard himself suing? It seems to have become so common to just sue through shells, some of which don't even have an office, just some registration somewhere (typically LLC). There's another lawsuit against Apple in the headlines, such as
ParkerVision, Inc. v Apple Inc. et al
in
Docket Navigator
. Yesterday it wrote about litigation-friendly places/venues (such as the Eastern District of Texas above) being dodged by defendants. After
TC Heartland
businesses will likely decide to abandon presence in venues that sought to attract patent trolls. As the Docket Report put it:
The court overruled defendant's objection to the magistrate judge's recommendation to deny its motion to transfer for improper venue because defendant had a regular and established place of business in the district through its office that closed a few weeks before plaintiff filed suit.
It's worth noting that the above case isn't in Texas, which
already lost more than half of its 'share' in lawsuits
(right after
TC Heartland
). States that harbour trolls will soon discover that they also repel actual companies which employ locals; more so after
TC Heartland
. Better fix/amend their state policies?
⬆