Allergan has a dodgy past (and past practices) going quite some time back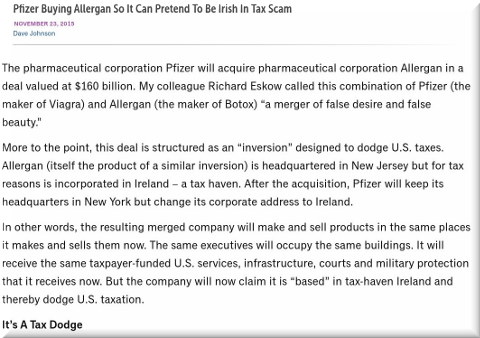 Reference (2015): Pfizer Buying Allergan So It Can Pretend To Be Irish In Tax Scam
Summary: The patent "scam" of Allergan, which is attempting to hide its patents within an American tribe's belly so as to misuse its tribal/sovereign immunity, is still being promoted enthusiastically by anti-PTAB sites, which also resort to attacking politicians who formally prevent such attempted misuse of immunity
THE USPTO's reassessment of granted patents, owing to PTAB, is improving patent quality and significantly reducing the number of patent lawsuits.
Earlier today Watchtroll (never mind if it's Sunday) resumed its PTAB bashing. Robert Schaffer, Joseph Robinson and Gene Quinn
gave more tips
to that effect and so did
Patent Docs
, another PTAB-hostile site which earlier today
advertised a conference
"Exploring Oil States vs. Greene's Energy Group and the constitutionality of IPR proceedings" (
Oil States
decision will come soon). It certainly looks like Watchtroll is trying to manufacture controversy around PTAB. With Michael Shore as a guest writer there, it's pretty clear what agenda the site has in mind. The same goes for
Patent Docs
, whose most prolific writer, Kevin E. Noonan, mostly writes pieces against PTAB while piggbacking the patent "scam" of an American tribe. Some days ago Watchtroll bashed expanded PTAB panels (we responded to this at the time) and those same panels are obviously disliked by people who dislike PTAB in general (no matter what substance the arguments may have) because they are patent maximalisms who do not tolerate patent quality. Noonan
had a go at it
(expanded PTAB panels) some days ago while
Watchtroll tries to cook up another fake scandal
.
At around the same time Noonan also
did some 'lip service'
to Michael Shore and his client, who are basically gaming the system in order to exploit tribal immunity (to overcome PTAB). To quote:
The Federal Circuit has granted the St. Regis Mohawk Tribe's motion for stay in inter partes review proceedings before the Patent Trial and Appeal Board, in St. Regis Mohawk Tribe v. Mylan Pharmaceuticals Inc. In the Order, the Court notes that the
Not too shockingly, Watchtroll, where Michael Shore is a guest writer,
wrote about this too
(and almost at the same time). To quote:
The dispute between the Saint Regis Mohawk Tribe and Mylan Pharmaceuticals arose when Allergan transferred the RESTASIS patents to the Tribe so a claim of sovereign immunity could be raised, which would divest the Patent Trial and Appeal Board (PTAB) of jurisdiction. The Tribe filed a motion to dismiss the various inter partes review (IPR) proceedings instituted against the RESTASIS patents by the PTAB at the request of Mylan. In a controversial and questionable decision the PTAB panel assigned to the case refused to recognize the Mohawk claim of sovereign immunity. It has since been learned through Freedom of Information Act (FOIA) requests that the three Administrative Patent Judges (APJs) assigned to the case engaged in off-the-record deliberations with supervising APJs, which on its face seems to clearly violate the Administrative Procedures Act (APA).
Well, Federal judges, politicians, PTAB itself and many others around the Web have already condemned what the St. Regis Mohawk Tribe and Allergan lawyers are hoping to accomplish. It has been called a "scam" many times, a judge called it a "sham", and several US politicians already work on formally banning the practice.
We're not sure if there's a loop of communication there, basically a sort of group that attempts to bolster the patent "scam" in the media. What we know for sure is that Watchtroll remains supportive of a patent "scam" which it perceives to be helpful to its anti-PTAB (anti-patent quality) agenda. Watchtroll already
attacks some of the main politicians
who tackle the issue, notably Senator Claire McCaskill, whom we wrote about several times before. To quote:
On March 7, 2018, Senator Tom Cotton (R-AR) and Senator Claire McCaskill (D-MO), along with Senators Pat Toomey (R-PA), Joni Ernst (R-IA), David Perdue (R-GA), introduced the Preserving Access to Cost Effective Drugs Act. The bill, which is also known as the PACED Act, is allegedly for the purpose of restoring "the power of the Patent and Trade Office and federal courts, and the International Trade Commission to review patents regardless of sovereign immunity claims made as part of sham transactions."

While the definition of "sham transactions" might be in the eye of the beholder, this bill is clearly, and objectively, aimed at stopping the type of transaction Allergan entered into with the Saint Regis Mohawk Tribe on the RESTASIS patents.
A couple of days later came
another rant from Watchtroll
, shaming technology firms as usual. "Myopia and hubris explain why tech elite lobby for a weakened patent system," said the headline. They dare calling "weak"
strong
patents, or a system that encourages strong/legitimate patents.
Then came Watchtroll with more bashing of politicians, having already bashed judges many times over the years.
"The House IP Subcommittee: A Bunch of Fiddling Neros Watching the U.S. Patent System Burn"
was the headline and it repeats debunked accusations of "panel stacking", which is just Watchtroll's attempt to manufacture scandals that do not (or barely) exist. To quote:
Informed observers of the patent system who watched the hearing would recognize that there was absolutely no attention paid by the House Judiciary leadership of the actual harms brought to bear by the PTAB on the U.S. patent system. The obvious anti-patent views of witnesses testifying before Congress was just further proof that panel stacking is not just an issue at the PTAB.
All in all, Watchtroll and
Patent Docs
remain determined to attack PTAB by any means possible, even by boosting a patent "scam", attacking politicians, smearing judges, and so on. Such is the nature of patent extremists.
⬆