High US Court Rules Against Patents on GUIs
Dr. Roy Schestowitz

2018-05-29 10:24:09 UTC
Modified: 2018-05-29 10:24:09 UTC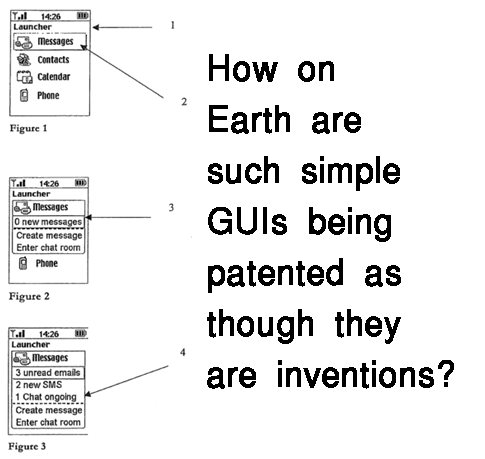 Summary: The Court of Appeals for the Federal Circuit (CAFC) has decided that patents on handheld devices for displaying GUIs aren't valid, in effect affirming the decision of the Patent Trial and Appeal Board (PTAB)
TECHRIGHTS wrote several articles about patents on GUIs some months back. These are arguably software patents, mostly the callback functions. The EPO earned infamy after it had granted a patent on the progress bar, so this debate isn't entirely new. In fact, it was recently revisited -- at least indirectly -- because of Apple v Samsung; patents on designs are inadequate. It's the wrong law. Use of trademark law, for example, can cover appearances. Making the USPTO look farcical was this decision captured as an image. Are patents on mere looks worth a hundred times more than function/utility? Apple makes itself looks like an enemy of patent reason and Apple has in fact just been sued again, this time too by Voip-Pal (this press release is an hour old).
Generally speaking, GUIs don't merit patents and more often than not they're a bloody joke because there's plenty of prior art in the analogue world.
CAFC
'gets' it. It seems like right now, as opposed to months ago, CAFC decides that "Shapes and Shading of Graphical User Interface Not Enough to Uphold Validity," based on
this new analysis
of
Valmont Industries, Inc. v Lindsay Corp.
To quote:
The Board found that all of the challenged claims, except claim 11, would have been obvious to a person of ordinary skill in the art, but that claim 11 would not have been obvious.

In particular, the Board found that claims 1–3, 6–10, 12–14, 17, and 18 would have been obvious in view of two prior art references including a primary reference that described remotely monitoring and controlling an irrigation system using a computer to display GUIs, and a secondary reference brought in for describing remotely monitoring and controlling various types of field devices for industrial processes using a handheld device displaying GUIs.

On appeal, Valmont argued that there was insufficient evidence of a motivation to combine the references because the handheld devices in the secondary reference lacked sufficient display capabilities and computing capacity to operate the system described in the primary reference. The '357 patent has a 2001 priority date, and expert testimony was provided to demonstrate that at the time of the invention, a person of ordinary skill would be able to employ the system of the primary reference on a mobile device disclosed in the secondary reference. In particular, mobile phones at the time, could display GUIs and receive user commands through manipulation of GUIs.
The patent microcosm barely spoke about this; they probably hope that nobody will notice and instead people will remember that months-old decision on mobile phone GUI.
⬆