WeMove.EU Tackles Low Patent Quality at the European Patent Office (EPO)
Dr. Roy Schestowitz

2018-08-08 19:54:07 UTC
Modified: 2018-08-08 19:54:07 UTC
Far too broad a scope for patenting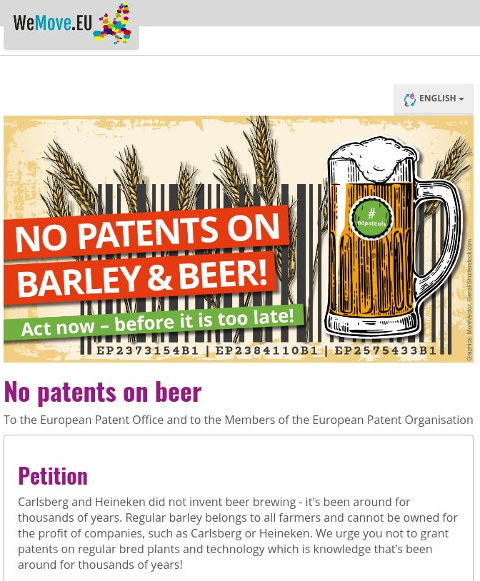 Now at 175,179 out of 200,000 signatures
Summary: The breadth of European Patents, which now cover even nature itself, worries public interest groups; Team UPC, however, wants patent scope to expand further and António Campinos has expressed his intention to further increase the number of grants
THE EPO is demonstrably out of control. Patent scope has gone crazy and firms like law giants (lawsuits 'industry') have the most to gain from it. The same goes for large monopolies/oligopolies like Big Alcohol/Breweries. We previously mentioned Carlsberg's patents on barley and the subject has just reemerged because WeMove.EU initiated a petition on the matter:
WeMove.EU group has launched a petition at European Patent Office (EPO) to deny patent grants for regular bred plants and technology used in the process of beer making.

WeMove.EU claimed that the EPO has granted patents to both Heineken and Carlsberg for regularly bred barley, which it argues is "knowledge that's been around for thousands of years".

It added: "With the patent these transnational corporations own the barley from the seed to the pint of beer. Not only is it outrageous these greedy corporations want to own a tradition that has been around for thousands of years, but in granting the patent, the EPO is in breach of EU law. Not only, for every patent they approve, they get paid."

The group claim that it will "claim barley back and take this chance to urge Member States to stop the EPO from breaching EU law".

WeMove.EU say that brewing companies would profit three times over from patenting regur;ar barley, selling the seeds to farmers, then buying them back to turn them into beer for consumers, in what the group refer to as control "from the field to the pub".
As longtime readers are aware, we've always focused on the absurdity which is patents on abstract ideas and on life (which predates the patent system).
Nature is not an invention
and messing around with nature isn't an invention either; it's a modification at best.
"Nature is not an invention and messing around with nature isn't an invention either; it's a modification at best."Patent maximalists don't think that's enough though. They always want to broaden patent scope further and further; they profit from it. David Hansom from Clyde & Co has just published this Mondaq self-promotional piece that mentions the Unified Patent Court (no news in that domain at all!) and Out-Law did the same thing today. "Unified Patent Court: UK to be a member during Brexit transition," says a site owned by a Team UPC firm. It sounds positive (promoting the two famous lies), but that does not address constitutional issues with UPC and issues associated with Brexit in general (Britain cannot remain in UPC unless it remains in the EU). So basically, this whole Unitary Patent spin continues unabated. Pure propaganda. To quote:


The deal, between UK and EU27 Brexit negotiators, was agreed in March, but its relevance to the UPC was subtly referenced in a new guidance document for life sciences companies published on Monday.

The new UPC system, years in the planning but yet to become operational, foresees a Europe-wide court system to ensure that businesses have a streamlined process for enforcing patents through a single court where the patents are within the scope of the UPC – including new unitary patents. The UPC is to include central, regional and local divisional courts across Europe.

An international agreement, the UPC Agreement, was adopted in 2013 by 25 of the 28 EU member states. It provides for the creation of the UPC framework.
That was 5 years ago. We wrote about that at the time, but ratification has since then halted and there's a growing number of constitutional challenges, including successful challenges. The goal of the UPC is to phase in patent maximalism, including raids, sanctions and expanded patent scope (including
software patents in Europe
). It attempts to bring to Europe exactly the type of mess the
USPTO
has been trying to get
away
from.
⬆