At least with Battistelli the workers could see how bad he was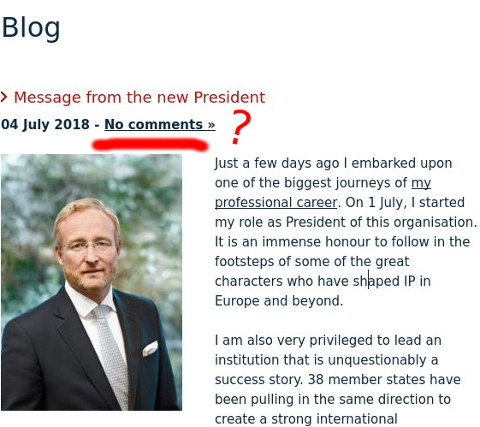 Summary: The EPO is still becoming a laughable, corrupt, rogue institution where nepotism runs like water and patents are granted on nature in collaboration with the French/France-based Community Plant Variety Office (CPVR); As for António Campinos, he's looking more and more like Battistelli each and every week because there's only pretense of transparency or quality and everything is controlled entirely by one person
T
HE European Patent Office (
EPO
) often issues press releases -- or "news" -- late on Fridays, both internally and externally (internal communications to staff and public statements to everybody else). Just before the weekend there was a Battistelli-like piece with photo ops and quotes from
António Campinos
, the new "king" of the EPO. The formula of it was indistinguishable from Battistelli's.
"Textbooks about corruption could easily be modeled based on it."Once again, as several times before (see what we wrote about CPVO in the past), the EPO is pretending to solve problems that they themselves create; if patent monopolies on seeds were not granted in the first place, this spin would not be needed.

Here they go again: (warning: epo.org link)


The EPO and the Community Plant Variety Office (CPVO) today took a further step forward in their support for innovation in the plant sector by renewing their cooperation agreement for a further three years.

Looking ahead, the two Offices are considering how to expand the positive achievements of their co-operation to a broader public. This will include measures for sharing training tools with the public and for providing access to CPVO documentation via the EPO's databases.

"The co-operation between our Offices creates a sound and reliable basis for effectively furthering innovation in the plant sector through greater transparency and a deeper understanding of each other's roles", EPO President Antonio Campinos commented. CPVO President Martin Ekvad welcomed the considerable progress that has been made to strengthen the interinstitutional relationship. He also remarked that "the CPVO is happy to continue the good co-operation with the EPO on the technical and policy level".
It's like Campinos is a marketing person; he says "co-operation, "innovation" and "greater transparency," but today's EPO stands for none of that. It's all about
self gain and graft
by top management. They rob the Office. Speaking of transparency, Campinos has
still
not disclosed his salary. Battistelli
too
made and kept it a secret after his processor had disclosed hers. It's like nothing at all has changed. Battistelli also secured himself a
massive
bonus upon departure. The Office and the Organisation never spoke about that publicly. How's
that
for "transparency"?
As we've
noted in many past writings about CPVO
, there's a
French connection
illustrated below:

In spite of
recent VP changes
, the EPO
remains very French or France-centric
.
Remember that Campinos left his position at the Centre for International Intellectual Property Studies (CEIPI) to Battistelli. CEIPI is French, just like those two President, and there's a lot more to this connection. This merely reinforces the perception that the EPO is a corrupt institution. The fake 'boss' of Battistelli (Ernst) will become an 'assistant' to Battistelli's 'assistant' after Christmas. How is that for oversight or separation of powers? It's more like a dictatorship. Textbooks about corruption could easily be modeled based on it.
⬆