The Open Source Initiative (OSI) Presents a Highly Misleading Picture of Who Runs or Steers It
Dr. Roy Schestowitz

2020-01-02 06:38:05 UTC
Modified: 2020-01-02 06:38:05 UTC
Summary: Openwashing agenda (lack of enforcement of the brand) seems to have already taken over the OSI, whose sole/main purpose/function nowadays is raising money from proprietary technology giants to help them maintain the perception -- for mere slash funds (0.0001% of corporate profits) -- that they're somehow "open"
T
HE
OSI's "Happy New Year!"
post (published hours ago) looks like this: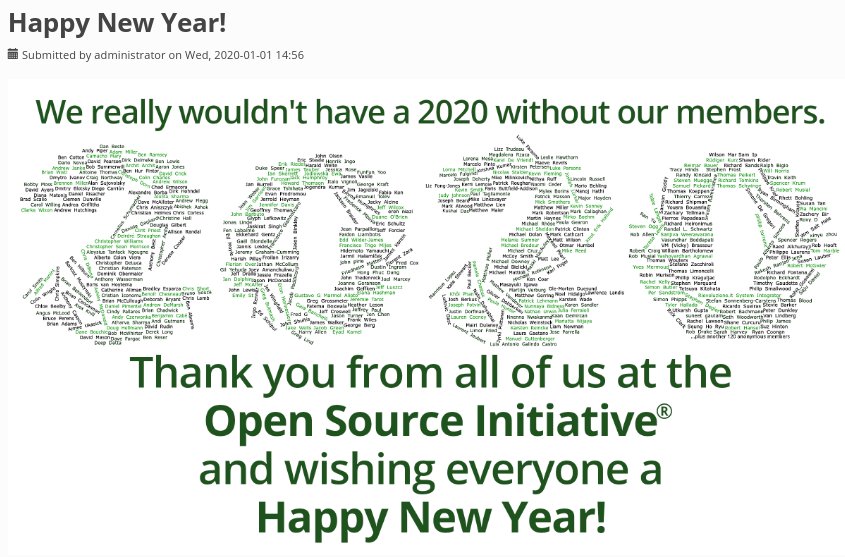 But
OSI lists Microsoft as a sponsor not once but three times (twice as GitHub, hence thrice in total)
. Microsoft was even in the board of the Open Source Initiative (OSI), as we pointed out last year. Their board members pushed Microsoft's agenda in the OSI's blog. The OSI also receives money from the
Linux Foundation
, which is in turn mostly funded by proprietary companies looking for openwashing 'perks'.
"... it seems like many remaining Free/Open Source companies are being devoured by a proprietary cabal. So the same goes for the OSI itself."This relates to what we wrote about the FSF yesterday. How much influence do these pertinent members even have at the OSI? Almost nothing. Maybe election rights, albeit not actual seats.

Who gets the real power at the OSI? Let's examine the list of the "campaign contributors" (so to speak):


Go ahead and count how many of these are actually Free/Open Source companies. The ones I recognise are not among "Premium Sponsors" (all are proprietary, nonprofits, or companies that merely provide support). Maybe Rocket is OK, depending on their business model. Among normal "Sponsors" Mozilla is OK. The rest? Meh. Some actively
harm
the actual Free/Open Source developers. Notice that even Red Hat isn't a sponsor (IBM is). Doesn't that tell us something? Red Hat isn't sponsoring the OSI, but its
proprietary
parent company does.
Being cynical about all this isn't unusual. Sure, past OSI leadership included Red Hat staff. But it seems like many remaining Free/Open Source companies are being devoured by a proprietary cabal. So the same goes for the OSI itself. They merely 'follow trends...'
⬆