Copying press releases isn't journalism and these so-called 'webinars' give away their true agenda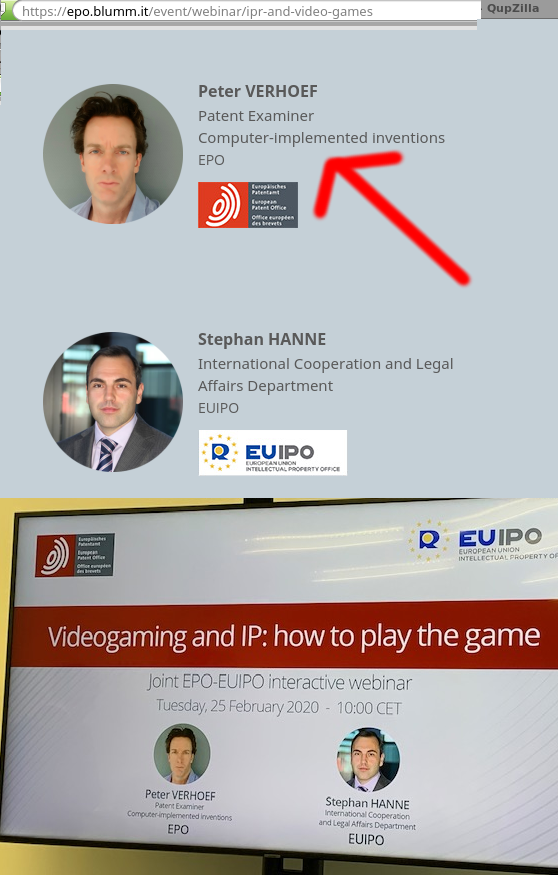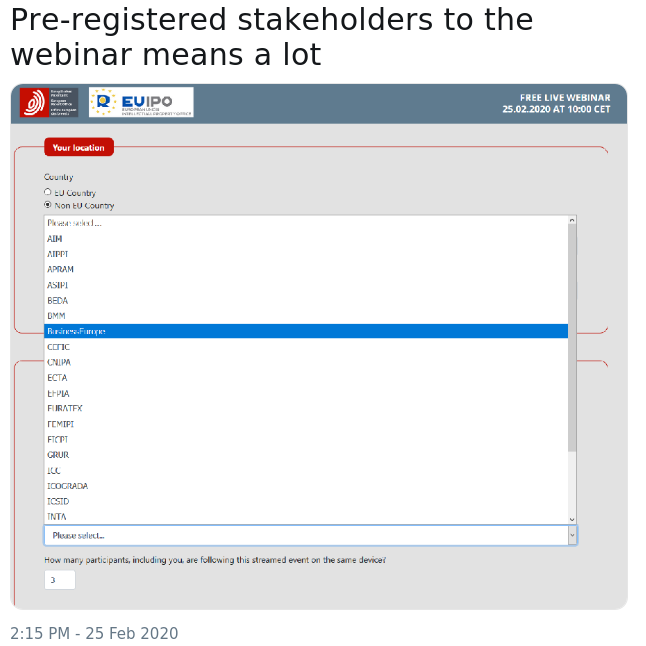 Summary: With the UPC out of the way it's important to ensure that the EPO quits granting and advocating patents on algorithms; this is still going on and it is illegal
WHILE there are definitely software patents in Europe, courts continue to reject these and the European Patent Office (EPO) won't be able to change that. The UPC is dead -- a subject we shall cover separately later today, revisiting the latest blows. The wannabe UPC chief is probably consuming a lot of wine this weekend. His career is over. At least he managed not to be arrested like his protégé who lacked connections at the top.
We've seen lots of software patents ("CII") promotion this past week, together with the EUIPO, where
António Campinos
came from. We took note of it just before it happened (around Tuesday) and basically it's about granting software patents on computer games (it's already hard at the
USPTO
). It's rather clear that today's EPO just doesn't really care about the EPC. It's just harvesting money, which it then
gambles with
.
The other day we spotted an old ally returning to the battle. Good to see him rejoining his old battle against software patents -- for we need more "fire power" (many got exhausted and it's being exploited by law-breaking officials). He
wrote
that "Nokia's choice of software patents asserted against Daimler exposes pretext for refusing to license automotive suppliers" and in the corresponding article he
stated
: "That kind of communication is, of course, implemented in software (it already has been for a very long time)."
Here's more:


PaRR's EU antitrust reporter Khushita Vasant received information from two sources according to which a third round of mediation talks--after the first two, held in January and February, failed--might take place between Nokia and Daimler as well as many (though not all) of its suppliers of telematics control units (TCUs). Knowing how these things work, I guess the situation is now simply one in which the European Commission remains hesitant, for purely political reasons, to take action, and is playing for time, as is Nokia, whose patent portfolio is going down the tubes with every month that passes.

Commissioner Margrethe Vestager is even way tougher than her famous predecessor in office "Steelie Neelie" was when it comes to enforcement against U.S. companies, but (so far, so bad) soft as a jellyfish on Nokia. She and Nokia might just hope that the patent infringement ruling scheduled by the Munich I Regional Court for April 9, 2020 would scare Daimler into a settlement. It's hardly a coincidence that the rumored new round of mediation talks has the same target date...

Regardless of that latest disgraceful development, I was taking a closer look at Nokia's ten patents-in-suit against Daimler from the perspective of whether there is a scintilla of doubt about Nokia acting abusively by refusing to license Daimler's TCU suppliers. There is not.

As Daimler's lead counsel in the German infringement cases accurately noted last fall, cellular standard-essential patents (SEPs) cover techniques that are essentially embodied in the baseband chip. From a car maker's vantage point at the bottom of the supply chain, that's a tier 3 product, which gets incorporated into a (tier 2) network access device (NAD; one might also call this a connectivity module, which in turn resides in a TCU (tier 1). In other words, TCUs already contain a whole lot more hardware than is actually needed to exhaust the patentee's rights by licensing the upstream.

[...]

The software that controls data transfers over a cellular model resides in a baseband chip. That's the mastermind of the whole operation. It determines what is sent out via the antenna, and it interprets what is received.

All ten of Nokia's patents-in-suit against Daimler could also be called "protocol patents": they describe how two ends of a wireless connection communicate--what A has to tell B to cause B to do something, or vice versa. It's like I say "hello, how are you?" and you respond "fine, how are you?"

That kind of communication is, of course, implemented in software (it already has been for a very long time).
"In today's blog post," he
told me
, "I've (again) criticized the EPO for violating the EPC by granting software patents."
We're saddened to see Nokia reduced to this. Once upon a time it supported GNU/Linux, but then it was infiltrated by Microsoft and was destroyed very quickly.
Nokia is in some sense a symptom of a rotten system. The EPO's sheer dysfunction extends beyond the offices and trickles onto
these EPO exams
. As MIP noted the other day: "With the qualification process for UK attorneys being reviewed, lawyers in France, Germany and the UK ask whether the European system also needs an overhaul [...] In-house lawyers say that parts of the "somewhat artificial" European Qualification Examination should be re-worked so that they better reflect everyday practice and make life easier for in-house teams."
With the collapse of the UPC interest in these exams may decline. Interest in European Patents will, in general, decrease.
Semiconductor Today
, following some press releases
in Business Wire
and
elsewhere
(even
sites blocked in the EU
), speaks of just one new European Patent are though it's a very big deal. For a change, however, this is about a European Patent on something physical. Yes,
for a change
. It
says
: "AKHAN Semiconductor Inc of Gurnee, IL, USA – which was founded in 2013 and specializes in the fabrication and application of lab-grown, electronics-grade diamond as functional semiconductors – has been issued a patent by the European Patent Office (EPO) covering its next-generation n-type diamond semiconductor system and diamond-based multi-layer anti-reflective coating systems (key components in military & aerospace sensor and detector applications), amongst other applications."
This is a puff piece, almost identical to the press release that said:
AKHAN Semiconductor, a technology company specializing in the fabrication and application of lab-grown, electronic-grade diamonds, announced today that it has been issued a patent by the European Patent Office (EPO). The patent covers AKHAN's next-generation N-type diamond semiconductor system and diamond-based multilayer antireflective coating systems, key components in military & aerospace sensor and detector applications, amongst other use cases.
Compare the 'article' to the press release; this is the kind of 'journalism' we've come to expect about the EPO and about patents in general...
⬆