Linux Foundation Trolls Its Critics by Forging Metadata in Its Annual Report (Updated)
Dr. Roy Schestowitz

2020-12-04 00:44:57 UTC
Modified: 2020-12-04 07:05:08 UTC
Recently
:
The Linux Foundation is Not Even Using Linux to Prepare and Publish the Linux Kernel History Report
|
New Video From Derek Taylor: The Linux Foundation Doesn't Use Linux to Create Reports
Summary: The annual report of the so-called 'Linux' Foundation was produced using mythical software (or not)
As noted in some sites already, the so-called 'Linux' Foundation "has published a glossy report of its activities for 2020."
It looks like it was made, as usual, using proprietary software on some proprietary O/S (probably macOS), but
the original
with an Apple customer signed at the bottom (yes, Mr. Zemlin) shows this to be a clear case of metadata tampering. Maybe they thought it would be funny.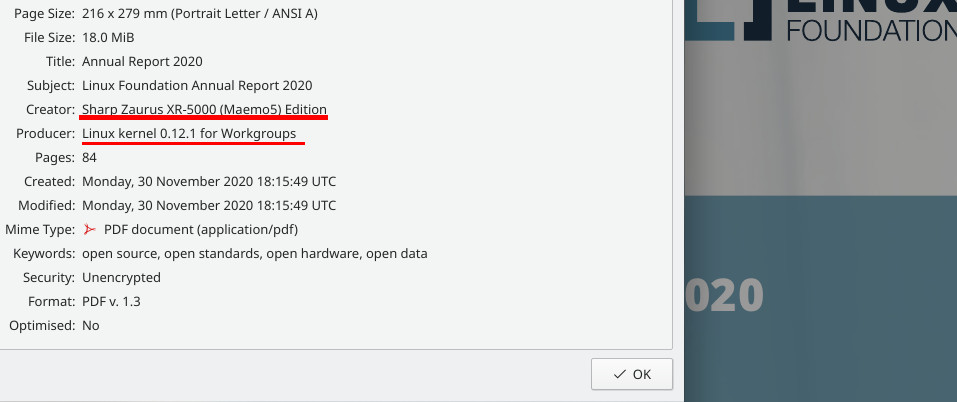 If you are going to fake it, do a better job at it, unless the intention was humour or mindless trolling.
⬆
Update
: Someone else has noticed the
same
The PDF producer meta data for the annual report PDF has been set to "Linux kernel 0.12.1 for Workgroups" and the PDF creator meta data element to "Sharp Zaurus XR-5000 (Maemo5) Edition". Somebody thought to better hide the real data and had some tongue-in-cheek ideas. Kudos.

But nicer would have been to use Open Source software to produce the report, not?