The EPO is Promoting Software Patents This Week, Seeking to Impress the Administrative Council With Illegal Patents
Dr. Roy Schestowitz

2020-12-17 14:35:54 UTC
Modified: 2020-12-17 14:41:56 UTC
EPO management: Staff on strike? Don't pay attention to it! They are angry over nothing... we're doing great!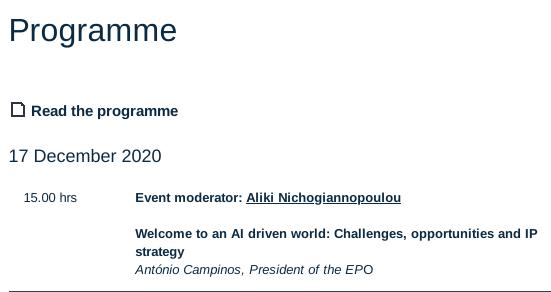 Summary: The António Campinos-(mis)managed EPO is a train wreck; an event stacked/stuffed with people who don't understand software is seeking to justify software patents, which are neither legal nor desirable (to those in the software industry)
BENJAMIN Henrion has just alerted me about this EPO non-event (it's 'virtual') with outline, broadcast, and programme (warning: epo.org link) online. It's actually live at the time of writing (António Campinos speaking). Henrion says that the EPO "said it will be online afterwards" (he's recording it regardless), so a rebuttal can be prepared later on. In the meantime, watch how they repurpose lies and propaganda from the Benoît Battistelli era, notably "AI" and "4IR". They even explicitly mention software patents in Europe when they say: "This conference builds on the EPO's acknowledged lead in the patenting of Computer Implemented Inventions (CII), and on the success of our first public AI event, "Patenting Artificial Intelligence" in May 2018. It provides a platform for policymakers, investors, inventors, SMEs, academics, and IP professionals to exchange views and share expertise on AI and IP rights. It also takes into consideration the latest initiatives relating to AI at the level of European institutions."
"As soon as we have a video of the buzzwords salad we plan to do a rebuttal of some kind."Anything to distract the media and the Council from the strike, right? And moreover pushing yet more illegal agenda.

As soon as we have a video of the buzzwords salad we plan to so a rebuttal of some kind. Campinos and the other people listed in the programme have no idea what they're talking about because they never wrote a single line of code; to compensate for that they memorise buzzwords and marketing terms like "industrial revolution" (like a surveillance "revolution"). ⬆