StatCounter: In May 2021 Windows Market Share Falls Sharply to Just 28%, Whereas GNU/Linux Climbs to 2.31% in Desktops/Laptops
Dr. Roy Schestowitz

2021-05-03 05:04:24 UTC
Modified: 2021-05-03 05:06:09 UTC
Summary: StatCounter isn't an authority on truth; nevertheless, it helps expose some trends and it shows that Windows is consistently falling, whereas GNU/Linux moves up steadily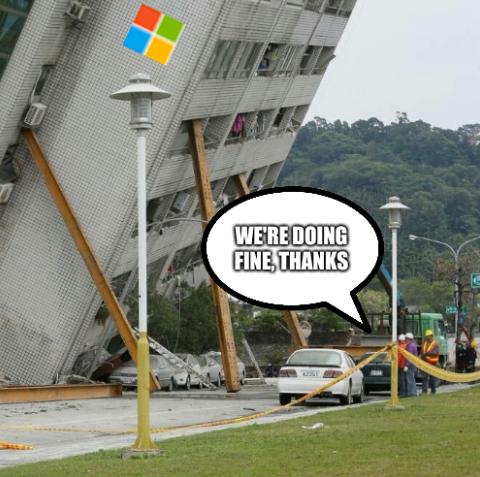 Just fine!
Sliding down the charts it's Windows,
again
, as shown below (a rather
dramatic
one-month drop)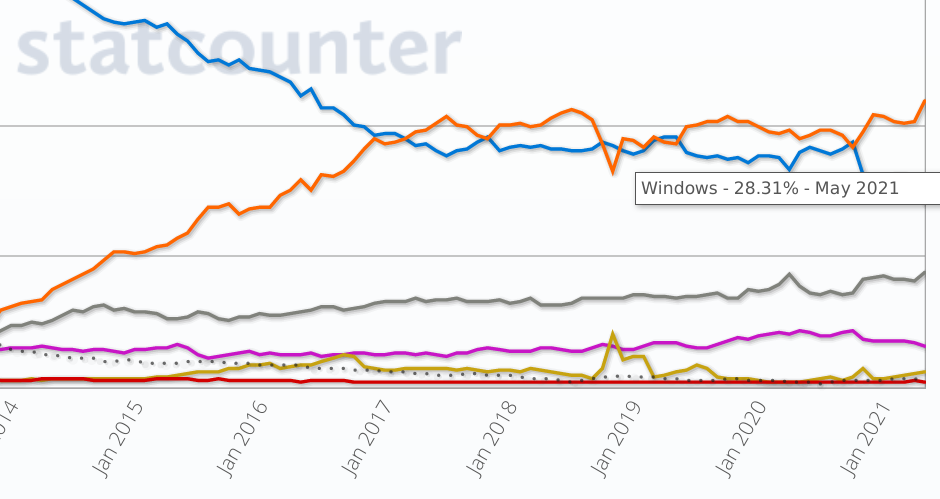 GNU/Linux market share (scale on the left is % of desktop/laptop platforms)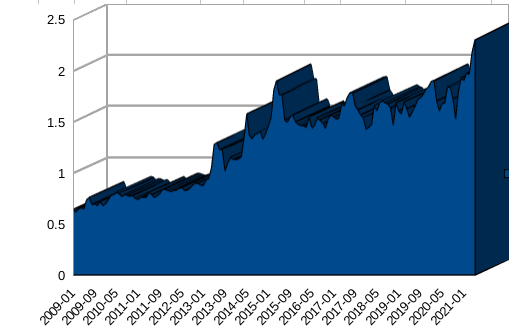 Data for download (ODF)
. Compare to
last month
.
"First they ignore you, then they ridicule you, then they fight you, then you win."
--(Usually attributed to) Mahatma Gandhi
"My initial evaluation of Windows 7 shows that it's really just Vista with a fresh coat of paint."
--Randall Kennedy, 2008
"I'd put the Linux phenomenon really as threat No. 1."
--Steve Ballmer, 2001
"Microsoft sees what's coming. Things like Word and Excel sort of like a drug now getting ready to go generic."
"Pamela Jones [...] has told Infoworld that Microsoft will be the next SCO Group"
--Heise
"The first wave will attack the perception that Linux is free."
"What we're seeing though now can be loosely described as patent terrorism, where people are using their patent horde as a threat [...] It's almost like a cold war stand over tactic; where I have these patents and if you breach these patents, I'm going to come after you and sue you."
--James Eagleton, systems product manager for Sun Microsystems
"Client software felt the slump in PC sales, and was further harmed by the shift to netbooks; many of these run Linux, which helps Microsoft not at all."
--Ars Technica (2009)
"Microsoft can't charge $80 or $100 when there's Linux for free on netbooks," Rosoff said. On regular PC sales, Microsoft's profit margins are typically about 70 percent to 80 percent, he explained."
--Microsoft Press
"We have increased our prices over the last 10 years [while] other component prices have come down and continue to come down."
--Joachim Kempin, Microsoft
"Gates looks at everything as something that should be his. He acts in any way he can to make it his. It can be an idea, market share, or a contract. There is not an ounce of conscientiousness or compassion in him. The notion of fairness means nothing to him. The only thing he understands is leverage."
--Philippe Kahn, Founder and former CEO of Borland
"It's easier for our software to compete with Linux when there's piracy than when there's not."
--Bill Gates
"As long as they are going to steal it, we want them to steal ours."
--Bill Gates
"The government is not trying to destroy Microsoft, it's simply seeking to compel Microsoft to obey the law. It's quite revealing that Mr. Gates equates the two."
--Government official
"I have no idea what you're talking about when you say 'ask.'"
--Bill Gates, in his deposition for the Microsoft antitrust trial
"Gates' gimmick of becoming a philanthropist repeats the Rockefeller scam almost one to one a century later."
--Dark cloud over good works of Gates Foundation
"Microsoft allowed us to [remove Internet Explorer from Windows] but we don't think we should have to ask permission every time we want to make some minor software modification. Windows is an operating system, not a religion."
--Gateway Computer Chairman Ted Waitt
"Injustice must be exposed, with all the tension its exposure creates, to the light of human conscience and the air of national opinion before it can be cured."
--Martin Luther King Jr.