Richard Stallman Replatformed 10 Hours From Now
Dr. Roy Schestowitz

2021-05-10 07:15:43 UTC
Modified: 2021-05-10 07:16:08 UTC
Related
:
Link to the talk (when it goes live)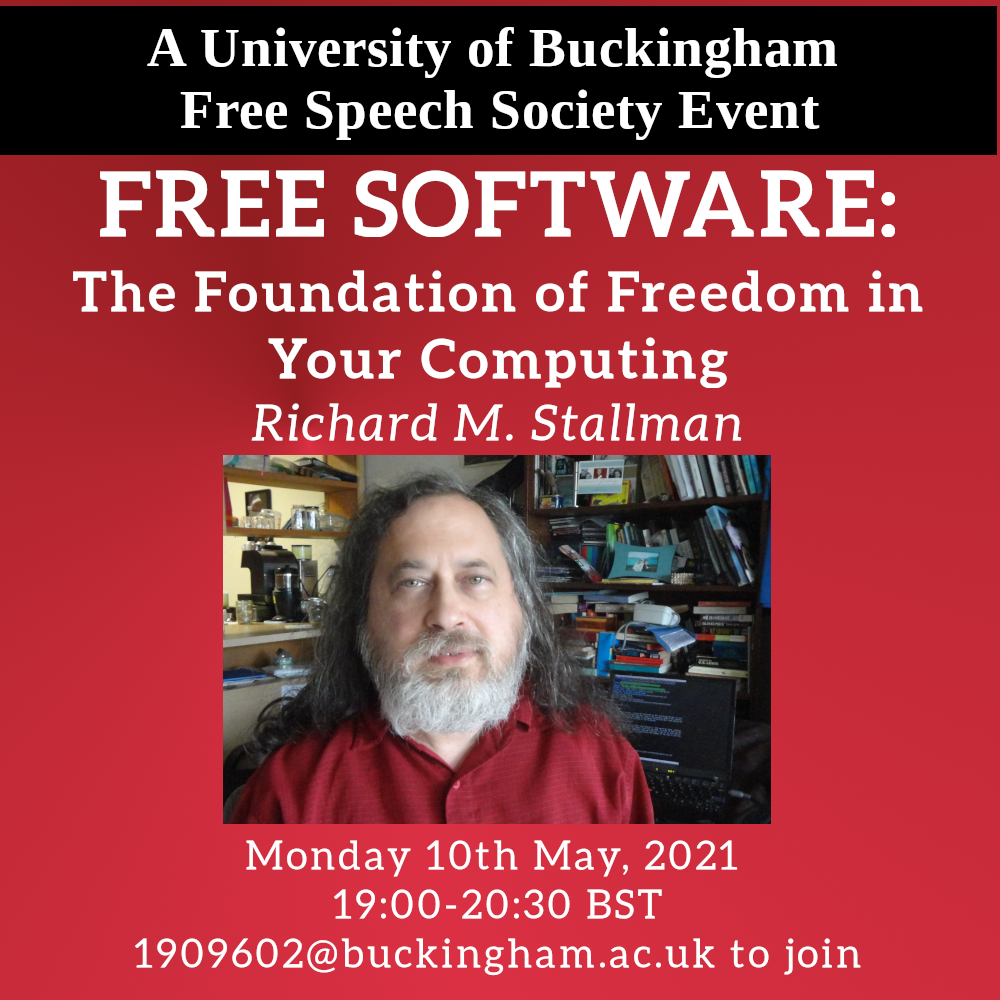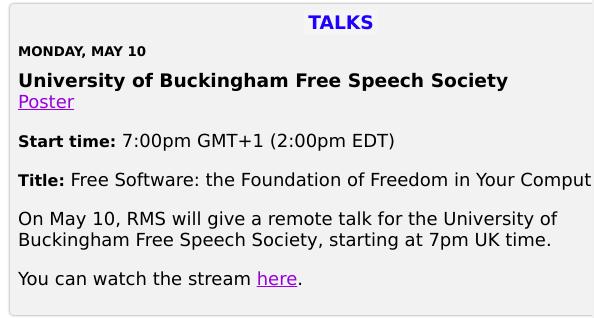 Click here to tune in
. The page has added:
"You can submit questions via IRC. To do so, connect to the Freenode IRC network using an IRC client of your choice, and send your questions via direct message to the freespeechuob account. Examples of free IRC clients include: HexChat, Quassel, Irssi, and WeeChat."
Recent Techrights' Posts
Links for the day
Lots of work remains to be done
better late than never
We want do publish video without any of the underlying complexity and this means changing some code
Our guess is that Microsoft will keep pretending to be huge, even as the market share of Windows (and other things) continues to decrease
People like these belong in handcuffs and behind bars (sometimes they are) and our readers still deserve to know the full story. It's a cautionary tale for other groups and sites
These sites aren't babies anymore. In terms of age, they're already adults.
If you don't even try to fix something, there's not even a chance it'll get fixed
Informational and cultural losses due to technological plunder
Links for the day
Xen, breaches, and more
Reprinted with permission from Ryan Farmer
Can GNU still be in active use in 2083? Maybe.
Today it's exactly 40 years since Richard Stallman sent a message regarding GNU
We've split the coverage
Links for the day
Links for the day
Reprinted with permission from Ryan Farmer
Links for the day
This is just another reminder that the people who run Mozilla don't know the history of Firefox, don't understand the Web, and are beholden to "GAFAM", not to Firefox users
Wiltshire is riding a high horse in the UK, talking down to Indians who are "low-level" volunteers in his kingdom of authoritarians, guarded by an army of British lawyers who bully bloggers
They guard and prioritise their "premiums", causing severe price hikes due to supply/demand disparities.
There are still corruptible/bribed publishers that quote Microsoft staff like they're security gurus
Resistance means having the guts to say "no!", even in the face of great societal burden and peer pressure
There are certainly more more advantages, but 10 should suffice for now
This hopefully helps demonstrate just how colossal the migration actually is
Insist that classrooms offer education to children rather than offer children to corporations
There's moreover a push to promote politicians who are as scummy as Twitter's owner
We're worse off when fewer people promote RSS feeds and instead outsource to social control media (censorship, surveillance, manipulation)
There are still many tasks left ahead of us, but we've progressed a lot
We've covered examples from IBM, resembling the Microsoft world