Microsoft Azure and Back/Bug Doors in GNU/Linux: Fool Me Once (Shame on You) / Fool Me Twice (Shame on Me)
Dr. Roy Schestowitz

2021-09-16 07:46:43 UTC
Modified: 2021-09-16 07:46:43 UTC
Summary: "Fool me once, shame on you; fool me twice, shame on me," goes the old saying...
2016
:
Microsoft update servers left all Azure RHEL instances hackable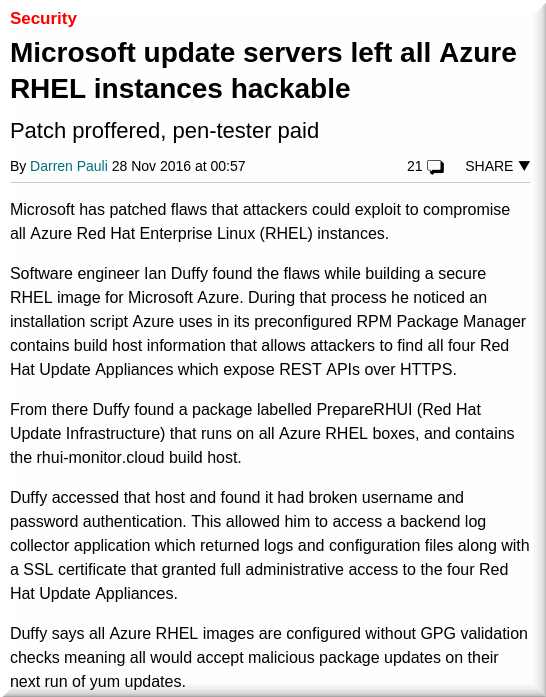 5 years later
:
OMIGOD: Azure users running Linux VMs need to update now
Critical Flaws Discovered in Azure App That Microsoft Secretly Installs on Linux VMs
I've asked an associate whether it's worth covering this latest "incident" and dub that a "back door", based on
what is generally known about Microsoft's policy on security
(the
real
policy, not what they tell the public or say in hearings about "security").
"I think so," the associate responded, "if it is done in the right way."
"
This post
[from Christian Imhorst] frames it right," he said, as "bug doors / back doors, it's all the same [because] sufficiently advanced incompetence is indistinguishable from malice, and vice versa. Azure is there to ensure that gullible users don't escape the surveillance of the Microsoft products."