Someone Is Very Desperate to Knock My Account Off Twitter
Dr. Roy Schestowitz

2022-01-18 20:28:58 UTC
Modified: 2022-01-18 20:34:48 UTC
Weeks ago
:
FSFE Misuses FSFE Budget to Issue Frivolous Takedown Requests Against Critics
|
Criticising Microsoft and the OSI is "COVID-19 Misinformation"
|
Time for a Twitter Boycott?
Summary: Many reports against me -- some successful -- are putting my free speech (and factual statements) at risk
R
eceived hours ago:
Hello,

Twitter is required by German law to provide notice to users who are reported by people from Germany via the Network Enforcement Act reporting flow.

We have received a complaint regarding your account, @schestowitz, for the following content:

Tweet ID: 1465090995901632514 Tweet Text: Racist #ibm (or #redhat this past March and late 2019): we need to remove RMS, he's transphobic. Just ignore our past and how our second-largest client, Nazi Germany, gassed trans people. That's.... "old news" (forget about it, you MUST!)

Tweet ID: 1468707132937756684 Tweet Text: Come on, people. Give #IBM a break. It's not like it's some Nazi company. Oh... [url]

We have investigated the reported content and have found that it is not subject to removal under the Twitter Rules (https://support.twitter.com/articles/18311) or German law.

Sincerely,

Twitter
In context: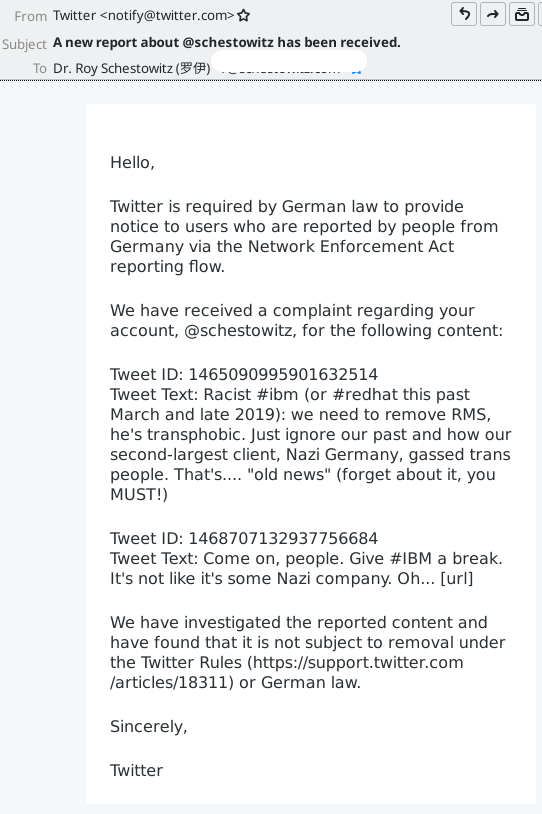 For the record, all that I said in those tweets was factual and moreover backed by evidence in the URLs. Maybe Twitter's staff doesn't wish to be seen as helping to cover up
IBM's past with Hitler
. Someone even
threatened to sue me over a "tweet"
.
IBM and the Twitter...
⬆