How to Make the Free Software Community Look Like a Bunch of Bigots While Accomplishing Nothing
Dr. Roy Schestowitz

2022-03-03 21:01:37 UTC
Modified: 2022-03-03 21:16:33 UTC
Video download link | md5sum d7639946fdc0c26f6d39e1707da9c94f
Sanctions in Free Software
Creative Commons Attribution-No Derivative Works 4.0
Summary: Ending the war should be a priority; boycotting Nginx, boycotting hardware support, banning developers, banning users, and even banning gamers isn't going to accomplish this
THIS SITE is not a political site and we never cover 'pure' politics, but this is about Free software, not general politics.
This is specifically about sites and projects that act like government- or military-connected entities, resorting to sanctions that are misguided; those sanctions are punishing the wrong people, sometimes punishing also the
victims
. Some have gone as far as collective punishment against all the people of Belarus (many of whom
strongly
oppose the regime) and some have suggested
breaking the whole Internet
, as Mike Masnick noted yesterday, dubbing it a "Very, Very Bad Idea"...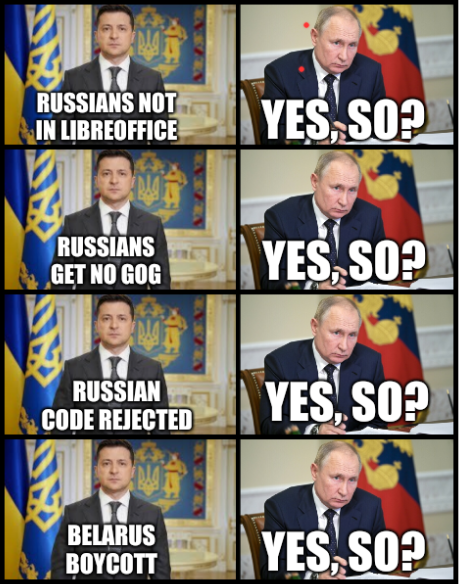 In some cases, the message is more subtle, e.g. OS News with a Ukrainian flag (shown in the above video). Several distros of GNU/Linux did the same (in the video I show only one of them, a Polish one based on Debian, though I saw French examples too).

One French software developer, whose views are similar to mine, said we need to stop the war. That should be the priority and collective punishment isn't likely to convince Vladimir Putin; it might even radicalise him further. This wartime propaganda is inciting people to act irrationally, so some have adopted ill-advised suggestions, wrongly assuming that bans in the Free software world would somehow change Putin's mind.

Below we show one of several messages from RMS on this subject, with context and threaded index here (lots of messages). ⬆


The GNU Project stays neutral on unrelated political issues. It does not take sides in international disputes, except for disputes about free software issues.

A free license must offer the four freedoms to all users, and it must not try to restrict what jobs users can do with the program. See https://gnu.org/philosophy/programs-must-not-limit-freedom-to-run.html for why this must be so.

The FSF must obey US law, including any sanctions on dealings between US organizations and Russians or Russian companies. I think that is what Devin was talking about.

But that won't affect whether Russians can use free software.

-- Dr Richard Stallman (https://stallman.org) Chief GNUisance of the GNU Project (https://gnu.org) Founder, Free Software Foundation (https://fsf.org) Internet Hall-of-Famer (https://internethalloffame.org)