Deja Vu: Published 4 Days Ago, Battistelli Celebrating UPCA Signed Almost 10 Years Ago!
Dr. Roy Schestowitz

2022-04-11 00:10:13 UTC
Modified: 2022-04-11 00:10:13 UTC
Coming soon, always and forever!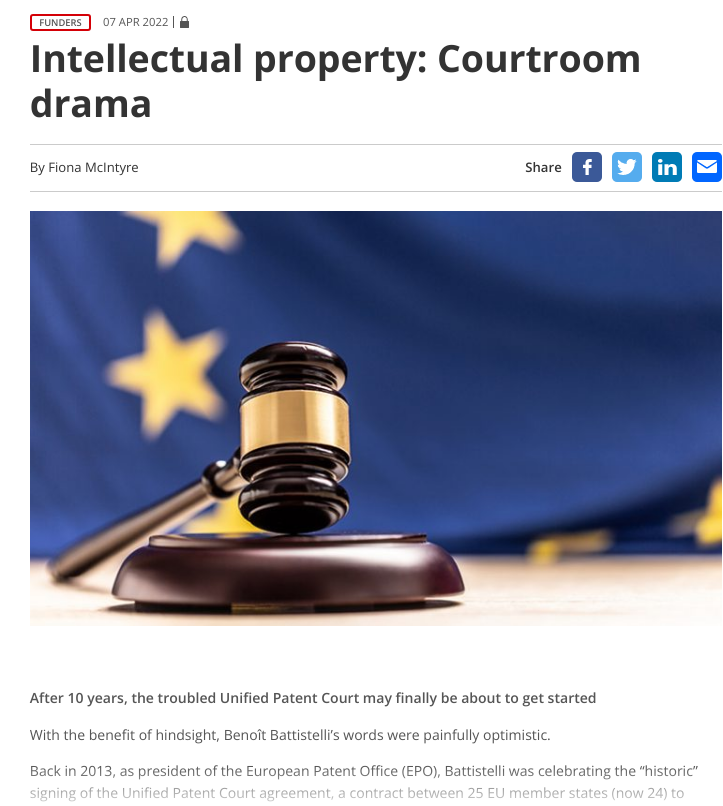 Summary: "Back in 2013," says this new article, "as president of the European Patent Office (EPO), Battistelli was celebrating the "historic" signing of the Unified Patent Court agreement"; we're in April 2022 already and they tell us the same story...
Recent Techrights' Posts
GNU/Linux news
Self-fulfilling prophecies as a tactic?
Links for the day
Ted Ts'o, Jan Kara, Linus Torvalds last month
Could Google not pick a name that's already "taken"?
Links for the day
We seem to live in a world where accountability for the rich and well-connected barely exists anymore
Links for the day
IRC logs for Tuesday, December 05, 2023
Once upon a time, serious audio users like musicians and audio engineers had real trouble with Linux
Right now it even picks Windows over Linux in some cases
Links for the day
persistent focus on the principal issues is very important

Professor Eben Moglen Explained How Software Patent Threats Had Changed Around 2014 (Alice Case) and What Would Happen Till 2025

clip aged reasonably well
Digi(tal)-Colonialism and/or Techolonialism are a thing. Can Africa flee the trap?
Reprinted with permission from Ryan Farmer
The alternate net we need, and how we can build it ourselves

Yet More Microsofters Inside the Board of Mozilla (Which Has Just Outsourced Firefox Development to Microsoft's Proprietary Prison)

Do you want a browser controlled (and spied on) by such a company?
IRC logs for Monday, December 04, 2023
things have changed for Windows in China
GNU/Linux news

Links 05/12/2023: Debt Brake in Germany and Layoffs at Condé Nast (Reddit, Wired, Ars Technica and More)

Links for the day