EPO Protest Tomorrow in Munich
Dr. Roy Schestowitz

2022-06-28 06:48:54 UTC
Modified: 2022-06-28 06:48:54 UTC
Don't let this go unchallenged
:
EPO Management Glorifies Illegal Agenda and Violations of the European Patent Convention (EPC) to Impress the Administrative Council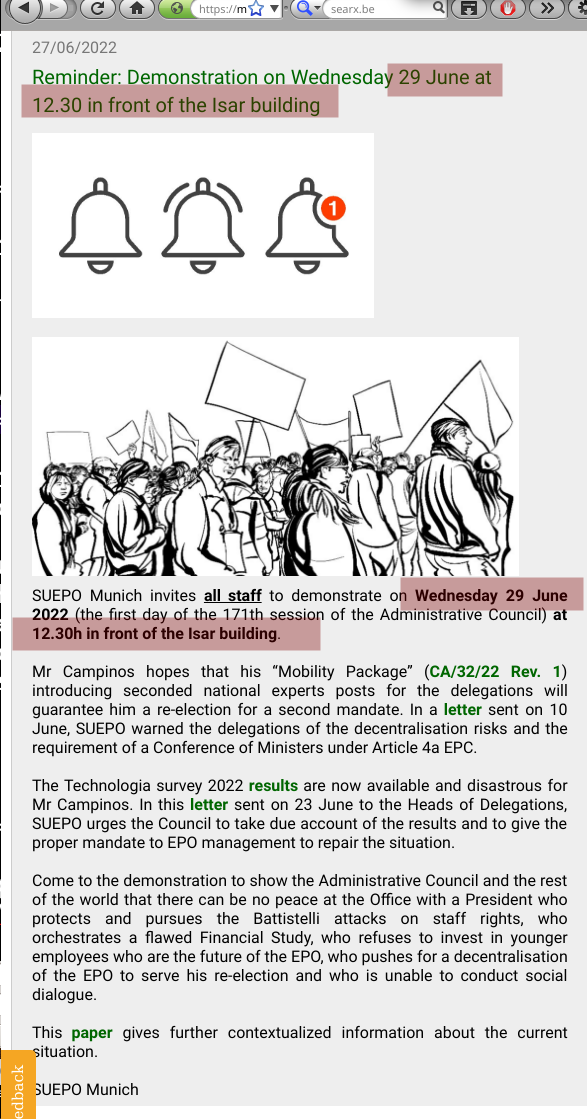 Summary: We urge all EPO workers based in Munich to attend tomorrow's protest; it's not a waste of time, it sends a strong and effective message
"It's not an effective protest if it's not pissing people off."
--John Scalzi, Lock In
"One demonstration is equivalent to one hundred explanations."
--Mokokoma Mokhonoana
"Don't plead with anyone if you were not at fault, you'll only look inferior, stupid and funny, bolster your ego by doing the undoing."
--Michael Bassey Johnson
"Be the type of silence that screams by example."
--T.F. Hodge
"If not thought carefully, our solidarity for just causes can backfire, especially when we are selective in reacting against injustice."
--Louis Yako
"To sin by silence when they should protest makes cowards of men."
--Abraham Lincoln
"I'm always happy when I'm protesting."
--Richard Stallman
Recent Techrights' Posts
the CEO strengthened his loyalty to Microsoft
Quality control demands opinionated people, even blunt opinions at times
The lies go a lot further than greenwashing
Links for the day
Some of the latest articles
the "imams" of the tech world
IRC logs for Sunday, December 10, 2023
GNU/Linux news
Links for the day
Links for the day
Links for the day
IRC logs for Saturday, December 09, 2023
Links for the day
nobody speaks better for projects and for licences than their own founders
Facebook bribes
What is going on at the EFF?
Feedback can be sent by E-mail
message about Richard Stallman (RMS)
Links for the day
IRC logs for Friday, December 08, 2023
GNU/Linux news