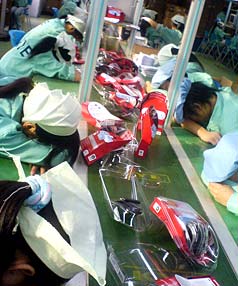 Young people in China are manufacturing
Microsoft hardware for as little as 52 cents per hour (learn more)
Summary: Microsoft is squeezing China not just for its youth but also for the little money they have left
THE US-BASED COMPANY which the US Senate accused of "enabling tyranny" [1, 2] is taking its chase for profit up a gear, even in places where people can hardly afford Windows and where Microsoft tolerated counterfeiting because it was beneficial to its business. As ECT once put it, "No less than Bill Gates himself said in a recent Fortune article that Microsoft competes better against Linux in China when there's piracy than when there isn't.

"So, Microsoft actively looks the other way as people pirate its software. It builds its market share that way, and lets people get used to the idea of having Windows at a certain price."

Well, party time is over for China (or "no mister nice guy" anymore, as Microsoft might put it, even though there is nothing "nice" about predatory lock-in). First of all, we have just learned that Microsoft is cracking down on counterfeiting of Windows Vista, not just XP (probably for the same reasons as before, in order to pressure people to buy the newer version).


Microsoft hunts down pirated Vista!



Microsoft rolls out its strategy against pirated copies of its latest operating system Windows Vista. Since May 6, Microsoft offers Vista users to download an update under the name "KB940510″.
Notice what Microsoft is doing here. It is intruding people's computers as its employees are allowed to remotely install anything they wish (it's in the EULA). There have already been
lawsuits against Microsoft in China over this practice
("Black Screens of Death"). Based on
this new article
, Microsoft is getting more remote controls for XP and Vista.
The main story from the news, however, is about
Microsoft sending its partners/clients to court or to prison
. Windows puts them in a vulnerable position and the same applies to proprietary software in general; it potentially criminalises, which affects power hierarchies (developer/s over the user/s). Here is the news from China. It was covered in very many publications, such as:
As
Pogson puts it
:
An insurance company in China was found to have 450 unlicenced copies of some of M$'s software. A court awarded $706 a copy, $318000. The insurance company had negotiated with M$ and rejected $30 a copy as "irrational". I would bet Free Software is looking pretty good to those involved now.

[...]

The fact that the customer thought $30 a copy was too much should tell us something. GNU/Linux and home-grown apps is the way to go if they need special stuff. How many programmer-years (in China) for $318000? Do the maths.
This defendant will appeal the verdict [
1
,
2
] -- a verdict which does show that Microsoft is no longer accepting free-of-charge Windows in China.
In other news from China, Microsoft's MSN Network will
now be run with more influence from China
(which probably means more censorship).
Netease is expected to take over a 50 percent stake of Shanghai MSN Network Communications Technology Co., Ltd. (SMNCT) from Shanghai Alliance Investment Co., Ltd. (SAI) and jointly operate MSN China with Microsoft Corp., a source in the Investment industry revealed to Sohu.
China recently released a new version of its national GNU/Linux distribution. Given these recent moves from Microsoft, perhaps more Chinese people will use GNU/Linux.
⬆
"It's easier for our software to compete with Linux when there's piracy than when there's not."
--Bill Gates