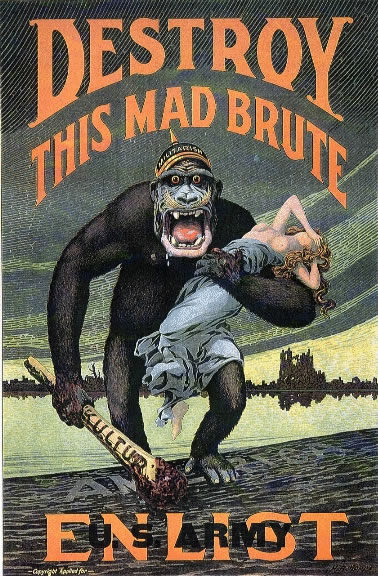 DESTROY THIS MAD BRUTE - Enlist U.S. Army" is the caption of this World War I propaganda poster for enlistment in the US Army. A dribbling, mustachioed ape wielding a club bearing the German word "kultur" and wearing a pickelhaube helmet with the word "militarism" is walking onto the shore of America while holding a half-naked woman in his grasp (possibly meant to depict Liberty). This is a US version of an earlier British poster with the same image. Dated ca 1917. [source: Wikipedia]
Summary: Why software patents should be confined geographically, as Microsoft mostly manages to extort Linux distributors in few places that acknowledge patents (monopolies) on algorithms
LWN, one of the best Linux sites out there, says that In Re Bilski means "business [method patents] as usual" (that's the headline).
"Business method patents nearly bite the dust,"
says SCOTUS Blog
in the headline. In summary:
Reflecting on Justice Stevens' lost majority opinion in Bilski
Brad Feld, a critic of this system [
1
,
2
] with a long series of
rants about software patents
, previously wrote about "Why Bilski Really Means That Software Companies should leave the US" (
snippets
in
Digital Majority
).
The problem is made greater when countries other than the United States become equally hostile towards software developers and more friendly towards their lawyers.
According to
this patents blog
, there are changes in Germany that almost overlap horrible news about the Siemens case [
1
,
2
,
3
,
4
,
5
] and even Microsoft's
FAT patent
(upheld in Germany).
The German Federal Supreme Court (Bundesgerichtshof) has recently made clear that every court has to take into account preceding decisions of the European Patent Office (EPO) and of courts of other contracting states to the European Patent Convention (EPC) if these decisions essentially concern the same questions. Although there is no principle of precedence in Germany – neither in respect of German nor of foreign decisions –, the recent ruling of the Federal Supreme Court (Bundesgerichtshof, 15 April 2010, Xa ZB 10/09 – "Walzenformgebungsmaschine") requires more than just regarding other decisions with favour. Every court has the obligation to deal with the arguments brought forward in other – German, EPO or foreign – decisions.
Two years ago it was a
Symbian-related case that seemingly brought software patents into Europe
via the UK. Earlier this year Germany's legal system was named as a similar type of culprit and it's important to watch and report these precedences. According to
this report
,
DENSO
, which is based in Japan (where software patents are legal), has just signed a patent deal with Microsoft. Linux is not mentioned at all, except by
The Register
which brings
TomTom
's case into it (gymnastics in logic?):
Microsoft scored yet another patent licensing deal yesterday, this time with automotive tech firm DENSO Corp.

[...]

Famously, Microsoft's original court allegations over the three file management patents involved TomTom's use of the Linux kernel, and according to Redmond at the time the settlement provided TomTom with coverage under those three patents in a way that was compliant with TomTom's obligations under the General Public License Version 2 (GPLv2).
Many people must have noticed by now that Microsoft is capable of signing Linux-hostile software patent deals in the few places other than the United States (where Xandros, Linspire, and Novell are/were based) that acknowledge software patents. Examples include Fuji Xerox, Turbolinux, Kyocera Mita, and I-O Data (
based in Japan too
). It is therefore important to ensure that software patents never reach Europe, not in any formal sense anyway.
Korean giants like
Samsung
and
LG
have sold out to Microsoft as well (software patents are
arguably valid over there
). These two companies pay Microsoft for Linux on any items they sell, so it's not clear why
some Linux proponents are jubilant
:
LG, Samsung big on Android



[...]

And now most other mobile phone makers, and those readying to ship tablet PCs, are embracing Android. Among them are LG and Samsung both of which are on the brink of releasing Android-based devices.
Microsoft makes money from those. It is better to buy an Android handset from Motorola, for example.
⬆