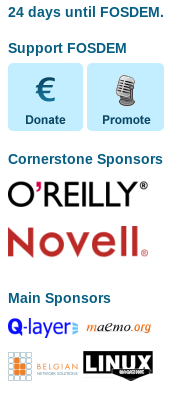 Sponsors of FOSDEM 2009
Summary: A few notes and analysis of Mono news, with increased emphasis on why it is perfectly acceptable to say "no" to Mono
JASON RECENTLY published this good piece titled "Rejecting Mono". In it, Jason attempts to explain what opposition to Mono is all about because Mono sceptics like ourselves have had our views and our opposition mischaracterised, even distorted. It's intended to daemonise and thus dismiss valid critics. Jason concludes by stating the obvious and asking this question:
So, are the Linux/Mac gamers here that don't want to use mono "zealots" and "freetards"? Of course not. In the context of cross-platform capability, developers might like the idea of Mono because of what it promises – but users don't like Mono because of what it delivers.

You can only get the full "benefits" of .NET if you are on the Microsoft Windows platform. This is by design. We have the memos – court evidence – where Microsoft lays out again and again the strategy of releasing a small sub-set of .NET, but reserving the "good bits" for Windows. We see this all the time in the real world (ala Moonlight being useless on any site that actually matters). This documented strategy absolutely destroys the notion of .NET or Mono being a "cross-platform" framework. It can not and will not be, because Microsoft will not allow it.

And that is granting the rather large assumptions that .NET is well-designed enough to do so and developers want a Microsoft-controlled framework, even if Redmond would allow it!
Despite
all that we know about Mono
after years of research, some developers insist that Mono is good for GNU/Linux and for software freedom. Well, the main thing Mono is truly good for is promotion and spreading of .NET. Is that a commendable goal? Really?
Well, FOSDEM 2011 is already in the planning and
Mono developers/advocates (usually the same group for natural reasons) will have a room allocated to them
. Notice how they are very much isolated not based on modularity and separation of a larger system (e.g. kernel versus development environment and bootloaders) but based on the language they use. There is something wrong here, no? Anyway, this room allocation is nothing too shocking anymore; it's an annual thing and not different from previous years:
For the second year in a row, there will be a Mono Developer Room at FOSDEM. We had a very nice edition last year and we are looking to improve on that.
Mono developers have thankfully lost ground in the Ubuntu distribution of GNU/Linux, especially because f-spot was replaced by shotwell. Some people
want to reverse this choice
, but they do not take the ramifications of Mono into account. The
CTO of Canonical apparently does
. Meanwhile, Canonical controversially develops Unity, which is based on Vala (we are not going to start a patent discussion about it because it's already in today's IRC logs). The developer of Unity is the man who brought us the Mono-based Gnome-Do, which we view as more of a curse than a blessing although some people in today's news
seem to like it based on purely technical grounds
.
OMG!Ubuntu
is again
implicitly promoting Novell's Banshee
, which is a Mono application that we know for sure is a patent problem due to
limitations in the MCP
.
Our posts about Mono are not attacks on applications, vendors, and developers. They are intended just to remind people what depends on Mono and
what substitutes are available
(see this list if you haven't). Refusing to use Mono is no "zealotry"; it is a rational choice not to be ashamed of. If you dislike Mono,
you appear to be in the majority
.
⬆