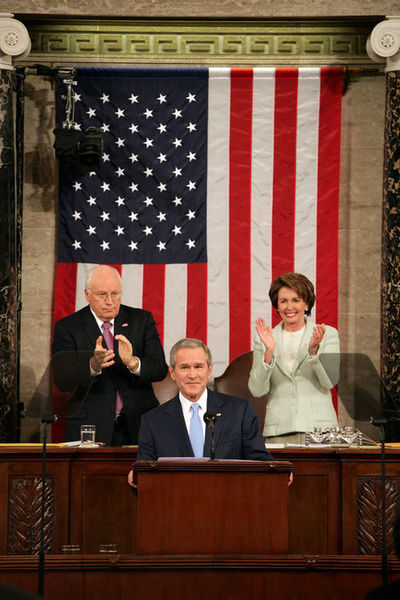 Summary: More government connections for the Gates Foundation and the effect on taxing
Back in October we wrote about Pelosi and Microsoft, noting in the very same post that Bill Gates had become the #3 man in United States government (not private sector). It is appalling as it helps these people arrange tax benefits for both Microsoft and for Gates (violator of the law), obviously at the expense of mere mortals, so to speak. "Top Pelosi aide leaves speaker's office" says Politico and don't miss this bit:
Pelosi's director of intergovernmental affairs, Cheryl Parker Rose left on Oct. 1 for a job as deputy director of government affairs for the Bill and Melinda Gates Foundation.

Pelosi spokesman Drew Hammill said Parker Rose's departure has nothing to do with the pending election. Rose started the job on Oct. 18, a Gates Foundation spokeswoman said.
Yes, and
former Gates staff is moving to other places
too, spreading similar agenda more often than not. A couple of years ago we wrote about the head of the
Gates Foundation
moving to the Smithsonian (government) and guess what happens now in the news?
"Bill & Melinda Gates Foundation Gives $50 Million in Grants to the Smithsonian Institution"
and there are already 'gifts' from Microsoft, announced in CNET under the headline
"The Smithsonian welcomes Microsoft's Surface"
. It's a Trojan horse and it's promotional. The
following news
about Smithsonain [sic] is probably not related. It has a similar name, but apparently in South Africa only ("By Emeka Aginam, in Cape Town, South Africa"):
The global software giant, Microsoft in partnership with Smithsonain Institution and TakingITGlobal have launched Shout initiative , a capacity building program designed to encourage teachers to use technology to help students explore, connect and act to address some of the world's most pressing environmental issues, while gaining important skills including collaboration, critical thinking and social responsibility.
"Microsoft in partnership with Smithsonain Institution" pushing for changes in the schools, eh? Well, Gates' effect on schools is a subject we'll address in a separate post, based on some of the very latest news. Here is
the schools agenda being promoted
by the
Washington Post
, where Melinda Gates was on the board until very recently (more on that later):
Gates Foundation donates $50 million to Smithsonian



[...]

The Bill and Melinda Gates Foundation is giving $50 million to the Smithsonian Institution, the national museum announced late Wednesday.

[...]

Gates is giving $30 million of the gift to "reach underserved students" in the United States.
As
Gates Keepers
put it,
"Former Gates staffer's museum gets a grant from the Foundation"
and to be more specific: "Patty [...] is the former CEO of the Gates Foundation. She is now Chair of the Board of the Smithsonian. And the Smithsonian is now the proud recipient of a grant from the Gates Foundation. It is nice to have friends who remember you. Melinda Gates is on the Board of the Washington Post but the Post writer does not point out the connection."
Hello, cronyism? We predicted this years ago when Stonesifer entered the Smithsonian.
This leads us to another new example where Bill Gates is exploiting government connections. The establishment gives Gates tax exemptions, but why? The
"Gates Foundation posts 2009 taxes"
according to the news and people have begun looking for clues inside it, especially in particular Web sites which are critical of this foundation's activities.
It oughtn't be news that Gates is exploiting governments all around the world to give franchises or taxpayers' money to certain companies which he lobbies for. We gave many examples before. The foundation itself consists of many people from the companies whose patents they advance/seed in the market using a so-called 'charity'. Here is
a new example of the "revolving doors" effect
:
Medical equipment maker Stryker Corp. said Friday that it has hired Allan C. Golston, who heads the U.S. arm of the Bill & Melinda Gates Foundation, as a director.
Well, guess what? Bill Gates and Warren Buffet have just been named in
top 5 "World's Most Heinous Climate Villains"
over at
Alternet
:
Bill Gates and Warren Buffet

Misdeeds: Pretend to be friends while engaged in a vicious competition to see who ends up with the most expensive coffin. Flew together to inspect the Alberta Tar Sands and ponder investments, looking to add to Buffet's $34 billion Burlington Northern Santa Fe coal-hauling railroad purchase and the Gates Foundation Nigerian oil portfolio. Gates is dumping cash into geo-engineering as a way to "hack" the climate, instead of getting off oil and coal. The duo insist that the government should be responsible for clean energy development, but that we need to tax our citizens to pay for it. They can't be bothered, since they're too busy banking on sure things like fossil fuels.

Corporate Teat: They're the tits, not the pups. Microsoft and Berkshire Hathaway, much of it tax sheltered by the Gates Foundation.

Most Egregious Lie: "We need an energy miracle." Gates' time frame for converting to clean energy is 40 years, giving him and Buffet plenty of years of income from their dirty investments.
For those who do not know or remember, Gates invests in BP [
1
,
2
,
3
] and in Exxon [
1
,
2
]. Some charity, eh?
There are also many private investments which are tax-exempt,
including one in JJB Sports
(a shop that I personally hate). "JJB taps Bill Gates, others, to stay afloat" says
this new report
Struggling British sportswear retailer JJB Sports (JJB.L) said investors including Bill Gates, the United States' richest man, have backed a 31.5 million pounds ($48.57 million) fundraising to keep the firm alive.
There is more coverage about this elsewhere [
1
,
2
] and it makes one wonder if Gates runs a charity at all. As the previous article from
Alternet
stated, these people are investing without the inconveniences associated with tax. Here for example is an article from one month ago about
investment in Waste Management
(
covered in this site before
): "As it happens, Warren Buffett and Bill Gates -- through Berkshire Hathaway (BRK.A), Cascade Investment, an asset management firmed own by Gates, and the Bill & Melinda Gates Foundation -- are major holders in Republic. The Gates Foundation owns Waste Management shares too. It's not hard to discern why Buffett and Gates like the trash business: It has significant barriers to entry because new landfills are hard to site and expensive. And despite the buzz about zero waste, Americans generate lots of trash -- an average of 4.5 pounds a person per day, the EPA says."
Moving on to the last topic of relevance, a lot of people still fail to understand how showing generosity can actually be a ploy for tax avoidance. it's a loophole. To quote a recent post we were
told about a few days ago by MikeC
:
[I]t helps to explain the first part, all these billionaires willing to donate to charity. For such family foundations allow the cash to be put into them tax free. And then the cash can be invested attracting no tax on any returns to it over the generations. Subject only to paying out 5% of assets (I think I've got that right) each year in charitable works. Such 5% can be made up of paying family members to administer the trust…..

Which is why Joe Kennedy left his money to a series of family trusts, the Hewletts, Packards, Fords, Rockefellers and so on.

Leaving the money to a "charity" is in fact the American way of making sure that a) no tax is paid on it and b) that the heirs cannot piss away the capital.

So, given that the traditional Amercian manner of making sure you keep the money in the family is to give it to a charity the news that 40 billionaires have been presuaded to leave their money to charity really isn't all that surprising. Nor is it really something that might have taken a great deal of persuasion to bring about.
The same old disinformation which relies on people not knowing about these tax exemptions gets spread by many sites/blogs, which is sad. Truthfully, we gave many examples of this disinformation before and it's troubling that they won't stop making the false claims about Gates' (senior and junior) lobbying on tax issues. Although it mostly goes a couple of months back, here are some examples of bad coverage [
1
,
2
,
3
,
4
,
5
,
6
,
7
,
8
,
9
,
10
,
11
,
12
] which portrays Gates, who does not pay tax, as someone who wants rich people (those without exemptions) to be taxed more. So while Gates' lobbying staff is
enjoying luxury homes
and no burden of tax, 'mere mortals' continue to suffer more and more. Whose country is it and who really controls government officials? Answers to this question will be given in the coming days when we cover Gates' latest private sessions with President Obama. We have a massive backlog of postings.
⬆