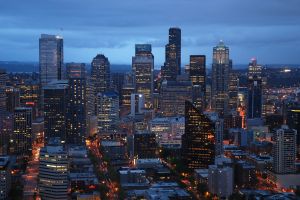 Summary: Microsoft veterans sneakily take over key positions in government and enable Microsoft to not pay tax, passing all the burden to poor people and leading to cancellation of state programmes
FROM a Microsoft employee who at last saw the light and decided to expose his former employer for what it does to avoid paying tax (financial misconduct notwithstanding) come some new posts that help reveal how Microsoft uses politics to essentially loot the public at large. The latest posts are:
i.
Thank Ross Hunter for Making Microsoft's Record Profit Untaxable
Under Democratic Rep. Ross Hunter's leadership in the Washington State Legislature, Microsoft's licensing revenue is no longer taxable in Washington. Hunter led the change to Washington's royalty tax so that only licensing revenue sold to Washington State customers is taxable. Prior to 2010, worldwide royalty revenue was taxable.

Hunter is a former 17 year veteran of Microsoft, now head of the powerful finance committee. Rather than apportion the royalty tax (which resulted in only a tiny gain in state revenues), Hunter could have adopted stricter enforcement language around out of state tax transactions such as was proposed by the state's Department of Revenue. Since 1998, Microsoft has used a small office in Reno, Nevada to record its worldwide royalty profits - avoiding nearly $1.25 billion in tax liabilities.
ii.
Now for what really matters...
If there's one thing I learned the past year working the Microsoft tax dodge issue, it's that the state legislature is pretty well bought and paid for by corporations like Microsoft. Who would have thought Rep. Ross Hunter would lead the charge to raise taxes on voters while giving Microsoft a giant back door tax cut? Well, at least today, we'll see what voters think of Ross Hunter's efforts.
iii.
Microsoft's Nevada Employees Probably Shouldn't Joke About Criminal Activity
If you want to know what the Kool-Aid tastes like at Microsoft, check out this clip of its Nevada Licensing employees offering up their own "I'm a PC" anecdotes. It's not quite as cringeworthy as the Windows 7 Launch Party and not as bizarre as the IE8 vomit girl ad, but it's definitely painful to watch.

I was most intrigued by this brief segment in which an apparent Reno-based Microsoft Licensing employee jokes, "I'm a P.C. and I'm a criminal." On the wall in the background, there appear to be pictures of two to three other mugshot photos - perhaps also Reno employees? Exactly what is she referring to?
iv.
An Update on Microsoft's Nevada Tax Operations and Washington State's Budget Deficit
* Most people in Seattle (and Washington State), know nothing at all about Microsoft's Nevada tax practice in part due to the fact that The Seattle Times has never reported the story.

* Local coverage of this issue does not appear to be improving. e.g. The Gates Foundation gave $400,000 to local news blog Crosscut.com, which later was caught removing anti-Microsoft sentiment from a published editorial by the University of Washington's Bill and Melinda Gates Chair of the Computer Science and Engineering Department.

* Perhaps due to the lack of awareness of his actions, King County voters re-elected Rep. Ross Hunter. Diane Tebelius, Hunter's Republican opponent never mentioned the Microsoft tax dodge, though she was briefed on it (by me), presumably because she did not want to alienate Microsoft employees in her district.
v.
Ex-Microsoft Executive to Lead Washington State Department of Revenue
Today, Governor Gregoire appointed former nine year Microsoft executive Suzan DelBene to run Washington State's Department of Revenue. DelBene's husband Kurt is President of Microsoft's Office Division. DelBene's basically a marketing executive, although she recently ran unsuccessfully to unseat Congressional GOP Rep. Reichert. As far as I know she has no formal background in tax law. Full disclosure: I used to work with Ms. DelBene and for her husband Kurt at Microsoft in the early 1990s.

[...]

The Seattle Times has reported in the past that Mrs. DelBene is also a longtime friend of Representative Ross Hunter. Hunter is the 17 year ex-Microsoft veteran who as Democratic chair of the powerful legislative finance committee led the move to apportion the state's royalty tax, getting Microsoft off the hook for up to $145 million annually in taxes and potentially over $1.24 billion in back taxes, interest and penalties. Since 1998, Microsoft has recorded the bulk of its software licensing revenue in Nevada to avoid Washington State's royalty tax. This blog regularly questions the legality of this accounting practice.
Rick Perry is already
pulling a fast one
and it is worth emphasising that Microsoft
has debt to repay while it claims to have possession of money
(we are sceptical of it). To quote a recent article:
Microsoft (Nasdaq: MSFT) just borrowed $6 billion even though it has roughly $40 billion in idle cash. Crazy.
Crazy indeed. Why borrow money when you already have money? As other sites have been pointing out, this may indicate that Microsoft is hiding or distorting something, just as it
distorts numbers in its reports to the SEC
. But anyway, sticking to the subject of tax, here is some information about the Microsoft veteran who
enters the government to become head of Department of Revenue
. Amazing!
DelBene, a former vice president for marketing on Microsoft's mobile communications team, contributed $2.3 million of her own money to her campaign. She is married to Kurt DelBene, the current president of Microsoft's Office business.
Crony capitalism in action. For more about her, see
the text here
. Todd Bishop claims that "Microsoft pedigree isn't enough to ensure a Congressional victory in the company's home region." That's a straw man argument. Nobody suggested that Microsoft pedigree alone is enough to assure such a position. Bishop at least mentions this: "Also of note on the state level: Incumbent state Rep. Ross Hunter, another Microsoft veteran and Democrat, is facing a tough fight for his seat. He's leading Republican challenger Diane Tebelius, but the race was still too close to call as of early this morning. Hunter has come under criticism for helping to enable the company's practice of recording software royalty revenue in Nevada, reducing its tax bill in its home state by an estimated $100 million a year."
The same blog said right in the headline that
"Ex-Microsoft exec DelBene to head state revenue department"
and ABC (Bill Gates-sponsored) hosted content from AP, saying that
"Gov. Gregoire Appoints Suzan DelBene to Cabinet"
(nothing at all about the Microsoft tax controversy).
Former congressional candidate Suzan DelBene was appointed director of the state Department of Revenue on Tuesday, with Gov. Chris Gregoire saying that the former Microsoft executive "has the knowledge, skills and experience needed to guide the agency through what is a transformative time for the department and the state."
This article from
AP also appeared in MSN
. Microsoft ought to like such shallow reporting which bothers not at all with the real issues. There is
more news from Reno
, where Microsoft manages to arrange the Washington tax avoidance. "Angle Appears at Reno's Microsoft Licensing" says the headline.
Lately, every day feels like Election Day. The frenzy is everywhere from those TV commercials, to sign-crowded intersections. And protestor-frenzy, in Reno to greet Sharron Angle as she made a Monday visit to Microsoft Licensing off Neil Road. Microsoft would not let us in…we weren't exactly invited. Angle's campaign did not even tell us ahead of time that she was appearing. Outside was a group of protestors, comprised of a man in a chicken outfit, 2 Reid campaign workers, one unemployed volunteer, and 3 members of local 3, the operators-engineers union. They told us they're not getting any work. Union apprentice Ronald Feemster told us he'd "like to see somebody in office that might actually do some good for northern Nevada." As to why he doesn't blame the current administration, including Harry Reid, he told us, "Because I feel it was inherited."
Elsewhere in the news it's now announced that many programmes are being cut in Washington and citizens are furious. One site has nearly 1000 comments posted in response. It contains a lot of finger-pointing, with Microsoft and xenophobia being the lead topics.
It ought to be added that Microsoft's avoidance of tax and the cronyism which enables it were never a US-only issue. Microsoft was found guilty in other countries and in Europe it is using Ireland as a tax haven, with severe consequences to the whole of Europe. From the new article titled
"Consequences of the Irish Bailout"
:
The key bailout test was whether or not Ireland would retain its 12.5% corporation tax, which has attracted a number of giant multi-nationals to relocate there -- such as Google (GOOG), Pfizer (PFE), and Microsoft (MSFT) -- much to the annoyance of other European countries, especially France and Germany who had this at the top of their conditions hit list. The fact that Ireland has apparently retained sovereignty over the corporation tax bodes well for eventual economic recovery as the relocated multi-nationals account for more than 70% of Irelands exports and generate more than 50% in corporation tax revenues, without which Ireland truly would be bust for the next decade.
Also see this new case of
blackmail
, titled "Microsoft, Hewlett-Packard Warn Ireland on Tax, Telegraph Says". Well, via a lobby group, the Chamber of Commerce, Microsoft is driving its interests in Europe, at the expense of mere people as opposed to corporations. The article says: "The American Chamber of Commerce in Ireland warned the country that an increase in its corporate tax as part of a European Union and International Monetary rescue package may damage foreign investment, the Sunday Telegraph reported." The
Irish Times
has published an article titled
"The people person at Microsoft"
, but Microsoft does not care about people; it cares only about its shareholders who are mostly in the US.
One can conveniently ignore all of this, but
Techrights
will not.
⬆