ES: Si Patentes ganar en el Oeste, Entonces los Chinos Ganan
Dr. Roy Schestowitz

2011-01-21 05:10:35 UTC
Modified: 2011-01-21 05:10:35 UTC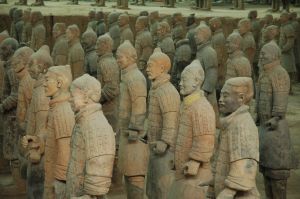 (
ODF
|
PDF
|
English/original
)
Resumen: Las guerras de patentes y la burocracia frenan la producción, crean burbujas financieras, y en última instancia, pueden dar lugar a un aumento de la deuda.
NO es este tipo famoso de broma que termina con "a continuación, los terroristas ganan!" Eso es básicamente la idea detrás del título de arriba (no es que los chinos sean terroristas, yo personalmente admiro a los chinos). Lo peor que puede hacer Occidente es abandonar la producción y asumir erróneamente que los vendedores de papel en una época de los llamados "trabajadores del conocimiento" ayuden a pagar la enorme deuda a China. La realidad es, China ya se inmuniza contra las patentes occidentales y al mismo tiempo la pérdida de tiempo y energía Occidental en el pleito, las solicitudes de patentes, la revisión de patentes, y la mutilación de productos como medio de evitar ser demandados, las exportaciones de China está creciendo exponencialmente. Esto es INNEGABLE.
Wayne Borean hace eco del análisis que hemos visto un montón a finales de 2008, cuando los mercados mundiales se derrumbaron [http://madhatter.ca/2010/10/31/the-intellectual-property-bubble-the-next-danger-to-the-world-economy/]. Dice que "la propiedad intelectual" es una burbuja que infla artificialmente la valoración de muchas cosas sin valor. Y además, para citar a:
"Intelectual Ventures es una de las muchas empresas que está invirtiendo en la innovación de acuerdo a su sus comunicados de prensa. Otra es la Acacia Technologies. Estas compañías están comprando las patentes, y tratar de conceder sus "licencias"."
Como si el "negocio" de la patente no es ya bastante malo, los abogados de IAM dicen que en Gran Bretaña hay esta noción de "incentivo fiscal de patentes [http://www.iam-magazine.com/blog/detail.aspx?g=cd9304ef-1c63-4fa3-9940-998393dcb26d]" en la tubería. Ridículo! Ya lo hemos mencionado anteriormente.
El Instituto de Estudios Fiscales - una altamente respetada, organización de investigación independiente que examina la política fiscal y económica en el Reino Unido - ha publicado un documento que cuestiona la eficacia de la introducción de un llamado cuadro de patentes. Según las propuestas, que se anunció por primera vez por el gobierno anterior, y ahora han sido sellada con caucho por el actual gobierno, derivada de las patentes en el Reino Unido estarían sujetos a una tasa del Impuesto sobre Sociedades de un sólo 10%.
Para competir en este siglo (incluso en diez años) y como medio para mantener o recuperar su dominio, Occidente tendrá que eliminar el "impuesto de innovación" - los gastos ocultos relacionados con las patentes y la mega industria que se cierne sobre ella como un grupo de buitres o satélites optimizados para misiles guiados. Hagan productos no la guerra (de patentes).
⬆
Many thanks to Eduardo Landaveri of the Spanish portal of Techrights.