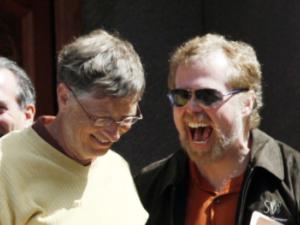 Microsoft's 'gentle' side and the thuggish side.
Good cop, bad cop. Credit: Reuters
Summary: How the cult of Microsoft, which includes Bill Gates and Nathan Myhrvold (peripherally), is taxing everything in society while working in cohesion
Having exposed one patent troll of rather large scale very recently, the New York Times moves on to the largest one. It notes the Microsoft connection: "Co-founded by Nathan Myhrvold, the former chief technology officer at Microsoft, a prolific inventor and the author of a $625 cookbook called "Modernist Cuisine: The Art and Science of Cooking," Intellectual Ventures has vacuumed up 70,000 patents and related assets in the last 13 years. This year, the company has been busier than ever at the courthouse, filing 14 lawsuits so far — more than all the lawsuits it had previously filed since its founding in 2000. It also is expanding its fight beyond traditional technology companies. Eight of the 14 lawsuits are against banks, which Intellectual Ventures says infringed on patents that cover data encryption techniques, firewall protection systems or digital imaging."

There is also a connection to the Gates Foundation, which uses patents to profit. IV's chief troll is dodging probe by deposition and his sidekick at Intellectual Ventures keeps on lying and deceiving. "We don't litigate through shell companies," said Intellectual Ventures, but these are lies. As correctly pointed out here, we should treat this troll as a Microsoft spinoff:
The New York Times went after another big patent troll yesterday, the second in less than a week link here. This one is called Intellectual Ventures. It seems to be a spinoff from Microsoft, a major patent holder, as it is run by Microsoft's former chief technology officer, Nathan Myhrvold. Its origin may raise the question as to how much business it does with Microsoft and whether it profits in some way from the new enterprise.
Here is
another take on it
:
A study out of Stanford says the term "patent troll" may have come from the Norwegian folk tale, "Three Billy Goats Gruff." Researchers claimed it was coined, ironically, by a co-founder of the country's biggest PAE — Intellectual Ventures. A troll makes three billy goats pay a price to cross a bridge. Adorable. But less adorable, and more exciting, is the version of trolls in "The Lord of the Rings," where trolls try to eat their nemeses, so let's go with that.


This troll also
helps Gates with nuclear patents
, as we covered several times before. Bill Gates and his close friend Nathan Myhrvold like to share a table and conspire to gain patents, as previously reported in the press. Gates promotes GMO (DNA) and medicine patents, pushing patents in an evil direction while calling it charity. Dr. Glyn Moody
is upset that even blood is being patented now
. He writes: "Two of the key arguments during the Myriad Genetics trial were that gene patent monopolies stifle innovation by preventing others from building on and extending key knowledge, and that they can cause unnecessary suffering and even death by driving up prices for medical treatment beyond the reach of many people. Even though the Supreme Court struck down Myriad's key patents, reducing those issues for DNA, a new technology with major ramifications for health runs the risk of suffering from precisely the same problems."
Further down it says: "Not all clinical trials offer compensation, because people are often willing to help without payment in order to benefit society as a whole. Indeed, one of the strongest arguments for making clinical trial information freely available is that it is largely the result of members of the public agreeing to take part in trials for precisely this reason -- not in order to boost the profits of some pharmaceutical company that keeps the results for itself. That suggests one way of encouraging people to become stem cell donors and transfusion recipients would be to promise that the results based on their participation will be made freely available for all scientists and companies to use. In other words, that no patents would be taken out on key discoveries."
Here is
the original article
. Recall that an
AIDS organisation manager told
the
New York Times
that "Gates has created a huge blood-buying operation that only cares about money, not about people."
Incidentally, earlier today we found this new article which chastised plutocrats for hoarding more money at the expense of the poor and then blaming teachers. Gates, which is
eliminating the poor rather than poverty
is
mentioned in the article
. To quote:
Poverty is what's crippling public education in the US—not bad teachers



[...]

Teachers are important, and of course we want to recruit the most expert and brightest possible, and give them lots of support. But the expansion of tests, and efforts to make teacher jobs depend on ever-rising scores, are turning our schools into test preparation factories.

Hanushek's ideas have been driving a vast school reform project, which has been underwritten by the largest philanthropies on earth—starting with the Gates and Walton foundations. Now that this project is a decade old, and showing little signs of success, the time has come for a major reappraisal.

Rather than vesting our trust in tests to identify and weed out the worst teachers, why not invest some confidence in these teachers themselves, and empower them to engage in peer observation and growth through proven programs like Peer Assistance and Review? These programs feature experienced teacher coaches working with peers who have been identified as struggling. This has been found to be an effective way to strengthen teachers—and remove those who are unable to improve.
Opportunists love monopolies. Government services are monopolies, but can Gates privatise these to 'own' for profit a system fed by taxpayers? He sure
made progress by bribing much of the press
. The
same is done to promote patent trolling
.
It is worth noting that
the other Microsoft co-founder is now a patent troll
, who
just like Attachmate's CEO
and
Microsoft's OEM-terrorising thug
(shooting animals illegally) is now
getting sued for being a sociopath who contributes to illegal hunting
. A short while ago we found this new report from Africa:
Microsoft co-founder and American billionaire, Paul Allen, will appear before a Botswana court in October for allegedly attempting to smuggle giraffe bones from the country to the United States of America.

According to the King County Superior Court, a safari guide was arrested and detained in Maun, Botswana's tourism capital, by customs officials after the Microsoft co-founder and current Seahawks owner, Allen, and his sister, Jody Allen, tried to sneak home the bones while on safari in Botswana.

Court papers charge that a review of the trip to Botswana by the Allens has revealed a pattern of illegality.
Microsoft has always shown a pattern of illegality, so this would not at all be shocking. See
our 2011 post
titled "Microsoft's Three Musketeers (Gates, Allen, Myhrvold) Still Assault the Market With Patents."
⬆