What is a patent office if not a collection of competent patent examiners? Battistelli is trying to break a mechanism that's already working, presumably for corporate gains or increased profit/reduced salaries (the École nationale d'administration mindset)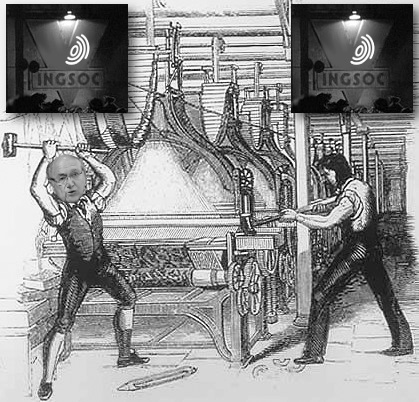 Context: "The Luddite movement emerged during the harsh economic climate of the Napoleonic Wars"
Summary: The unscientific approach of today's management of the EPO and the dangers of outsourcing EPO jobs to other entities or even to highly flawed algorithms
BATTISTELLI has done a fine job driving away some of the Office's best talent and his job is not done yet, despite the ongoing brain drain [1, 2, 3, 4] which seems unstoppable. Patent examiners are the very heart of any patent office; without them it's just a bunch of clueless bureaucrats like Battistelli and their secretaries. How could they overlook this simple fact? According to this new report from MIP, "Michael Fröhlich has joined the European Patent Office as head of the Directorate European and International Legal Affairs" (not to be confused with Herbert Fröhlich, who was actually a legendary scientist). It often seems like all the EPO strives to be right now is a bunch of people in suits with a high-budget peripheral PR agency in the US (far more people there, based on the budget, than in the in-house PR department). We had enormous respect for the EPO back in the days, but what has it become and what is it still becoming?
Based on
this new comment
, "EPO examiners and BoA members have no concept of what a thorough analysis is like. How could they? Unless you have experienced the rigour of a multi-million euro invalidity or infringement suit, you probably think that the EPO procedure is pretty nifty."
That's somewhat of an unfair comment, but then again consider limitations on time, which
got a lot worse under Battistelli because of policy changes that favour large corporations
. Here is the comment in full:
The EPO has a unique position in juridical terms. It is just an administrative body tasked with taking administrative decisions - but with no judicial oversight. This wouldn't be tolerated in any other branch of public administration I can think of, and it surprises me that the member states continue to connive in maintaining the conceit of a fair and thorough patent granting system.

Because it isn't fair, and it certainly isn't thorough.

It's not fair, because the process can result in applicants being denied a patent which would be upheld as valid in a court of law. There is no mechanism for detecting, let alone righting, such injustices.

And it's certainly not thorough. Most EPO examiners and BoA members have no concept of what a thorough analysis is like. How could they? Unless you have experienced the rigour of a multi-million euro invalidity or infringement suit, you probably think that the EPO procedure is pretty nifty. It isn't. At best, it's a good first approximation, but not more than that.
A response from a lawyer or attorney, taking or borrowing the term "thorough analysis", said:
Are your comments based on a thorough analysis? My experience (and the generally taken view) is rather that on average the analysis of BoA is more accurate and consistent than what you may get from national courts. Of course there are exceptions such as your multimillion infringement suit (I am not sure as to what you mean as multimillion invalidity). I sincerely hope that the UPC will reach the same standards as the BoA
We previously showed
how the BoA swatted a software patent
. This was a job well done and it involved a thorough analysis. It's not fair to nitpick or generalise, making the examiners or judges seem as though they should bear responsibility for failures which go all the way up to the top. Overworked examiners surely cannot function and to expect output to improve this way would be unrealistic. A long response then said:
Ah! So that's your point, Demut. A lack of symmetry. If the Technical Board of Appeal finds your issued patent (or patent application pending at the EPO) devoid of merit, you die without recourse to a Supreme Court of a contracting EPC State. Whereas, if you don't get wiped out by DG3, you can go on asserting your rights all the way to the Supreme Court in each of 38 EPC Member States.

Perhaps not coincidentally, we see currently a huge ruckus about whether the USPTO can revoke patents it already issued. Does that lie heavy on your mind too?

But GATT-TRIPS promises a judicial review of an administrative decision and that's what you get at the EPO. If you don't like it, you can shun the EPO and file your patent application country by country.

I fully understand the grief of a patent practitioner who thought that the claim he drafted was good enough for the BGH and is outraged when DG3 revokes his client's patent and the client demands to know why he is left empty-handed and deeply out of pocket. But that's because the BGH chooses to paddle its own canoe up a different creek from the one defined by the established case law of the Boards of Appeal, which every other Member State finds persuasive.

Or are you from England, and outraged that the EPO does obviousness differently than in England?

Childishly crying "It isn't fair" though, that doesn't cut the mustard, sorry.

I'm curious though, what justifies your assertion that at the EPO thoroughness is lacking. I presume you hanker after full discovery, like the USA still does but which has been done away with in patent litigation in England. Of course, adversarial English legal procedure is big on cross-examination of witness evidence. If you were to argue that fact-finding is more rigorous under English law than under the civil law procedures used everywhere in the world, I would agree with you. But please don't write off the EPO as "not thorough" because it does fact-finding like everywhere else in the world except the English common law countries. If there is any thoroughness lacking at the EPO, it is amongst the profession of representatives, who prepare their cases as if for a home fixture, in line with their particular domestic jurisdiction, and not thoroughly enough in line with an away fixture with the Rules of the Game as practised on the turf in Munich. The judges can only play what's put on the table for them to consider.

I am reminded of the excuse every politician offers when losing an election: A communication failure, it was. We were not quite imaginative and creative enough, to get our winning message across to the voters.

But reply, do. What do you mean by "not thorough enough"? Are those guys in DG3 just not reading your stuff thoroughly enough for your liking?
There's a bit of a withdrawal at this stage:
I apologize, I thought that your point was about the quality of the BoA decisions.

Now that I understood you better it seems that the difference is that I consider the BoA as a court and you don€´t. If however you take my position the system is lopsided as any other national system. Also there, once you get a refusal and go through all the available court levels, the final decision can be challenged in case of a positive decision in nullity proceedings but cannot be further challenged in case of a negative decision.

Or maybe the point is that in the EPC the number of available instances is rather reduced, because the BoA are already the final one. But I am not sure whether the users would like a different situation.
The picking on DG3 and the BoA carries on, with comments such as these:
The commentator eine gewisse Demut has an axe to grind, and would do well to confer with members of national judiciaries who have served on the EPO's Enlarged Board of Appeal. Sir Robin Jacob, for example. For him, there is no doubt that the necessary GATT-TRIPS-compliant judicial supervisory function for the administrative work of the EPO is delivered by DG3.
...on average the analysis of BoA is more accurate and consistent than what you may get from national courts

True, but this is not the point I was making. The point is that the system is lopsided. The owner of a granted patent has full access to the legal process, while the owner of a refused application has none. Nobody can tell you how big this lopsidedness is, because there is no way of measuring it. It's just an inherent feature of the EPC.

...would do well to confer with members of national judiciaries who have served on the EPO's Enlarged Board of Appeal. Sir Robin Jacob, for example.

The quality of DG3 decisions is again not the point. The point is that their positive decisions are regularly tested in court, whereas their negative decisions are not. Incidentally, Sir Robin Jacob has written and spoken often about the lopsidedness problem.


Finally, as one person points out:
The quality of BoA decisions is probably the best that's possible under the circumstances.

You're right. The number of instances is reduced by at least two in the case of a negative BoA decision.
As regular readers ought to know, Battistelli crushes them now. He's on some kind of war against the boards of appeal, despite them being the last sort of independent resort. They did, several years back, even took on the question of software patentability.
Speaking of software, guess what the EPO under Battistelli may be planning to do. Inevitably, as the Office is run by a clueless non-technical President, there's some delusional thinking along the lines of replacing examiners with machines! You can't make this stuff up! the whole point of having patent examiners is to have a manual operator(s) dealing with tasks that cannot be automated, require human interaction, literature surveys, and so forth. Here is how someone put it not too long ago:
The automatic examiner

In his last conference in The Hague, Mr Battistelli explained that in the future, examiners would get more support from their computer. Could it be that the Office is in the process of automating searches? In the age of Google, it is natural that our management is asking the question of automation. Computerised searches used to be the domain of a few selected database specialists, but nowadays everyone who types a few words into a search engine expects to find the relevant documents. It would thus appear that typing a few keywords into an artificial intelligence system should be sufficient to find all the "X" documents in a patent search. Or, even better, if one would directly feed the application in that system, it would extract the keywords, classify the application and spit out the "X" documents. Is that likely to work? Unfortunately, the answer is probably "no". First, this is not at all what Google does. Google appears to use keywords but is a very different system internally: Google actually indexes the relationships between documents. To speak in examiners's jargon, Google is more similar to ..combi than to ..xfull. The reason is simple: the creators of Google quickly realised that a pure keyword search does not work very well. Could we then imitate Google and use an automatic system that is similar? Unfortunately, again the answer is probably "no". We already have automatic tools (like ..combi) using links between documents, but part of the problem is that new documents do not have links. Google has the same problem with new pages, which are very slow to enter their system. It is not clear how a patent office – that primarily deals with new documents – could overcome this problem.

Patent offices have a further specific problem: our users are not necessarily honest - if they all were, we would not need an examination system. In fact, Google and patent offices have exactly opposite problems: whereas Google advertisers want their pages to be found, some patent applicants may want to hide their application from their competitors. The "page rank" of Google is a valuable commodity. Top pages will be clicked more often than the bottom ones and clicks directly translate to sales. This is a real problem for Google, as some users try to play the system e.g. with "link farms": collections of senseless pages designed to generate more links. Patent applicants (at least some of them) may not want their applications to be found. They also may not want us to find relevant documents. Some applicants try to obfuscate their application by avoiding keywords customary in the field. In such a situation the computer will fail to find relevant keywords and hence fail to find the relevant prior art. And this is presuming that the invention can be described in keywords, which is not necessarily the case either. Often the relevant information is in the drawings or in the arrangement of the features. For a human examiner all this is not a major problem. From an obfuscated application, he (or she) can still extract the information and knows how to rewrite the content in common keywords. A skilled examiner can extract the relevant information from drawings, tables, lists etc. He knows what is custom practice in his field, at what time in history and how various technologies developed. And he knows what documents he can find at which place in the classification.

Google is a commercial giant. It puts in a lot of effort in its search engines. For this it employs the world's best IT experts. The effort comes at considerable cost. Unless the EPO thinks it can do better than Google, it may be wiser to rely on human examiners to design its patent searches rather than on IT experts.
Battistelli's love for commercial giants has turned into an abhorrent, corrupt mess. Not only does he treat them favourably as applicants (UPC in its own right is beneficial to them) but he also gives them massive contracts without any transparency or as much as a public tender. Patent examiners aren't Luddites and boards or appeal aren't replaceable by some ludicrous, impractical system like that envisioned by UPC proponents.
If Battistelli stays in power for another year or two, nothing of value will be left at the EPO. He and his management team (many of whom are under-qualified buddies of his) ruin the Office and the misguided policies permeate and spread everywhere, even spilling to the outside (e.g. the boards).
⬆