Leaked: Team Battistelli, Exploiting a Controversial Decision From the Netherlands, is Trying to Squash SUEPO
Dr. Roy Schestowitz

2017-01-24 11:22:07 UTC
Modified: 2017-01-24 11:22:07 UTC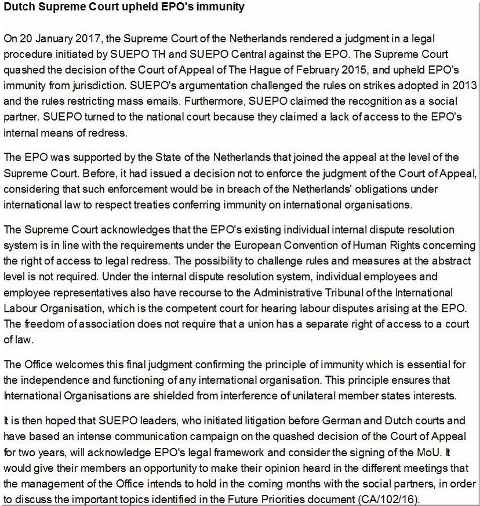 Summary: The latest leak (above) suggests that Battistelli not only celebrates immunity from the law but also uses that to take further steps against the Staff Union of the EPO (SUEPO)
AT THE END of last week the Dutch media began blasting the EPO and the government for allowing people to flagrantly disregard human rights on Dutch territories, in the name of attracting bodies with immunity and impunity. We have since then published 3 articles about it, namely:
The above message has just appeared on the EPO intranet. It says: "It is then hoped that SUEPO leaders, who initiated litigation before German and Dutch courts and have based an intense communication campaign on the quashed decision of the Court of Appeal for two years, will acknowledge EPO's legal framework and consider the signing of the MoU."
That would be suicide. It's part of the plan to squash SUEPO, with the help of the
yellow union propped up by Bergot and her ilk
. SUEPO can still sue the Dutch state and based on what their lawyer said, it seems like a real possibility. It's not just about SUEPO anymore but about a lot of abusive organisations (inwards and outwards),
including WIPO
.
⬆