António Campinos: A True EPO Reformer or More of the Same?
Dr. Roy Schestowitz

2017-10-19 15:14:37 UTC
Modified: 2017-10-19 15:14:37 UTC
...Will fit right in at Battistelli's 'pub' at the top floor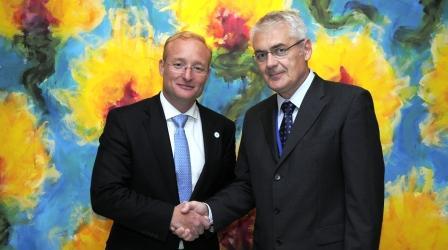 Summary: More unfortunate reminders that Campinos and Battistelli don't quite diverge on the big issues, they're just more than two decades apart in age (but the same nationality)
THE stakeholders of the EPO would like to think that things will improve when António Campinos settles in next summer. But that's too optimistic in our assessment.
Earlier today we shared
this ritualistic old photo op of Campinos and Battistelli
. "Another Campinos photo-op from the archives," a reader told us, comes "[f]rom Croatia - check out the photo."
"What kind of "social dialogue" can they hope for with the likes of Željko Topić in the mix?"We have shared this photo in this site before, but here is the page which says: "On the occasion of attending The Forty-Ninth Series of Meetings of the Assemblies of the Member States of the World International Property Organization (WIPO) held in Geneva, the MoU concerning bilateral cooperation between the two Offices was signed on 27 September 2011, on behalf of the Office for Harmonization in the Internal Market (OHIM) by President Antonio Campinos and on behalf of the State Intellectual Property Office by Mr. Željko Topić, Director General of SIPO Croatia."

SUEPO's message to staff is rather different from the message to the media because it considers reservations to be rather "dangerous" for diplomatic purposes.

Earlier today SUEPO linked to this new article titled "SUEPO confirms position on Campinos election" and it says:


The Staff Union of the European Patent Office (SUEPO) has confirmed that it's "ready to embark on a road to fruitful cooperation" with new president of the European Patent Office (EPO) António Campinos. Last week, a source close to SUEPO said that the staff union was willing to work with Campinos, provided there was a "respect by top management for the rule of law".

In a letter from SUEPO, it states that the vacancy for the position listed "unprecedented requirements: to lead the EPO with modern management techniques and an outstanding ability to engage in social dialogue".

"We believe this indicated the [Administrative Council's] desire to re-establish harmonious working conditions and to dissipate the atmosphere generated over the past year."
What kind of "social dialogue" can they hope for with the likes of Željko Topić in the mix?
Years ago he said
"SUEPO has no standing in this Office. SUEPO has no role to play in this Office."
⬆