Team UPC Continues to Promote Illusion of UPC Progress Where There's None
Dr. Roy Schestowitz

2017-10-19 16:00:06 UTC
Modified: 2017-10-19 16:00:36 UTC
Related
:
Bristows LLP is Still Trying to Attach Wings to the UPC and Distract From Serious (Likely Fatal) Barriers to It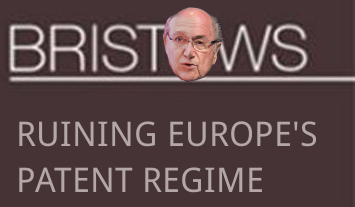 Summary: The core members of Team UPC in the UK spread obvious falsehoods in the media, probably in an effort to attract 'business' (consultation regarding something that does not exist)
WE HAVE not forgotten about UPC; it's just that there's nothing to say about it as nothing is happening. Even the EPO barely mentions it any longer. Marks & Clerk has long been absent and Bristows had not said anything in weeks! Until yesterday. If this is all they have to show, then they're running out of material. It's worth seeing the comments in the tweet about it. The UPC is dead.
"The Unitary Patent is a pipe dream. It probably won't happen.""Draft UPC legislation reaches final stage in Scottish parliamentary process," Bristows wrote, which almost makes it sound (or feel) like there's finalisation of some kind. The usual deception from Bristows... for the purpose of money.

But towards the end Gemma Barrett from Bristows confesses that "[t]he Parliament is now in recess (from 7 October to 22 October inclusive)," reminding us that the latest push is just this illusion of UPC progress. Nothing is happening in England and Ireland has virtually given up even on a referendum on the subject.

The Unitary Patent is a pipe dream. It probably won't happen. More complaints are being submitted this month in Germany and judging by this report from yesterday, the EU is no longer a friend of "Big Pharma" (which wanted the UPC in order to impose broad injuctions). To quote:


EU To Get Rid Of Big Pharma-Friendly SPCs



Extended monopoly protection by the Regulation EC 469/2009 concerning the supplementary protection certificate (SPC) mechanism for medicinal products has led to spiralling prices in Europe for lifesaving medicines, while exhausting the national budgets and depriving patients of fair access to treatments. The EU Commission should repeal the SPCs and put in practice the recommendations signed on 8 September 2017 by thirty-three civil society organisations, in alignment with the final report of the UN High Level Panel on Access to Medicines.
Having watched the UPC (and similar things which predate it) pretty closely for about a decade, we can honestly say that we've never really seen this much of a lull. Even recent events regarding patents say nothing about the UPC. The last we saw of it was in
today's marketing
from Graham Burnett-Hall and Sarah Routledge (Marks & Clerk), who are spreading half-truths and lies about UPC at IAM. They have just published this FUD/advertisement in the form of an 'article'/Q&A (scaring people to attract business).
It comes from IAM (EPO mouthpiece) and here is the part about UPC:
Q: Has your jurisdiction signed the Agreement on the Unified Patent Court? If so, when do you expect it to be ratified?

The United Kingdom has signed the Unified Patent Court (UPC) Agreement. [wrong] Ratification of the UPC Agreement and Protocol has been delayed by the 2017 General Election. [wrong] The Conservative Party, which was in government before the election, lost seats in the election, but remains the largest party in Parliament and has formed a minority government and is continuing the ratification process [wrong]. Ratification is most likely to take place in Autumn 2017 [wrong].

Q: Will your country play host to one or more divisions of the Unified Patent Court?

The United Kingdom will host both a local division of the UPC [wrong] and a branch of the central division [wrong], both of which will be located in London [wrong].

The London seat of the central division will [wrong], in particular, hear cases relating to pharmaceuticals, life sciences, chemicals, medical devices and agriculture/food.

For further information on the role and scope of the UPC, please click here [SPAM].

[...]

This article first appeared in Intellectual Asset Management Magazine. [Battistelli's mouthpiece]
The number of false statements above (marked by us in bold) is truly extraordinary. It's like they live in an alternate universe and look for readers gullible enough to call them (for business) to seek advice regarding a non-existent system. It disgraces the legal profession.
⬆