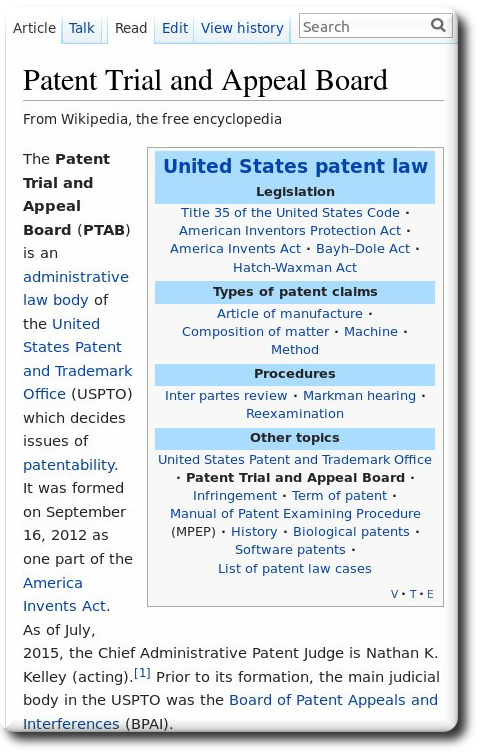 Summary: PTAB, which invalidates a lot of software patents, receives broad support from everyone but those who profit from patent litigation; we present a roundup
DISDAIN if not hatred of PTAB comes from all the expected directions. Patent trolls and companies with low-quality patents fear the possibility of their patents coming under scrutiny, sometimes without them even suing. It makes patent shakedown (like extortion/blackmail) a lot more risky, sometimes hard if not impossible.
That more or less explains the very purpose and rationale of PTAB. It helps keep people and companies more honest.
The other week we saw PTAB coming under scrutiny from the
anti-Section 101 Anticipat
. This is another one of these parasitic firms and it
spoke of yet another Section 101 rejection
(typically software patents being invalidated):
It has seemed like the PTAB has been on a recent roll in reversing abstract idea rejections. In the past four weeks, 13 decisions have reversed abstract idea rejections. But in that same time period, there have been over 60 abstract idea appeals that have been affirmed. See Anticipat Research Database. So the recent trend has actually been consistent with historical reversal rates of about 20%, which is far below other grounds of rejection reversal rates.
Yes, 80% has been that number since last year. It was repeatedly noted by various blogs and what it comes to show isn't that 80% of software patents are invalid but that 80% of patents deemed invalid by PTAB (only after petition) and also revisited by CAFC were confirmed as invalid. In many cases CAFC leaves these patents to rot without even looking into them.
Therein lies the great power and value of PTAB. Software patents don't receive any respect there and appeals of PTAB decisions rarely turn out to be fruitful. Inter partes reviews are a giant leap towards abolition of software patents at the
USPTO
. David Longo
recently spoke about
a "decision [which] is important because it was recently made precedential by the Board." (Ex parte McAward)
These people still try digging very deep for any glimmer of hope. They just don't know how to stop PTAB and thwart inter partes reviews (IPRs).
Michael Loney, who has covered PTAB for a long time,
wrote some days ago
that "PTAB has designated as informative three opinions addressing its ability to reject petitions because the same prior art or arguments previously were presented to the USPTO. Some believe this helps give guidance on how to make patents "IPR proof"" (as if the task is to dodge scrutiny rather than endure it).
Remember
efforts to slow down PTAB/IPRs
? Patent maximalists have already attempted that, but it never worked for them.
Michael Loney has
another new article
in which he wrote: "The PTAB has extended the one-year deadline in Minerva Surgical v Hologic by six months. The final written decision in the inter partes review was originally set to expire two days after the Federal Circuit released its en banc Aqua Products opinion"
These delays may serve to cause a pileup/scatterback/backlog, but at the end PTAB does its job and eliminates bad patents.
What next on the agenda of PTAB opponents. Well, they rely a great deal on
Oil States
, they
try to 'scandalise' PTAB
, and they sent many briefs to the Supreme Court. They wrongly assume that Justices will fail to see the agenda of these briefs.
Thankfully, briefs in support of PTAB are already piling up. It's pleasing to see that
Patently-O
, which keeps attacking PTAB, is finally willing to also acknowledge the existence of pro-PTAB briefs. As he put it
some days ago
:
Amici briefs supporting AIA Trials and Inter Partes Review are beginning to be filed. The first brief in is filed by John Vandenberg's team at Klarquist representing SAP, Gilead, Nautilus, and others. The Brief presents a reexamination linkage and slippery-slope argument in two forms: (1) killing inter partes review will also kill reexaminations; and (2) pre-AIA patentees 'consented' to reexamination and that should be seen as consent to inter partes review.
Our
previous post
spoke about how the American Intellectual Property Lawyers Association (AIPLA) was lobbying against PTAB. They also intervene in
Oil States
, according to
this article which says
that the "Federal Circuit judges discussed how they handle appeals from the Patent Trial and Appeal Board during an AIPLA session. Judge Newman also took the chance to offer a solution for the Supreme Court ruling on the pending Oil States case..."
We have good reasons to believe that
Oil States
will merely make PTAB stronger and more solidly protected. Sites such as
Patently-O
, knowing that PTAB proponents are watching, still hope they can turn the tide of SCOTUS scepticism on patents. It is worth noting that
Patently-O
habitually lies about what patents
are, e.g. in order to make it seem like the government is 'stealing' 'property'. As it turned out, even the government now debunks
Patently-O
-- a fact which the blog covered some days ago in
"Government Explains Its Position – A Patent is not Property but Merely a Limited Franchise"
. The blog is noting this at the end: "I'll note here that to make its policy-case that there are too many patent applications for the PTO to properly handle, the Government perpetuated the USPTO's false statement that "In 2015, the USPTO received more than 600,000 applications—more than three times as many as it had received two decades earlier." That statement includes 273,000 requests for continued examination as "applications.""
It does not matter how big the backlog is; they need to
properly
assess patent applications and if they lack manpower, then they can hire more examiners. Doing what
David Kappos
did, namely issuing a lot of bad patents, is a lot worse than a large backlog. Watch the next article from
Patently-O
. This
latest propaganda
from Dennis Crouch uses 3 consecutive lies (and propaganda words): "Stealing Invention Ownership". It's about sovereign immunity -- like that which patent trolls are exploiting these days.
Patents are not "ownership", they cannot be "stolen", and many patents have nothing whatsoever to do with inventorship. Crouch certainly knows this. But, alas, facts don't matter when he has an agenda to push.
The above is about
Ali v Carnegie Institution of Washington and the University of Massachusetts
(Supreme Court 2017), but it's worth noting that these same pretexts now piggyback the immunity of indigenous tribes. Congress intended to stop this and in fact high courts too are upset about this exploitation and rule accordingly. According to
this new blog post
, this loophole won't last much longer. In other words, PTAB will be gaining power and no patents will be outside its reach. It sounds as though
US politicians will put an end to this patent "scam"
and even IAM says that the "House Judiciary Committee [is] set to hold hearing on controversial issue of sovereign immunity and IPRs" (one can imagine where this will go). To quote:
The hot topic of Native American sovereign immunity and inter partes review (IPR) is set to be put under the microscope in a hearing by the House of Representatives' Judiciary Committee. Although details on the hearing are scant at the moment a House Judiciary aide confirmed to IAM that Chairman Bob Goodlatte is "very interested in this topic and intends to hold a hearing". It's not clear when that might happen, but given the amount of attention this issue is currently receiving it seems likely to be a matter of weeks rather than months.

[...]

It's not just judges who have expressed concerns, some legislators have also heaped scorn on the transfer strategy, with Senator Claire McCaskill of Missouri introducing a bill to clamp down on the use of sovereign immunity in this way. A group of representatives from the House Oversight and Government Committee, meanwhile, has launched a probe into the Allergan/St Regis deal.

With the involvement of the House Judiciary Committee, one of the principal drivers of IP policy on Capitol Hill, the topic isn't about to fade from view. But perhaps the bigger picture, as committee members will surely hear from some quarters in the next few weeks, is that the steps taken by Allergan and SRC Labs are symptomatic of what many patent owners see as broader problems with the IPR process.
What will happen in 2018? We expect the Supreme Court to reaffirm PTAB's position in
Oil States
, we expect the number of petitions (IPRs) to grow, we expect loopholes (like tribal immunity) to be closed and patent quality will
necessarily
increase, if not at the patent office, then at PTAB and the courts. It's a tough time to be a patent lawyer.
⬆