Related
:
IBM, IPO, AIPLA, ABA and Other Lobbying/Front Groups of the Patent Microcosm Are Trying to Change US Law for Software Patents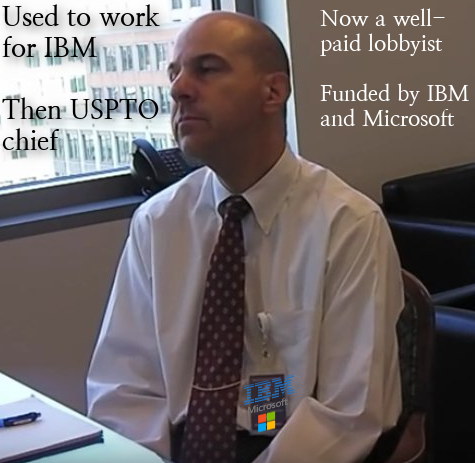 Lobbyists such as David Kappos are trying hard to destroy the integrity of the Office for the sake of the litigation 'industry'
Summary: The American Intellectual Property Lawyers Association (AIPLA), a front group of people who profit from mass litigation, is pressuring politicians and USPTO officials to reduce the quality of patents, remove barriers to frivolous lawsuits, and generally put the interests of prosecutors/trolls ahead of the interests of technologists
YESTERDAY we covered some of the good news regarding the USPTO, including the rumoured abolition of software patents, as a whole.
As we stated at the time, there's a reactionary lobby, namely that of the patent microcosm. Recent developments in the patent system may render them obsolete. It is important to see their reaction in order to better understand what they plan to do next.
AIPLA is a group of
saboteurs who manipulate the law
to encourage patent litigation (i.e. maximise profit for lawyers). That's litigation
at our expense
(for them to pocket).
The other day
Managing IP
published a long series of posts for AIPLA. These were all puff pieces, starting with
this interview of AIPLA's president
, who is described as "associate patent counsel at Johnson & Johnson, where she has worked since 2000. She joined AIPLA in 1995 and has done stints on the Professional Programs Committee, the Board of Directors (from 2004 to 2007) and the AIPLA Fellows."
So basically, AIPLA is now run by a massive multinational company and it is trying to water down
Alice
/Section 101, as the following part of the puff piece reveals:
Seeking consensus on Section 101

One example of AIPLA reconciling disparate views has been its work on patent eligibility under Section 101 of the Patent Act.

AIPLA executive director Lisa Jorgenson believes Section 101 problems remain the number one issue on members' minds.

"Our members tell us that the Section 101 issue is still the most important issue for them," says Jorgenson. "They are very concerned about the current uncertain state of the law. We believe this has discouraged investment in US-based research and development activities."
In another post in this series
they ask a loaded question
("When should the USPTO intervene in PTAB appeals?" is the headline) even though PTAB ought to work independently, just like the EPO's appeal boards (BOA). To quote: "The USPTO intervenes in less than a quarter of appeals of PTAB decisions to the Federal Circuit. Nathan Kelley, USPTO deputy general counsel for intellectual property law, recently shed some light on when and why the office chooses to do so" (it ought to stay out of it altogether).
The patent fanatics' groups (like AIPLA) are
reportedly
lobbying politicians to destroy PTAB (i.e. restore patent insanity) and they are looking for allies in Congress:
In speeches at the AIPLA annual meeting, Senators Patrick Leahy and Orrin Hatch listed a number of areas they are targeting in Congress, while Hatch said he was concerned about the effects of IPR proceedings on Hatch-Waxman cases
We are going to write more about that later on. The Patent Trial and Appeal Board (PTAB) is basically ensuring reduction in abusive litigation; there's nothing wrong with that unless one is in the business of litigation. Here we have
one of Watchtroll's latest attacks on PTAB
. which is yet another attack on technology itself. The trolls' lobby just hates science and labels those who actually do science "big tech infringers".
Meanwhile, as it turns out, in the above event there were pressuring the USPTO to stop PTAB. The term "PTAB improvements" was used, but by improvement they mean watering down. Here we have fanatical lobbyists
pressuring USPTO to enrich them by weakening PTAB
:
Joseph Matal, who is performing the duties of USPTO director, gave a speech discussing the Patent Trial and Appeal Board, including upcoming USPTO guidance on Aqua Products, how the precedential General Plastic opinion will reduce serial attacks on the same patent, the evolving 325(d) jurisprudence, and two PTAB cases he thought have a shot of being taken up by the Supreme Court
Matal has evidently come under great pressure from these lobbyists, having already seen how his colleague Michelle Lee got bullied out of her job. He is currently being sued as well (
Aqua Products, Inc. v Matal
among other cases and
here's an update on that
).
We certainly hope that PTAB won't be weakened or watered down. Given a growing number of petitions it ought to be
expanded
.
⬆