Blinding effect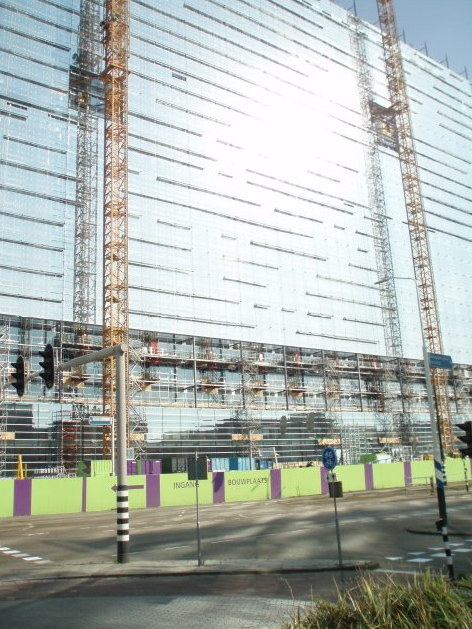 Summary: The EPO continues to describe itself as exactly the opposite of what it is; IAM again comes to the management's rescue with the headline "Users like the EPO's services"
THE @EPOOrg Twitter account was greenwashing almost every single day this past week (we track almost everything they post) because the European Patent Office (EPO) is not green. Similarly, for more or less the same reasons, it keeps mentioning "SMEs"; it's because that's what the EPO hurts the most (same googlebombing for "quality", "ethics" and "social" in recent weeks, coinciding with the Haar question). "Learn about Y02, the new patent classification scheme for climate change mitigation technologies," one such tweet said. There were several more and also retweets.
Alluding to
the defective
Nouvel building
, which was a greenwashing publicity stunt at times, SUEPO has just responded by saying very little (or nothing). Some time yesterday (or around that time)
SUEPO added
a link to
"Experts call for ban on glass skyscrapers to save energy in climate crisis"
(from a site we won't name or link to because of its practice of defamation and censorship). It's not hard to figure out which "glass skyscraper" the EPO has. We also wrote several articles in the past about the negative impact on the surrounding population and nature.
We don't suppose that the EPO's management cares about facts or this thing called "science" (the management lacks a scientific background). The EPO is
already
promoting, every day more or less, this "award" that's
an attack on patent neutrality in Europe
, e.g. in [
1
,
2
]. They try to
piggyback
actual science and associate the EPO with scientists (by paying them, by enticing them with awards).
We've meanwhile also noticed this latest
IAM puff piece
, the megaphone of the biggest liars (like
Battistelli
).
They refuse to change
and they're still mop-up people for
António Campinos
; we've noticed that several of their writers left. To quote from their latest nonsense:
The European Patent Office (EPO) has a quality management system (QMS) which received ISO 9001 certification (an internationally recognised QMS standard) in 2014. It is the only patent office in the world to have such recognition. The recently published EPO 2018 Quality Report assesses the performance of the office on an operational level and user satisfaction basis, as well as determining whether the QMS is being properly implemented.

The findings in the report are based on feedback from various sources, including customer services, complaints, market research, EPO staff and satisfaction surveys. Over 5,000 telephone interviews and online questionnaires were overseen by an external auditor for the 2018 report. We have gone through all the data to bring you the top takeaways.
It's written like a marketing brochure composed (or ghostwritten) by the EPO's PR staff. Maybe that's just what it is. IAM seems eager to lose any remnants of credibility. It's just going to perish, having been absorbed by another firm that's like PR services for law firms. Maybe the EPO can hire IAM one day,
directly
, as a PR agency, not just
via
a PR agency (as it did years back).
⬆