The map shows how 'exile' works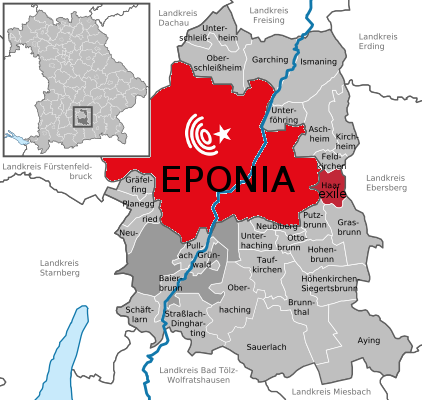 Summary: A fortnight or so after an important decision (or indecision more so) media still isn't talking about the inherent injustice of the main patent office in Europe
HAVING failed to even address the Haar question (the European Patent Organisation (EPO) threw out that question, dismissing it as 'inadmissible'), the EPO's management -- Team Campinos piggybacking Battistelli's attack on the Boards -- can carry on issuing lots of bogus patents, including software patents that even the USPTO would deny (more so after 35 U.S.C. ۤ 101/Alice). We've noticed this press release from July 30th [1, 2] which said:
Opthea Limited (ASX:OPT) is pleased to announce that the European Patent Office (EPO) has issued a "Notice of Intention to Grant" in relation to Opthea's European patent application covering OPT-302, a soluble form of Vascular Endothelial Growth Factor Receptor (VEGFR-3) that binds and inhibits the activity of VEGF-C and VEGF-D.

[...]

European Patent Application No. 14752057.1 covering OPT-302 will grant in the name of Opthea's wholly-owned subsidiary, Vegenics Pty Limited.
This isn't my area of expertise; it's nowhere near what we cover in this site. But who the heck knows if this European Patent is even valid; doesn't Opthea know that the EPO grants just about
anything
these days? Even patents on chewing gum and on maths (
software patents
).
António Campinos
, the
EPO
's President, actively advocates this kind of patents. The Boards aren't going to stop it; it would be a threat to judges' careers.
"What's the point of the media if it refuses to do even the most fundamental task which is reporting?"Notice how nobody in the media covered the outcome of the Haar case (or the Haar question). IP Kat mentioned it very briefly, in passing, and days later Antonella Gentile recalled some EPO decisions covered by EPO management-friendly Kats. Here they go:


Still Rose discusses decision T-0439/17 (published online 1 July 2019), in which the Board of Appeal of the EPO considered the circumstances when a third party may intervene in an opposition.

Rose also considers the recent decision in D 11/18. In D 11/18, a 2018 European Qualifying Exam candidate successfully appealed the decision of the Examination Board to fail his Paper B script (D 11/18). The Disciplinary Board found a serious and obvious error in the Examiner's Report and remitted the script back to the Examination Board for re-marking.
Not a word about the Haar question here; not even a link. Buried.
Isn't that odd, coming from a blog that used to cover the attacks on the Boards so heavily and frequently? There's also no mention of Boris Johnson's
corruption and nepotism which can further harm the UPC
. The other day Martin Hendry (Virtuoso Legal)
published
"Jo Johnson reappointed IP Minister - The other "Johnson and Johnson""
(family brings close relatives, based
not
on merit but connections). IAM
mentioned this only in a "tweet"
(informal) and it seems like media blackout continues everywhere (where coverage can be detrimental to patent maximalism). What's the point of the media if it refuses to do even the most fundamental task which is
reporting
?
⬆