Prime Minister Boris Johnson Has Turned Into a Complete Joke the Cabinet Entrusted to Deal With UPC Limbo
Dr. Roy Schestowitz

2019-07-28 14:31:48 UTC
Modified: 2019-07-28 14:31:48 UTC
Gave a job to his brother, in a very Donald Trump-like fashion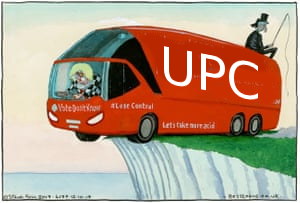 Summary: The carnival of incompetent ministers has come to town and the UPC will quite likely be its first casualty


"New UK Prime Minister Boris Johnson has appointed his brother Jo as a minister in his government," IAM wrote. "Among Johnson Jr's responsibilities will be intellectual property policy."
He already did that and then resigned/stepped down, but not before he personally met
Battistelli
and did a photo op with him.
"Putting the nepotism aside (namely Johnson giving jobs to close relatives), what does his view on the EU mean to the improper move by his brother's successor, who ratified the UPC after the FCC had suspended the process?"Given the UKIPO's growing ties with the European Patent Office (EPO) under António Campinos (whose deputy came from UKIPO) one might wonder what the heck can happen next. It's very unpredictable. Johnson insists on leaving the EU, which means UPC is not possible (there are many other reasons UPC is impossible).

"That's awkward in the context of the UPC," Benjamin Henrion responded to IAM. "Awkward" might be an understatement. Putting the nepotism aside (namely Johnson giving jobs to close relatives), what does his view on the EU mean to the improper move by his brother's successor, who ratified the UPC after the FCC had suspended the process? He resigned not too long afterwards.

Henrion also highlighted this tweet which said "patents are pretty absurd most of the time, which is part of the point of this. the same thing was independently discovered many times, and there are several independent patents from multiple decades."

Even more so when it comes to software patents where innovation is very rapid (far faster than patent examination and lifetimes of patents).

The Johnsons are in positions of power because of connections rather than skills. Just like at the EPO. Policy won't be based on facts but on reflexes. That's Trumpism. ⬆