Many Politicians Are Liars Because It's Becoming Part of the Job's Requirements (and Expectations)
Dr. Roy Schestowitz

2020-08-26 04:10:58 UTC
Modified: 2020-08-26 04:10:58 UTC
As the famous saying goes: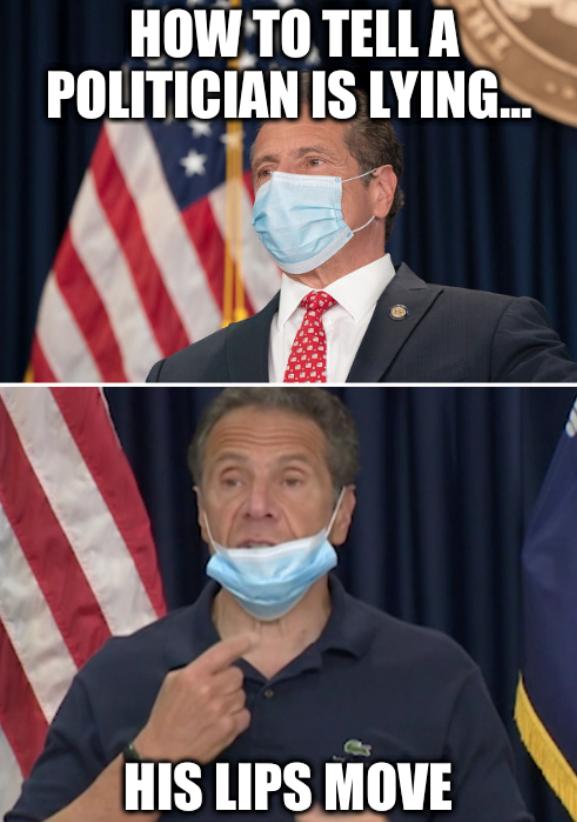 Summary: Opportunism and self-serving falsehoods have come to dominate politics; this means that a lot of people now vote for a "lesser liar" rather than demand transparency, truth, and accountability
WE live in a sad world where people are picked or promoted for loyalty, not honesty. They're judged by their peers for adherence to a script rather than truth itself. Today's media is sadly being judged similarly, both by its readers and its owners. If it's judged based on how 'convenient' the message may seem, how are we ever going to have false beliefs challenged?
"It takes a certain character to lie so much without a sense of guilt."The above meme which we've made with Cuomo in it isn't intended to say Cuomo is a terrible person compared to Trump or whatever; though he too has a history of lying a lot. But because people who dislike Trump saw a confrontation suddenly they viewed Cuomo as some kind of a national hero, with some suggesting he should enter the presidential race.

Cuomo -- like many politicians of his status -- is required to lie and is sometimes expected to lie. How long have the nursing homes scandals been covered up? EPO politicians such as António Campinos and Benoît Battistelli are chronic, shameless liars. They lie like it's their religion. It takes a certain character to lie so much without a sense of guilt.

As we've stressed before, patent offices ought to be run by something like judges and scientists, not politicians and lawyers.

There are few politicians who come from a scientific background, so naturally those few people care about facts and truth. Their credibility is on the line. Hopefully some time in the future it'll become acceptable for people with a track record of truth to run for public office. The people who currently run for Office (in the US at least) are better known for their lies than for any real accomplishments of theirs. Remember when a barely-educated IBM executive became ambassador to Russia based on his status alone (family/dynasty/privilege). No wonder we're having so many political issues in the world. Honesty isn't being rewarded; that ought to change. ⬆