01.07.09
Gemini version available ♊︎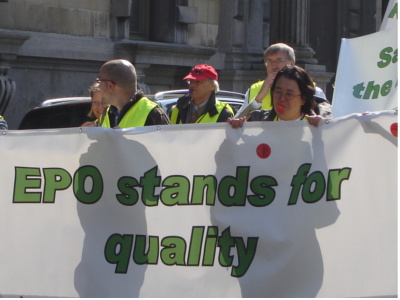 "[The EPO] can't distinguish between hardware and software so the patents get issued anyway."
–Marshall Phelps, Microsoft
A SUBJECT THAT we last covered two days ago is Microsoft's alignment with software patents as a business strategy. Further to this, let us consider the effect of its intimidation alone on GNU/Linux [via Digital Majority].
Companies also can use their patent portfolios to disrupt competitors and gain revenue from companies that want to use their patented technologies. Microsoft, for example, has made claims that it holds patents for technologies in Linux, which open-source proponents viewed as a tactic to discourage people from using open-source software.
According to this, "Microsoft's Patent Group oversees nearly 10,000 issued US patents, with more than 17,000 US patents pending, as well as the growing portfolio of more than 30,000 issued and pending patents filed internationally."
So, whilst axing workforce, they show no signs of cutting down on software patents. Judging by the low standards at the US patent office, many of these patents do a better service at intimidation rather than action. But there are exceptions. Here for example is an incident involving a soft patent that has just had Oprah Winfrey sued. From the more opinionated news summary:
Joe Mullin is back to let us know about the latest patent insanity, starting with a post about a whole bunch of patent infringement lawsuits based on patents held by Scott Harris. You may recall Harris because he was a lawyer for a big law firm, but was quietly filing patents on the side, and then apparently working out deals whereby other companies licensed those patents to be used in infringement lawsuits against big companies — including companies represented by the very same firm Harris worked for.

[...]

ow, my critics will be the first to point out that I'm no patent attorney, but reading over the patent, it certainly appears to be a patent on displaying a book online. How is that possibly patentable material?
Worse things have already been patented, and sometimes even used in lawsuits. Here is an example from Boxing Day.
Is This Necessary?
People like Glyn Moody, a mathematician by practice but journalist by trade, denounce the core idea of patents even more broadly. Citing other articles, they show how much damage is caused by what ought to be referred to an "intellectual monopolies". Here are two new examples:
1. The Once and Future Economy
This is yet another reason why the lock down of knowledge by intellectual monopolies is simply unacceptable in a world that will be predicated on sharing digital stuff, just as we used to share the physical stuff that Nature gave us a few hundred thousand years ago.
2. The (Intellectual Monopoly) Biter Bit
The author of a proposed Chilean law to fight copyright infringement was greeted with the warning message "This copy of Microsoft Office is not genuine" when he was making a presentation about it.
Here is Siemens shipping an hefty bill for intersection of ideas or inspiration. Shouldn't it be shipping products instead?
Siemens reckoned Seagate had infringed a group of patents it thought it owned concerned with multi-layer hard disk drive sensor technology in GMR (Giant Magneto-Resistive) read heads. Siemens claimed up to $1bn in damages, based on all Seagate hard drives shipping since 2000 using its patented technology. Subsequently this was reduced to $366m, which it calculated as a three per cent royalty on Seagate HDD sales of $12.2bn in the relevant period. The judge then restricted the damages claim to royalties on disk drive sales after November 24 2004, which amounted to $160m.
This is not a soft patent, but nonetheless, such a confrontation shows little innovative value; it's litigation and bureaucracy. It makes for hostile environments where solicitors are the main benefactors. █
Permalink
Send this to a friend