08.23.10
Gemini version available ♊︎
"We've always been shameless about stealing great ideas."
Summary: X.Org Server at risk of being under control by Apple, which continues to do distasteful things
MANY PEOPLE still remember what Apple did to KHTML. When it comes to Free software, Apple is primarily an exploiter. Last night we had a long discussion about this. Basically, there is danger that Apple will be pulling similar tricks against X, which a lot of Apple's competition (and Microsoft's competition) depends on heavily. "Apple Looks To Take Over X Server 1.9 Release Management," says Phoronix. From the somewhat alarming post:
With yesterday's successful release of X.Org Server 1.9 on time by Intel's Keith Packard, most of the developers will now begin working towards X.Org Server 1.10. Like the past few X.Org Server releases, Keith Packard will go on to continue being the release manager for this new series. In the past there's been the input-expert Peter Hutterer of Red Hat to handle the stable release management duties for the point releases, but he will not be handling it for the 1.9.x series and it looks like Apple may be taking over
We have already written about Apple's parasitic approach when it comes to Free/Open Source software [1, 2]. But there are additional problems. For those who require a reminder, Apple too is becoming or has already become a monopoly abuser. Here is a very recent article:
Report: EU joining FTC Apple probe

[...]

The inclusion of the EU regulators means the investigation could now stretch "another four to six months" before the FTC reaches any official conclusions, according to the Post's sources.
In other news, Apple's sweat shops are hiring.
Apple's China contractor plans to hire 400,000

Foxconn Technology Group, the Chinese contract manufacturer for Apple Inc. and other U.S. tech companies, reportedly plans to hire 400,000 new workers and move some operations closer to where they live.
Just don't expect Apple to pay those people decently. The high margins will be used to make people like Steve Jobs richer while under-age workers commit to labour for 15 hours a day making cheap hardware. Apple then adds some revered logo to this hardware and triples the price, only to pocket the difference. But hey, Apple is at least exploiting some 'free' code (as in gratis, to Apple at least) in these devices which sweat shops manufacture in Asia. When it comes to Android, a lot of the profit at least goes to Asian companies (which unfortunately pay Microsoft for Linux sometimes). █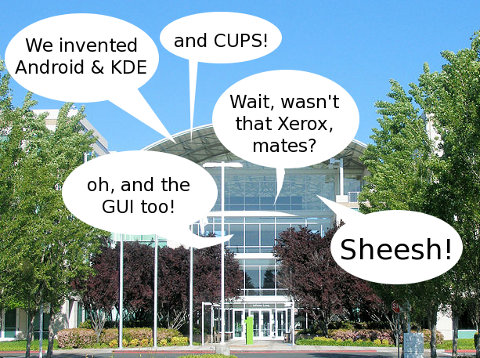 Permalink
Send this to a friend