11.23.10
Gemini version available ♊︎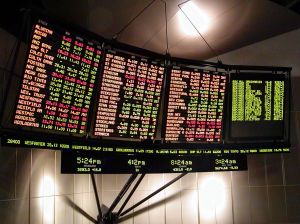 Summary: Microsoft's destructive practices as of late and why it's reasonable to suspect that Microsoft is behind newer problems at the London Stock Exchange, its poster child for "get the facts" campaign
MICROSOFT is a company that destroys, it does not create. Microsoft is also a company that distorts (look no further than how it manipulates Novell), it does not compete fairly. Over the past 2.5 years we have shown Microsoft's hijack of Yahoo!, which was all about distortion and distraction (AstroTurfing, proxy fights, entryism, and so on). "Major Yahoo Layoffs Reportedly On The Way" says this report that helps show just what Microsoft can do to a company which it decides to destroy or take over (without ever having to pay to buy the whole company).
Yahoo (NSDQ: YHOO) CEO Carol Bartz said last fall that the company—which has had three major rounds of layoffs since 2008—was "done" with layoffs, but that may not be entirely accurate. The company is reportedly planning another big round of job cuts next month. TechCrunch says the company will cut 20 percent of its workforce, or as many as 2,500 employees; Yahoo is calling that report "misleading and inaccurate" but it does say "it's always evaluating expenses to align with the company's financial goals" and Kara Swisher at AllThingsD says the company will likely cut about 10 percent of its workforce next month.
Microsoft has done to Novell what it has done to Yahoo. It broke Novell from the inside and then had the company sold to AttachMSFT (with all the patents going into a Microsoft shell). Microsoft hardly had to pay for this and it got so much done at Novell's expense (Mono and Moonlight for example).
It seems possible that Microsoft is trying to regain control of the London Stock Exchange (LSE) in some nefarious ways. When LSE dumped Windows some Microsoft minions lost their jobs and regarding the news that "London Stock Exchange hires 81 C++ developers for delayed Linux system" Pamela Jones from Groklaw quotes reports of apparent sabotage and adds: "Is there a hint in this story that someone deliberately tried to undermine the switch from Microsoft .Net to Linux?"
"Microsoft has a long history of "technical sabotage" as one lawyer called it."In a prior comment about a different report (about migration delays incurred by suspicious interference), Jones wrote: "I can certainly think of some folk in this world that do not enjoy the thought of Linux being a success. And now The London Stock exchange is claiming they need more time to get more speed from their new system and so are delaying. That is despite what the article highlighted says: "However other exchanges are fast developing systems that can rival the LSE's speed and capacity. Last week, NASDAQ in New York said it had a scalable Linux system delivering trades at under 100 microseconds, 25 microseconds faster than the LSE." Something doesn't smell right in this picture."
Jones wrote this in response to the many British reports about people (or person) apparently messing about with the new system, trying to make it fail. Disgruntled employee/s or Microsoft sabotage? It can be both. Microsoft has a long history of "technical sabotage" as one lawyer called it. █
"[Y]eah, and the [Microsoft] engineers were told to fuck with Samba." -Jeremy Allison (Samba), FLOSS weekly podcast
Permalink
Send this to a friend