12.04.10
Gemini version available ♊︎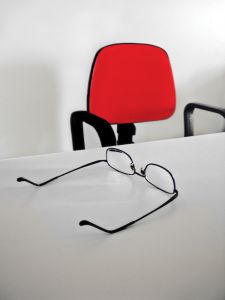 Summary: As more desks are being emptied or vacated owing to portability, it is portable devices that GNU/Linux needs to target; software patents are Apple's and Microsoft's only viable response
PHONES (featurephones or smartphones) are a growth area which is further complemented by mobile devices like tablets. This comes at the expense of the so-called 'desktop' to a certain extent. Microsoft knows this and even admits this sometimes. Vista 7 is not suitable for such devices and Microsoft is unable to make Vista Phony 7 [sic] stick (the company needs it for form factors like tablets). In such a situation Microsoft can just give up, acquire a winning team, or try again to leapfrog the competition with a new product. But instead, Microsoft is extorting for products it does not make to pay up, in order to serve as a sort of corporate welfare. A mobile technology news site says in the headline that "Microsoft sees revenue potential in smartphone-related patents" and this claim sometimes comes from Microsoft's own mouth. Rupert Murdoch's AllThingsD has another opinion: "Microsoft's top lawyer, Brad Smith, said the company's road to success in mobile isn't based solely on its Windows Phone 7 operating system. According to AllThingsD, Smith said the company also believes it can make money from its vast pool of smartphone-related patents. However, he conceded that the money Microsoft could make per phone from patents isn't as much as it could get via sales of phones running Microsoft software."
According to news that we pinned down yesterday, most the phones sold in China are now running Linux (Android) and despite its loyalty to client like Microsoft, the Gartner Group acknowledges that Microsoft's bread and butter gradually recede [1, 2, 3]. "Tablets putting a drag on PC sales" is one way of putting it and clearly enough Gartner is trying to bury its false predictions (there are many):
TABLET AND SMARTPHONE sales are thought to be behind lower than expected growth in PC shipments, according to Gartner.

The IT market research firm is now expecting a 14.3 per cent increase in PC shipments in 2010 over 2009, down from a prediction it made in September that the year would see 17.9 per cent growth. Gartner views tablet and smartphone sales as reasons for that and the company expects tablets to grab 10 per cent of the PC market by 2014.
A few hours ago we showed that Apple — like Microsoft — resorted to using software patents against mobile Linux, which is self explanatory.
I've said this before but if you feel the best way to promote your product is to attack the opposition you have already lost. Fear uncertainty and doubt (FUD) is a well known tactic and exists not only in the software world. Free software supporters have been quoting Ghandi's "ignore, ridicule, fight, win" quote for a long time. By launching these attacks both Microsoft and Jobs appear to have belied their fear of the rival product and aligned themselves with step 3 of that process. Despite the rhetoric that came from Redmond and Apple supporters following these stories, the truth is that both OpenOffice.org and Android have made big enough dents in their markets to wake up the sleeping giant monopolists.
The latter post from Ryan Cartwright is as optimistic as it ought to be. Linux is in many ways winning, but it is not known as "Linux". Just as "Linux" stole GNU's thunder, brand names like Android and Ubuntu are now stealing Linux' thunder. Articles by Joab Jackson and others make it clear that Microsoft is now focused on patents, not products.
The software giant filed a patent yesterday, in which it proposes to deploy a layer of shape-memory plastic that would change the surface of the screen when hit with different wavelengths of ultraviolet light.
Microsoft wishes to become a so-called "licensing company" (euphemism for patent taxation centre) because it cannot grow past the desktop, which seems like a shrinking market. GNU/Linux need not aspire to take over the desktop if the desktop itself (as we know it today) is quickly changing with advances in nano-technology.
Paul Grim explained a month ago "Why Apple can't beat Android" either:
For the better part of 20 years, Mac lovers fumed in frustration as Apple languished in sub-5% PC market share territory. Wintel dominated. Big, ugly, buggy, clunky, and everywhere. It seemed as if graphic designers were the only people stubbornly refusing to admit defeat and join the rest of the planet in using Windows.
Gerard Braad, an amicable mobile Linux developer who was recently elected for Fedora leadership, says that "Oracle and #TheSteve [Job] couldn't keep the promise yet, but Henri Gomez made [...] #OpenJDK on #OSX http://blog.hgomez.net/?p=670″
On the desktop too GNU/Linux is said to have greater market share than Apple's (see Ballmer's slide below). The world is bigger than the United States, but last week a lot of Web sites were referencing the bunk from Net Applications. █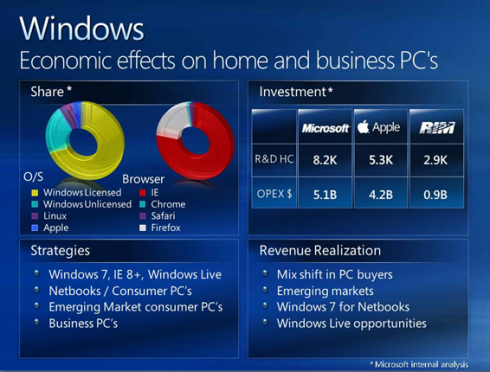 f
Permalink
Send this to a friend