05.12.11
Gemini version available ♊︎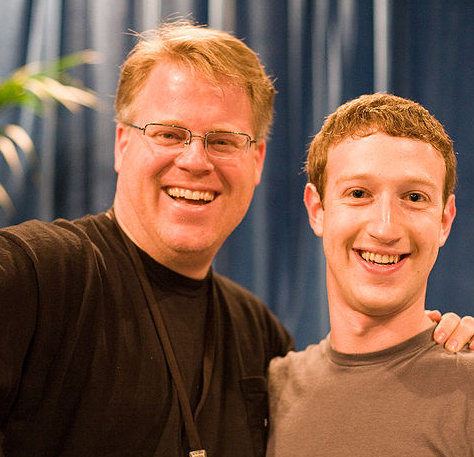 Facebook co-founder Mark Zuckerberg
with former Microsoft evangelist (source: Robert Scoble)
Summary: The PR agency Microsoft works with to attack Google has just been paid by Facebook as well, in order to attack Google
Facebook has done so much to help Microsoft, including the promotion of Silver Lie, OOXML, B0ng, and even passing all of its users' data to Microsoft for mining purposes and obvious privacy intrusion. There is a lot more of that, but we covered it before. Add another medal of loyalty to Mark "dumb f*cks" Zuckerberg's vest.
Microsoft just had to pay Facebook hundreds of millions (like in Novell's case) and the payoff is good because attacks on Google are now being funded by Facebook [via, HT "walterbyrd"]
Folks its ON, Facebook vs. Google, clash of the Internet Giants reached new heights after a spokesman for Facebook confirmed to Daily Beast that Facebook paid a high level Public Relation firm to publish and spread stories against Google throughout the media to study various methods to examine the allegations that Google has been violating with user privacy. The PR Firm Burson-Marsteller, offered their help to Chris Soghoian to write an article on Social Circles which shows how Gmail users can access information on "Secondary Connections" or friends in their circle of friends. This very "Social Circle" seemed to be the very core of the Anti-Google campaign by Facebook. The PR Company spokesman told the news journalist in black and white terms.
We wrote about this firm earlier in the week [1, 2], but it is more interesting than that. In 2007, "Microsoft and the PR agency Burson-Marsteller formed ICOMP to fight against Google's acquisition of DoubleClick," as we quoted last year. We also mentioned this attack dog in an article about super-crook Richard Edelman. Prior to this we mentioned Burson-Marsteller in the context of Visible Technologies, a company founded by former Microsoft employees to engage in AstroTurfing through blogs (Microsoft is a client, obviously). This is some nasty, nasty stuff. Microsoft's hooligans in suits are as liable as Microsoft itself. Where is the liability? Where are the antitrust regulators? █
Permalink
Send this to a friend