12.31.12
Gemini version available ♊︎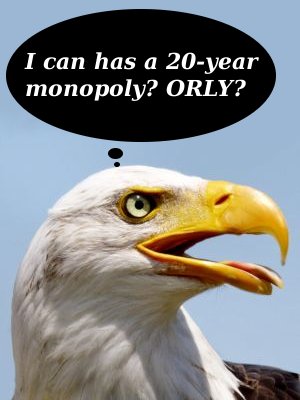 Summary: Some new stories which show what a sordid mess the US patent system became over the decades
In the US, "even lawyers think patent system is broken," writes Glyn Moody regarding this article from Groklaw. We wrote a lot about the USPTO (headed by a former manager at a software patents booster*) and so did Timothy B. Lee, who identifies more pertinent parts of the problem. To quote:
People have radically different views of the patent system. Critics see it as an unmitigated disaster, while many in the patent bar don't understand what all the fuss is about. But it's rare for prominent advocates of these contrasting perspectives to engage each other directly.

But that happened on Wednesday in a teleconference debate hosted by the Federalist Society. Defending the status quo was Judge Paul Michel. Until 2010, Michel was the chief judge of the Federal Circuit Court of Appeals, a post that made him the nation's top patent judge. He debated Judge Richard Posner, a Chicago-area appeals court judge who threw out a patent lawsuit between Apple and Motorola earlier this year, complaining that the patent system had descended into "chaos."
The other day we wrote about the EFF's latest endeavour against the US patent system (it worries about innovation) — an important effort that got backing from rich people, as covered in FOSS blogs too:
If you happen to be familiar with billionaire Mark Cuban's famous blog, then you've probably listened to his pontifications about the broken U.S. patent system many times. Now, Cuban, along with game developer Markus "Notch" Persson, is putting his money where his mouth is. The Electronic Frontier Foundation (EFF) has announced a half-million dollar donation from Cuban and Persson to boost the foundation's efforts to reform the patent system. The donation also creates a newly named position at the foundation: "The Mark Cuban Chair to Eliminate Stupid Patents."
Here is more on that [1, 2, 3, 4, 5, 6, 7, 8]. Reports were numerous.
Over at Wired, the stacked panel continues this Xmas, this time with an Assistant Professor of Law. The lawyers and career law professors don't offer solutions which make lawyers obsolete. It's lawsuits like this new one which give them business at the expense of those who have real products. To quote: "Netflix has been hit by a patent infringement lawsuit by Open TV, now a subsidiary of Nagra, the Switzerland-based conditional access company, part of the Kudelski Group. It has not said what the patents are, but the filings at the US District Court for the District of Delaware show that they are all software patents."
How about this new $1.17 billion patent lawsuit? Guess who the cost is transferred to? This is yet another instrument for passing wealth from the vast majority to the oppressive rich minority.
What "law" people suggest is not enough. It's not enough to stop patent trolls, either. We need to end all software patents, everywhere. We need to name those who stand in our way. █
___
* IBM typically tries to hide it by keeping rather silent. Bloggers seem surprised by IBM's position and Pogson writes: "They proceed from begging the question to blatant error in logic. I hope this is just the vomit of one of their lawyers and not the philosophy of the corporation… otherwise, IBM is doomed to sue and be sued forever." This is not the correct assessment. IBM uses software patents to empower the cartel it leads, allowing it to sell artificially overpriced products. When it comes to patent policy, IBM is our enemy.
Permalink
Send this to a friend