07.11.13
Gemini version available ♊︎
Microsoft gave the NSA direct access and repeatedly lied about it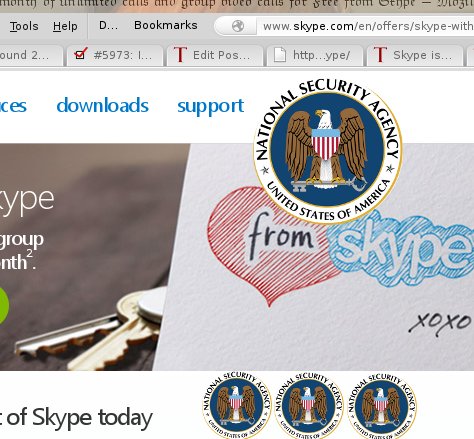 The latest promotion put in the Skype homepage, with NSA emblems suitably overlaid by Techrights
Summary: Skype video calls downloaded/recorded by the NSA, other Microsoft services give the NSA direct access, and Microsoft lied about it to the public
WHAT the CIA's data-storing, data-mining sister has been doing is illegal. Some high-tier professionals called it in the New York Times "criminal". Coming from an agency that works alongside above-the-law secret agencies with unaccountable assassins, this oughtn't be shocking. But who aids them?
"Microsoft secretly gave the NSA, CIA, FBI access to Skype, Outlook, Skydrive"
–Kim DotcomMicrosoft is listed first in PRISM documents, suggesting that a lot of it started with Microsoft, lacking any legal challenge. If Microsoft indeed kick-started this control of the population by robbing the population's rights, dignity, and any form of privacy, then it's pretty much compliant with Gates' evil investments in G4S. For one criminal entity to collude with another is only natural and NSA back doors for Windows are now confirmed. These have been around for ages, some say since the 90s.
Kim Dotcom, a famous victim of illegal surveillance (followed by illegal raid), wrote about the latest revelation that "Microsoft secretly gave the NSA, CIA, FBI access to Skype, Outlook, Skydrive" (the cited confirmatory article is from The Guardian, edited by Glenn Greenwald, Ewen MacAskill, Laura Poitras, Spencer Ackerman and Dominic Rushe).
Skype is part of this collusion as "Skype worked to enable Prism collection of video calls," according to the summary of the report. Little can violate people's privacy more than eavesdropping and retaining of video calls. Over a year ago we said that a Skype acquisition by a US-based corporation would be used by the NSA to violate people's privacy. "Microsoft hands the #NSA access to *encrypted* emails in addition to Skype video, SkyDrive, more," Joshua Levy wrote and Dan Gilmore asked: "How can any business even begin to trust Microsoft now?"
"How can any business even begin to trust Microsoft now?"
–Dan GillmorThat's correct. And how can citizens ever permit their government/military to sign deals with Microsoft? They should be up in arms over it.
Trevor Paglen says that "Microsoft & NSA collaborate to spy on you" and Jacob Appelbaum, a Tor developer who has been corresponding with Snowden lately, thanks Snowden. Their government is seemingly trying to tie them together (e.g. in the Washington Post and its bottom feeders) so as to harass or prosecute Appelbaum, leading Appelbaum. who is still based in the US, to consideration of asylum requests himself. The US government has tried to do the same thing to interject Appelbaum into the Cablegate investigation which nails Manning (Appelbaum revealed this in his very recent talk in Germany).
Appelbaum writes: "Thanks to Snowden we now have proof that Microsoft is directly complicit in NSA spying and have lied to us all" (Techrights has made these claims for years and Appelbaum occasionally cited Techrights). Skype shows not only that people cannot trust Microsoft but also that they cannot trust proprietary software. The encryption in Skype is a sham. It protects some companies and plutocrats, not users. The illusion of encryption is worse than no encryption at all because it provides a false sense of security/privacy.
The article from Greenwald et al. ends with a lot of "damage control" from Microsoft. A reader of ours wrote by E-mail to say: "About that article, Microsoft will probably try to counter with the "Microsoft Effect": get users to believe that 'all' service providers allow eavesdropping so therefore it is not worth the trouble to switch. It's sort of a version of sour grapes. They've used it before with bugginess and insecurity of their software to use it to convince people not to even try other systems."
That would be predictable. █
Permalink
Send this to a friend