09.24.13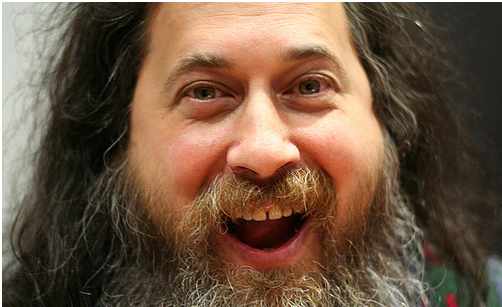 Summary: Why the platform which Richard Stallman created should be evaluated in terms of its adherence to core values, not market value
IBM received a lot of attention a week ago, owing to a promise it had made before. This is significant because Microsoft is bound to suffer the most [1]. Investment is what they call it [2,3] and it's hardly news [4]. "Innovation" is another word that gets thrown around [5], but not the F word. Yes, Freedom. To IBM, this word is scary; either it means "cheap" or that 'radical' thing Richard Stallman talks about. To companies like IBM, it's still all about money. GNU/Linux pundit SJVN alludes to Red Hat as such [6] now that there are some financial results which, despite early optimism [7,8,9] and beating of expectations [10], Wall Street is not even so excited about [11-14]. But the problem is this: rather than focus on the genesis of GNU/Linux, which was about freedom and users' control, here we are talking about billions of dollars — sometimes made by selling proprietary software from IBM, installed on very proprietary hardware. If this is progress for GNU/Linux, it's merely fiscal progress. Our rights online are still perpetually eroding (e.g. the Internet has become a military-grade surveillance platform), perhaps because companies which bear our flag put profit before principles. █
Related/contextual items from the news:
Not long ago, Microsoft ruled the computing empire with near-monopolies in PC operating systems, web browsers and productivity applications. The company's reign, however, was dominated by discord. Competitors complained about Microsoft's predatory business practices. Users bemoaned the company's software as a necessary evil.

Fast forward to 2013. Once revered and feared, Microsoft is a shell of its former self. Far from the software and technology leader it used to be, the company now makes repeated missteps in emerging markets such as cloud computing, mobile, search and social.

IBM is investing $1 billion in new Linux and open source technologies for IBM's Power Systems servers.

The computer giant on Tuesday plans to pledge that it will spend $1 billion over four or five years on Linux and related open-source technologies for use on its Power line of server systems, which is based on the internally developed chip technology of the same name.

As many of you know, IBM has a long standing commitment to open source innovation and Linux in particular. We have been part of the Linux Foundation and all its exciting events from day one. Of course, IBM will be part of LinuxCon 2013 – again as a Platinum sponsor. A large team of IBMers is heading to New Orleans next week, where we look forward to connecting with both creators and consumers of the open technology that we come together to celebrate. We have a variety of interesting sessions and fun activities planned for you. Here are some of the highlights:

Red Hat's second quarter was another roaring success no matter by any standard.

Wall Street is optimistic about Red Hat , which is slated to report its second quarter results on Monday, September 23, 2013. Analysts project a profit of 22 cents a share, a rise from 20 cents per share a year ago.

Red Hat has a popular following among both customers and investors, as it has in many ways helped to disrupt the dominant business model in the industry. Early in its history, many were skeptical that the company could actually profit from open-source software, citing the many companies that locked customers into their proprietary platforms in the hopes of compelling repeat business. Yet years later, Red Hat continues to thrive as demand for flexible solutions is greater than ever. Let's take an early look at what's been happening with Red Hat over the past quarter and what we're likely to see in its report.

Shares of Linux software company Red Hat fell as much as 9 percent in after-hours trading Monday even though the company reported quarterly revenue and net income that exceeded Wall Street's expectations.
Permalink
Send this to a friend