03.21.15
Gemini version available ♊︎
Microsoft loves [to destroy] Linux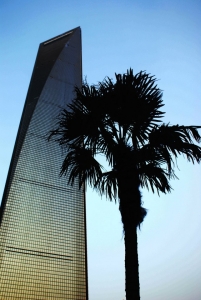 A view of the World Financial Centre in Shanghai
Summary: Microsoft makes false claims about future versions of Windows (with more surveillance) becoming 'free' in order to stop migrations to GNU/Linux
THE world's most connected nation (the nation with the most Internet users) and also the world's richest nation (depending on the criteria assessed, irrespective of population size) is China. China makes the lion's share of the world's PCs, phones, etc. It's a huge powerhouse. It's impossible to boycott China.
"Not only is Microsoft working for the NSA, which cracks Chinese giants (like Huawei), but it also fires Nokia staff that was based in China."Well, now that China is adopting GNU/Linux and its government bans more and more Microsoft software (we covered numerous examples before) what can Microsoft possibly do? It decides to 'forgive' China, then dump more back doors onto its population. How ludicrous a move. No wonder Bill Gates, disguising himself as a 'charity' person while serving Microsoft's management, went lobbying technical ministers in China last month, including the very top (chief) technical minister. It's a form of corruption.
What does Microsoft mean to China? Nothing good, that's for sure. Not only is Microsoft working for the NSA, which cracks Chinese giants (like Huawei), but it also fires Nokia staff that was based in China. Microsoft fired almost 10,000 such staff on new year's day (more of less). It did this "during their New Year vacation to add insult to injury," said one of our reader, citing Ahonen (Nokia expert) who said: "this is like firing someone for Christmas. How cruel are they at Microsoft. Sadists!!!"
The part of Nokia which was left outside Microsoft's reach is meanwhile turning to Android. As AOL put it, "Nokia is showing off the Android tablet that's part of its post-mobile phones strategy here at Mobile World Congress in Barcelona. It's only available in China right now but the company tells TechCrunch it's "looking at European markets" to consider whether to bring the N1 here too."
Another report said that "Nokia fan blog NPU has uncovered benchmark test results on the Geekbench website. The tests reveal a, entry-level or mid-range Nokia smartphone running Lollipop powered by a quad-core 1.3GHz MediaTek MT-6582 processor. Little else is known at this point, but the MT-6582 supports 720p displays, an 8-megapixel camera and 1080p video recording, so this certainly won't be the flagship Android phone from Nokia that we've been waiting for."
So here we have a situation where Microsoft's part of Nokia (acquired) is being destroyed, whereas the other part moves back to Linux, as Nokia had done before Microsoft attacked it with a bribed mole. How does China feel about it? This is a serious attack not only on Chinese workers but also on Chinese sovereignty since many Chinese companies rely on Android and/or Linux for their operating systems development (e.g. COS). Nokia was widely used (not just manufactured) in China, so it hits China where it hurts.
There was a lot of artificial hype (PR) about Vista 10 supposedly being 'free' (complete nonsense if not an utter lie that we refuted earlier this year, back in late January), especially in China. As IGN put it: "The process of acquiring customers is where the "free" part plays a major role: offering a free mobile version of Microsoft Office, or giving away Windows 10 as a free upgrade to certain users for a year after launch, for example."
This is of course not free at all, not even gratis. It's just a trap, or bait. A Techrights reader called it "fear o'linux" and he is of course right. It's all just intended to stop GNU/Linux.
Here is a person from the Microsoft-linked IDC being dubbed "Microsoft Expert" while making the ludicrous claim that "Windows Will Become Free for All Sooner or Later" (this is the headline). Even if what he meant by free was gratis, we are far from it. Microsoft is just trying to eliminate all competition, whereupon it can raise the price of Windows. It's a common trick; it's Microsoft's modus operandi. And in any case, Windows is not free; it's not gratis, either.
The article "Chinese Pirates to Get Free Windows 10 Upgrade" is rather misleading. "Fear of Gnu/Linux gaining market share" is what it's all about, a reader told us. Watch Microsoft-friendly sites coming up with even more misleading headlines, such as "Windows 10 will be a free upgrade for all users worldwide". Again, this is complete nonsense. Don't fall for it. Microsoft is just trying to stall migrations to GNU/Linux, that's what it's all about.
To say that Microsoft loves Linux is ludicrous at best. People who say such stuff deserve much ridicule. █
Permalink
Send this to a friend