12.05.15
Gemini version available ♊︎
The EPO is now buying 'megaphones' in the corporate media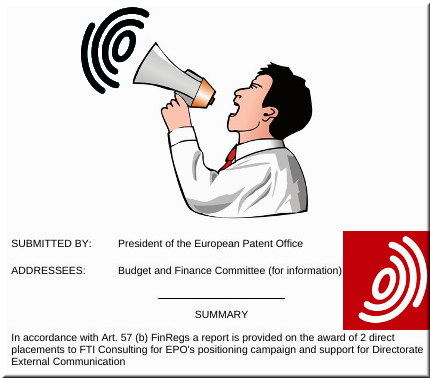 Summary: A look at EPO-leaning media coverage and a response to it, clarifying the EPO's real worry, which is a public that's properly informed by the media about the EPO's rogue management
AT THE end of last month we leaked evidence of media manipulation by the EPO. This hasn't been getting media attention, whereas the EPO's SLAPP actions against critics quickly became mainstream news [1, 2] (it reached the British press the day before the Dutch protest, whereupon we got contacted by journalists, the latest being from the BBC). The EPO now spends, on average, €2444 per day on reputation laundering alone. Think what they can do with such an obscene budget! And for a supposedly 'public' body. What a total waste of money, which goes to a shady company in the US. One would expect the media to at least say something about it (some try to inform journalists); a French politician did (Pierre-Yves Le Borgn').
"Think what they can do with such an obscene budget! And for a supposedly 'public' body."On Tuesday there was a massive EPO staff protest in the Netherlands and on Friday there was an even bigger protest in Munich, the EPO's main site. There is a lot to be angry about and now that the biggest ever protests take place (there is at least one more next week) we can expect more media coverage.
Based on this update from European authorities, secrecy will prevail. As IP Kat put it yesterday: "This is frustratingly vague and adds very little to what the Unitary Patent Regulation prescribes in Article 13. What the IPKat was hoping to find out is what percentage each country is planned to receive. Is this going to be revealed, or will it remain a secret?"
"Well, they already confirmed that the E-mail itself (the one which made them go ballistic) was authentic."What kind of democracy is this? It often seems like large corporations are the main beneficiaries here, at the expense of people. The media isn't helping in getting this point across. A week ago we saw an article titled "Microsoft Corporation Does Not Receive Special Treatment: EPO" (the previous headline said "EPO Rejects Accusations of Special Treatment for Microsoft", so we assume the editor changed it). Well, that's what they say, but leaked evidence contradicts them. Here is what the article said: "The European Patent Office (EPO) is now giving out legal threats, in response to recent allegations made against it, regarding maintaining a special cooperative relationship with Microsoft Corporation (NASDAQ:MSFT). The agency denies such accusations and says that it will not accept its staff being subject to such accusations. EPO is shifting to a more offensive strategy from the defensive one that it previously practiced.
"In October, Roy Schestowitz, along with his site Techrights, was the first to claim Microsoft was getting preference in its patent applications by the EPO. He published a leaked EPO internal email from February 16 that lists Microsoft's submitted patent documents, and asks examiners to give the applications top priority as soon as possible. The email's author and a senior member at the agency, Grant Philpott, mentioned of a "close cooperation project" with the software giant in the message."
Well, they already confirmed that the E-mail itself (the one which made them go ballistic) was authentic.
"They try to blame the messengers who speak out instead."The article continues: "Now that the agency has defended its position in the matter, it is aiming to go after the people who started allegations of this nature. Since the issue was sparked by Mr. Schestowitz, other blog posts made numerous accusations about the EPO tossing out patent applications submitted by small European businesses. The patent authority said that these allegations were not only false but detrimental to its reputation as a public servant."
Rightly so. If they have a reputation issue, it's because of the management. They try to blame the messengers who speak out instead. How pathetic is that?
"There's a good reason why we now call the EPO the European Private [sic] Office."Well, based on the EPO's actions as of late, it's now better aligned for corporate objectives, not public objectives. The public interest is hardly even something at the corner of the room, it's hardly a consideration, much like in Europe's copyright 'debates' (dominated by conglomerates, foreign monopolies/oligopolies, and their lobbyists).
The article correctly states: "The patent authority did not hesitate to issue legal threats to Mr. Schestowitz and his long-time running website. Some bloggers, who closely follow the patent and intellectual property industry, did not hold back to express their opinion of how they felt about the EPO's action and its legal threats to Mr. Schestowitz."
One person who seems to be EPO staff wrote sarcastically that "they just want to protect staff and their families…Ooohh, I see… " (that's their convenient excuse).
"This whole institution of just a setup of some few magnates and plutocrats, designed to perpetuate their power and wealth in Europe and beyond."Regarding the leaning to private interests, commenters who are likely not working for the EPO (just commenting on the above article) wrote: "The patent regulations are more business these days than an authentic public service [...] I think that they will get away with it. The authorities and the big companies always get away with it" (the EPO is turning private).
There's a good reason why we now call the EPO the European Private [sic] Office. It's run for private interests. In the coming weeks we are going to show that the EPO's roots are also poisoned or tarnished by private interests. This whole institution of just a setup of some few magnates and plutocrats, designed to perpetuate their power and wealth in Europe and beyond. They only need to pretend, in order to appease the masses, that they protect the 'little guys' or the lone inventors. █
"Religion is what keeps the poor from murdering the rich."
–Napoleon Bonaparte
Permalink
Send this to a friend