03.24.16
Gemini version available ♊︎
Making money without lifting a finger, so what's not to like?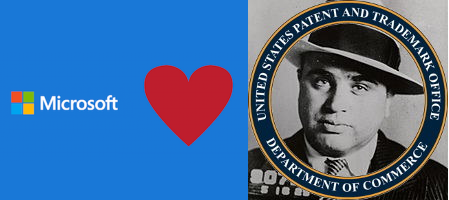 Summary: Microsoft maintains its Capone-like strategy ('protection money') in an effort to coexist with Linux… as its cash cow, taxed by software patents and secret settlements rather than actual justice
MICROSOFT has come under media fire for its patent attacks on Linux. There were new or renewed cases of extortion earlier this month and despite public backlash Microsoft has done nothing at all. It didn't even issue a refutation to the media.
MIP is writing about the patent Mafioso from Microsoft (horrible man that mercilessly goes after Linux users), who recently left, following Marshall Phelps (6 years ago).
"It's all about exercising control over the competition (using patent threats) and making money out of the competition (also using patent threats).""Horacio Gutierrez is to join Spotify as general counsel based in New York," MIP wrote. "He is general counsel and corporate vice-president of legal affairs at Microsoft, a role he took in July 2014 after previously serving as IP head at the company."
As we noted here before, he actually got promoted after he had started all that patent extortion, whereas Marshall Phelps left. Another person who was involved in this strategy, Brad Smith, got promoted half a year ago and there is no indication whatsoever that Microsoft will stop attacking Linux and Android with software patents. In fact, based on this new report from Andrew Orlowski, there may soon be another patent for Microsoft to extort/shake down/sue Android/Linux with. To quote Orlowski:
A recently published Microsoft patent application hints at future efforts to make Windows leap across the species boundary.

Windows already does so, in a way, with the Continuum feature.

Hook up a keyboard and a display to the phone, and it turns a phone into a PC, with the same binaries on the phone turning into a (sort of) fully-fledged desktop app.
As we pointed out a few weeks ago, Microsoft merely copied GNU/Linux (Canonical/Ubuntu) and now claims credit for it with patent applications. How disgraceful is that? It's all about exercising control over the competition (using patent threats) and making money out of the competition (also using patent threats). And they tell us Microsoft "loves Linux"… █
Permalink
Send this to a friend