04.06.16
Gemini version available ♊︎
Not the message below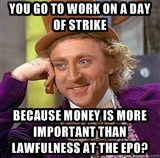 Summary: The Staff Committee and the initiator/s of the strike get a helping hand from SUEPO at The Hague, as quite a few SUEPO leaders have come under attack from EPO management in there
SUEPO's E-mail to its members says a lot. It complements what we wrote earlier today [EN | ES]. They really know how to rally EPO colleagues and ensure that the minority — those who still don't defend the representatives — would feel somewhat left out and find the courage to join the strike. SUEPO is getting the message across to more staff (those who are still on the fence or afraid to join the management's opposition) in the following way.
"In an E-mail to its members," told us one person "SUEPO The Hague had the following message today" (that's the day before the strike)
Dear SUEPO members,

We invite you to wear once again a solidarity T-Shirts today : Wednesday 6 April.

Why? Despite the publication of the AC resolution three weeks ago (click here), Mr Battistelli has not acted. So far

o Els and Ion are still dismissed;
o Laurent is sick but under a disguised disciplinary sanction (cut of his remuneration);
o Malika is still severely downgraded,
o Aurélien Pétiaud and Michael Lund too,
o three other Suepo officials from The Hague are in the line of fire.

Wear your T-shirt for a few hours, at least when you go for lunch and show your solidarity with your representatives.

We take this opportunity to remind that SUEPO is not the initiator of the call for strike. However the SUEPO Committee supports the claims of the petition "Lawfulness at the EPO" and invites you to show solidarity and strike on Thursday 7 April. The strike registration tool is now working.

Your SUEPO Committee The Hague
Remember that at least one SUEPO leader at The Hague came under severe attacks (causing collapses), allegedly for 'daring' to study whether staff was happy (it obviously is not).
Christian Kirsch from Heise has covered the strike and summarised as follows: "Mit einer eintägigen Arbeitsniederlegung wollen die Beschäftigten erreichen, dass Disziplinarmaßnahmen gegen ihre Vertreter zurückgenommen werden. Zudem soll ein Mediator zukünftige Verhandlungen mit dem Management begleiten." If anyone could kindly provide a human (not automated) English translation, that would be great.
It will be interesting to see how much awareness (e.g. press coverage) tomorrow's strike will generate. Board 28 will be paying attention. It does not have Battistelli looking over its shoulder and it will meet in about a week. █
Permalink
Send this to a friend