06.21.16
Gemini version available ♊︎
The impact of the EPO's 'lunatic/irrational/unpredictable dictator' strategy (or its notorious wrath plus SLAPP) likely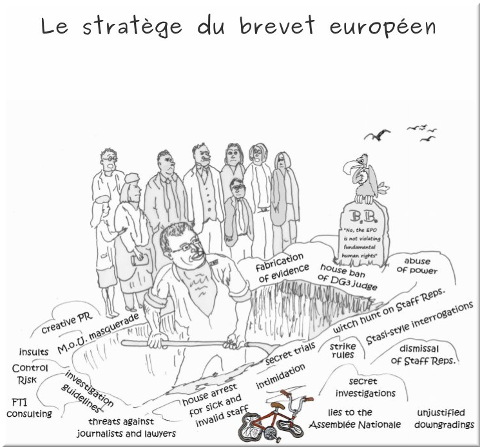 Summary: Free speech when it's needed the most (EPO scandals) needs to be respected; or why IP Kat shoots itself in the foot and helps the EPO's management by 'sanitising' comments
THE EPO's management may seem scary. It has already banned IP Kat before. We spent a lot of time defending that site by writing about the ban and alerting journalists about it, creating backlash that might have played a role in reversal of the ban (we don't know for sure, we can only hypothesise). The more people know about the EPO, the more likely justice and lawfulness are to be reached/restored.
We were rather reluctant to publish this post as we're not (and never were) wishing to nitpick on the site which helps EPO employees. Yes, we have our occasional criticisms. For instance, it is hosted on a platform (E-mail and blog) where Google spying is a lot more likely than in other sites and yet most comments and a lot of material go there (because anyone can comment there anonymously).
Yesterday I left a comment at IP Kat and it vanished. This happens to other people too, but they don't have a blog in which to write about it. Some tell me about this. I honestly don't know what goes on in IP Kat's mind/s and what happens behind the scenes, but maybe someone is afraid to publish anything that might anger the EPO's management after that notorious, short-lived ban. I am tempted to think that IP Kat was left with cold feet after that ban, but they had done this even beforehand, as people told me about that. If IP Kat is challenging or limiting the free speech of people wishing to comment, then it serves the EPO's agenda to a lesser degree, by limiting the visibility of particular opinions or information. I already spoke to IP Kat about it several months ago (amicably, not in a confrontational fashion) and clearly not much has changed. I spoke about it before, urging them not to censor comments, but it is still happening.
I generally do not comment on blog posts because of impersonators (as of 7 years ago), but yesterday I decided I should make the exception because I was bothered to see an unfair comment about SUEPO's head. I've been an activist for free speech and transparency — for quite a few years now as a matter of fact — and I believe in truth through rebuttal rather than outright removal/censorship. I left a comment in an effort to correct the record.
To IP Kat's credit, it did publish my first (of two) comment. This started with an anonymous comment that said, collectively: "We don't really care about what happened to Mrs Hardon here" (where the word "we" seems to allude to staff or readers in general). To quote:
We don't really care about what happened to Mrs Hardon here or what reason there was for nobbling the board, as Merpel says.

This is about obstruction of justice. This is about threatening a high court. These are pretty serious offenses anywhere.

The Office can't afford to leave these offenses unanswered.

To nobble: "to cause or force (someone) to do something that you want by offering money, making threats, etc". Try to do that to a court in your own country and see what happens.
One person quickly responded to the "We don't really care about what happened to Mrs Hardon here" part:
Actually, we do – because if the reason she was dismissed is that she contacted the accused member of the BoA, and at the end the President is unable to show that he did anything wrong, that the accuses against her should fall too and she should be reinstated.

Another reason why we care is that the strategy to get rid of them seems to be the same.

We care about Else, actually we really do.
Then, having read that while cycling at the gym, I could not help myself but comment for the first time. I wrote: "The actions taken against Staff Reps, including some in The Hague right now (to further cement atmosphere of terror top-down), began with Hardon, so of course that matters. It is offensive to suggest otherwise."
This comment did appear, but not my second comment, which spoke about the 'quality' of the so-called 'evidence'. It was a polite comment and there is pretty much no justification for deleting it. I don't have a local copy of that comment because I typed it on a cycling machine running Android, which basically means a public terminal with no detachable media.
I have been waiting to get the comment approved for more than half a day now, but it never showed up. In fact, later on another comment showed up (approved) but it was not mine. It said:
The potential "charge sheet" seems to be expanding – gradually but inexorably.

* deploying covert surveillance measures of questionable legality

* attempting to "nobble" a judicial body by means of alleged "threats"

* attempting to interfere with the course of justice by obstructing the hearing of witnesses

Anyone for an investigation ?

Perhaps if someone competent to carry it out can be found.

Watch this space but don't hold your breath …
I asked Merpel for a copy of my comment (which they refuse to approve apparently), but have not heard back yet. My guess is, they later might claim that they have lost it or suddenly found it, in order to save face (that's a common routine).
What is the bottom line? IP Kat censors comments. As a free speech advocate and enthusiast, I simply cannot support it. Over 35,000 comments have been posted in Techrights over the years (including harsh insults and threats against me) and I never deleted any of them, as a matter of principle. Quality control is not an excuse. Just remember that self censorship by fear is exactly what Team Battistelli wants; to do the job for him is undesirable. █
Update: It seems as though my comment was indeed deleted (it definitely made it through, see comments below). Strangely enough, I may need to wait before finding out who did this and why. Here is the correspondence about this:
Dear Roy

Thank you for your email.

If your comment was correctly posted, then it has been deleted because one of the IPKat moderators considered that it did not comply with our moderation policy:

http://ipkitten.blogspot.co.uk/p/want-to-complain.html

The IPKat comments moderation policy has been in place for many years, and unchanged in substance since long before Merpel started writing about the events at the EPO.

Blogger does not store such comments so I regret that we are unable to email the content to you.

Kind regards
With respect, I'm at a loss for words. That is very regrettable. We discussed this matter only a few months back. I thought I would get some assurances that people's free expression would not be impeded based on (in my opinion) what was often arbitrary if not agenda-motivated. People are rightly passionate about the subject and they need a forum in which they can be heard. The subject of legal liability for comments on one's article/s is still sort of 'in the air' in the US and I believe in the UK as well. So I doubt it's about legal safety; maybe it's fear of a ban (the EPO recently banned IP Kat for a day) or spoiling of one's business/professional ties with the EPO (some who write for IP Kat do have such ties).
As I recall it, it was argued that not deletion but moderation without publication was at stake. Now I learn that unwanted comments are basically just being permanently deleted, without as much as an E-mail trail/record (like notification of a new comment with its contents). It's like I just wrote my comment to myself.
Trying to reconstruct the comment from memory, as it was not particularly long, it went something like this (but shorter):
It is also worth mentioning that the evidence presented about the judge might not tell the whole story. The EPO's management already got caught lying about the disciplinary committee (e.g. its recommendations regarding dismissal and other punishments for staff representatives), so the alleged access to E-mail by means of screenshots isn't to be taken at face value. It is possible that these were acquired by means of parallel construction (look at the method [1]), whereby initial pointer/intelligence is obtained though other means (e.g. spy agencies or Google) and it then enables the management to set up surveillance like cameras or keyloggers at the 'right place', in order to help capture something and never mention where the initial pointer came from as it may have been illegally-obtained. This is common in the FBI and US DoJ, and it is the subject of very heated debate in the United States to this date. I should probably mention it's widely documented that CRG, which works with the IU, employs/contracts former Statsi staff (from Desa in Germany) and CRG itself is close to the British government.
[1] https://en.wikipedia.org/wiki/Parallel_construction
It is sad that pointing out such a thing is unsayable. I would like to know who deleted my comment and why. If this was not you, then it's possible that someone with very scarce knowledge of internal EPO affairs just took the initiative to purge comments, which I think is not responsible. How often does this happen to other people who have no facilities to complain (and must remain anonymous for their own protection)? I am an ardent proponent of free speech and any policy which deems the above unsuitable for publication speaks rather negatively about the platform or the site, in my humble opinion. Moreover, in this case, people's justice and careers are at stake. To eliminate such views can, in some loose kind of way, be seen an obstructing justice.
With great respect and admiration for your good reporting, I would like to see my feedback taken seriously and for the importance of free speech to be honoured, no matter what risks this may entail. The EPO is an aggressive organisation (at the top) and being too soft makes us vulnerable to its despicable methods. 'Sanitising' what may be viewed as 'strong' views (I don't believe the above is even strong) helps it maintain lawlessness at the EPO.
Kind regards,
Roy
Permalink
Send this to a friend