12.14.16
Gemini version available ♊︎
Steering policy in exchange for money, having acquired contacts and connections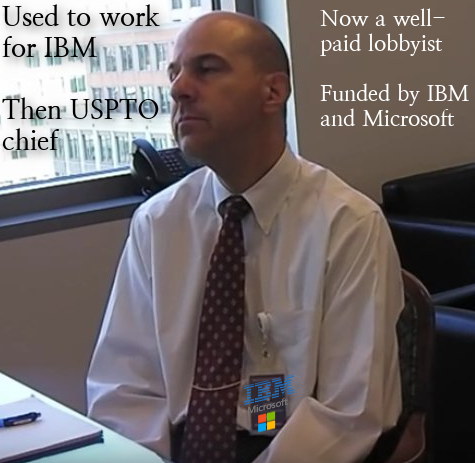 Source: David Kappos interview with Intellectual Property Magazine (2010), modified by us
Summary: IBM, David Kappos, Watchtroll and the rest of this software patents bunch as seen in the news and in forums this past week and half (policy-shaping echo chambers disguised as debates or "roundtables")
THE FORMER Director of the USPTO, David Kappos, came from IBM, one of the biggest patent bullies out there and also a worldwide lobbyist for software patents. It's therefore hardly surprising that after his career at the USPTO Kappos continues to promote all the worst aspects of a patent system. A lot of the current mess, including the very low success rate of patent lawsuits, can be attributed to this fool. How did he even get this job? Maybe some connections in high places and pressure on Obama or something…
"A lot of the current mess, including the very low success rate of patent lawsuits, can be attributed to this fool."Three years ago we said that the USPTO's software patents "roundtable" was rigged and last week we saw a similarly-rigged USPTO "roundtable" where no software developers were even present. It hardly ever gets any more farcical than this.
A few days ago we wrote about other new lobbying events that try to compel Congress to change the law in favour of software patents, in accordance with patent maximalists' Christmas wish list. The so-called IPWatchdog conference (we call it "Watchtroll") was truly a disgrace because again it's a case of patent law firms speaking about — not for — inventors. These firms want to gain at inventors' expense. Remember that Watchtroll is to patent news what Brietbart is to world news; its founder is a blowhard who habitually insults judges and smears PTAB with sexual connotations. Watchtroll tries to meddle in patent law by truly despicable strategies and for self gain, not for scholarly purposes or anything like that.
Patent maximalists like Kappos, as it turns out based on his new article at Watchdog, support this kind of horrible Watchtroll think tank. In Kappos' own words:
Recent changes to the U.S. patent system — emanating from both Congress and the courts — have pushed U.S. investment money overseas. To China, to be exact.

In his closing remarks to a recent Inventing America and IPWatchdog conference on dangers to the innovation economy, former U.S. Patent and Trademark Office director David Kappos said that in 2015, patent filings in China exceeded those of the next 20 countries.
What's noteworthy about this article is that here we have an IBM-funded former USPTO Director (now lobbyist for IBM) promoting software patents and then getting promoted by IBM's patent chief, Manny Schecter. To quote the alarmist, "Kappos: investments moving overseas in response to state of U.S. #patent law" (untrue).
We wonder when IBM will realise that it's a bad idea to pay a former USPTO official (who had worked for IBM beforehand) to be a software patents lobbyist. Institutional corruption is definitely what this is; that's a textbook example of it. Now that he is out of his lucrative job he converts influence and connections into money, on behalf of billionaires. It's a bit like revolving doors, except there is no direct affiliation (he operates via a proxy).
"If former officials are up for sale and they are meddling in the affairs of the Office, then it's a classic case of "pay to play" and unless we call out the culprits they will continue uninterrupted."As Benjamin Henrion put it, "this is propaganda at best."
Well, Schecter and IBM ought to know this because they are the ones who paid for this propaganda. They are still paying Kappos.
"Kappos is a lobbyist who needs lessons in basic economy," Henrion continued. "R&D done in China, good sold in the US" (indeed and moreover China is fast becoming a den of patent trolling).
The US patent system still suffers from a high level of corruption due to this man. If former officials are up for sale and they are meddling in the affairs of the Office, then it's a classic case of "pay to play" and unless we call out the culprits they will continue uninterrupted. █
Permalink
Send this to a friend