12.16.16
Gemini version available ♊︎
Even some large nations with not so many patents (and no consent to the UPC) recently got greased up by Benoît Battistelli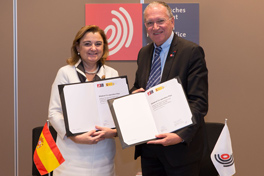 Summary: The Administrative Council of the EPO reaffirms its characterisation as a bunch of docile chinchillas by doing the unthinkable and trashing the appeal boards, which will be headed by a UPC-centric person (who "belongs to the patent establishment," as the President of FFII puts it)
THE EPO is in crisis and the EPC in its current form is insufficient and inadequate for saving it. Battistelli allegedly uses EPO money to buy votes, exploiting the lunacy which is giving every tiny nation the same democratic weight as large nations. As we put it last night, the Administrative Council of the EPO is now compromised and complicit. It's just an extension of Team Battistelli (at least parts of it, especially small nations).
As one new comment put it, "within the EPO [...] Mr. Battistelli has the final word on any result." Here is the comment in full (LP is Prunier, IB is Brumme, and EH is Hardon, all of whom represent EPO staff):
As far as I interpret the results and feedback given, at least LP is well funded for now by his colleagues.
Yes, a more formal and possibly obligatory scheme would be preferred, but those schemes have the drawback of attracting the eyes of the financial authorities, and the need to pay taxes (income taxes/gift taxes) when certain amounts of support are exceeded.
I do not know how well the system works for IB.
Nor have I heard anything about EH's financial situation.

I also agree with your latest sentence, but having it "within the EPO" will always mean, that Mr. Battistelli has the final word on any result.
The vote on Haar was a disaster and we believe we were the first to cover it. "It's decided," one later comment said. "Oh no."
"They have only themselves to blame for being such a bunch of "poesjes"," one person said. "Not a whimper of protest … like lambs to the slaughter …"
So Battistelli's war or retaliation against the Boards (for challenging his authority) carries on…
How many more auditory functions, as originally envisioned by the EPC, will Battistelli attack while maintaining the perception that he obeys the EPC? Battistelli has already crushed at least 4 such functions by our count (unions, Audit Committee, BoA, AC).
Today, confirming what we got yesterday afternoon (published later), the following showed up in the comments:
Result of the AC voting on moving the BoA to Haar:

Yes 21 BE DK MC PT AL BG GR ES HR IS MK RO SM CY MT LT FI LU LV SE RS
No 7 GB IE LI CH FR ML NO
Abstain 7 CZ EE IT PL SI DE HU

It´s good to have so many countries who hardly ever see a patent deciding the fate of the EPO.
That last remark is similar to last night's remark. We hope to get our hands on the rationale behind each country's "Yes" vote. Leaks may be needed.
Here is someone having a go at Mr. Ernst, whom some sources believed would replace Battistelli (he can still be his successor):
Also nice to see the host state Germany taking a principled position …
BA [sic] ABSTAINING !!!

Thank you Mr. Ernst.
The following makes an observation that we thought about last night:
According to Techrights knows the votes: 21 Yes, 7 No, 7 Abstain.
Spain being the biggest country to vote yes, NL, GB, FR vote against, DE abstain.
What happened to the old "no vote without the support of the big three and the host countries"? Here we have the opposite….
Regarding Spain, we suggest our readers revisit the following recent series:
We have not yet seen a single article about the above news. Nothing!
Novagraaf is currently distracted by nonsense "news" from EPO, or attempts to distract from erosion of patent quality at EPO. The same goes for LSIPR, which once again gives the EPO a platform.
No wonder people at the EPO are upset. Has the media been silenced by FTI Consulting or something? Except when it comes to puff pieces that serve the EPO's management? █
Permalink
Send this to a friend