01.19.17
Gemini version available ♊︎
Law is very slow to evolve, but under Lee (on the left below) it has evolved nicely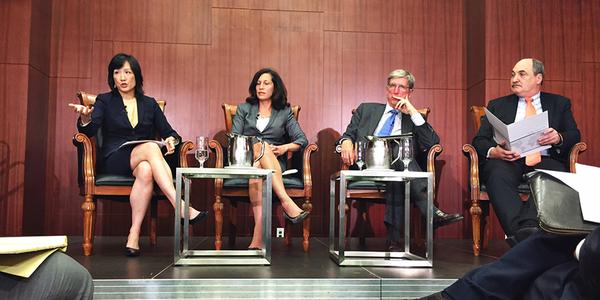 Summary: The future of patent reform, i.e. tackling overpatenting and patent trolls, looks somewhat more promising with today's confirmation of Lee's 'extended tenure' at the Office
THE USPTO remains in fairly safe hands with Michelle Lee in charge. Despite some worrisome reports of rumours that she was leaving earlier today IAM wrote: "BREAKING NEWS – IAM understands an announcement could be made today that Michelle Lee will remain as USPTO Director in Trump administration."
Shortly thereafter it published an article about it and it says the following:
Michelle Lee set to remain as Director of the US Patent and Trademark Office under the Trump administration

Well-placed sources have told IAM that the USPTO could announce as early as today that Michelle Lee will continue as the agency's director under the Trump administration when the new President takes office following his inauguration tomorrow. If confirmed, the reappointment would not be subject to approval from the Senate.
Lee has helped make the USPTO "Great Again" by improving patent quality and tightening scope, unlike David Kappos, her predecessor who now receives money from big corporations to lobby for the USPTO to get worse again. Shame on him. Never again!
In the mean time, the Wall Street media says that infringement litigation figures — not just over patents but also over copyrights — are down sharply. The gist of it:
Intellectual property infringement complaints in U.S. federal courts dropped in 2016 from a year ago, driven by declines in patent and copyright infringement claims, Bloomberg Law data shows.

Patent infringement filings totaled 4,624 complaints in 2016. That represented a 22 percent drop from a year earlier, as recent case law and regulation have made it tougher for patent licensing companies, also called non-practicing entities (NPEs), to mount and win legal fights. Patent infringement complaint filings rose steadily starting in 2010 and peaked in 2013, when 6,314 cases were filed in federal courts.
We pessimistically thought that Trump would make the patent litigation mess "Great Again" (he still can, but with Lee in charge even after his inauguration it remains to be seen). We don't know who was behind the decision to keep Lee in charge and whether that can change after Trump's inauguration (we hope not). These are somewhat political appointments and today is the Democrats' last day in charge.
Speaking of litigation numbers going down (under Lee's watch), the trolls' business is declining and Detkin's move away (partly away) from Intellectual Ventures is certainly a good sign. Even a trolls-funded 'news' site, which habitually grooms Intellectual Ventures, tacitly that admits patent trolling is an iffy/dying business. See this week's article:
But it was Detkin's move that looked particularly significant. It's not an exaggeration to say that the IV co-founder and Rivette are two legends of the patent transactions and strategy world. As our story made clear, the pair estimated that they have been behind around $5 billion-worth of IP-related deals. Having scaled back his IV workload in late 2014, Detkin will continue to spend 50% of his time working for the patent giant, while joining forces with Rivette will enable him to focus more on advising larger companies on their IP strategies.

These moves come at a time when we're seeing a huge shakeout in the licensing industry. Over the last few years large numbers of senior executives, some with very respectable track records have been on the move, in many cases not of their own volition as assertion strategies have struggled. With that in mind a comment last week from Rivette stood out in particular. "It's not just about focusing on monetisation anymore," he remarked. "Instead it is a lot more nuanced than can we sue or sell."
Trolls are more reluctant to sue after Alice. See what recently happened to Intellectual Ventures at the Court of Appeals for the Federal Circuit (CAFC). It lost so badly that judge Mayer eliminated not only Intellectual Ventures' software patents but also — by extrapolation/extension — almost all software patents out there. █
Permalink
Send this to a friend