USPTO Director Michelle K. Lee Reportedly on Her Way Out, US Patent Reform Put on Hold
Dr. Roy Schestowitz

2016-11-19 19:50:44 UTC
Modified: 2016-11-19 19:50:44 UTC
Michelle Lee (below on the left) wanted patent reform, but Donald Trump will quite likely crush it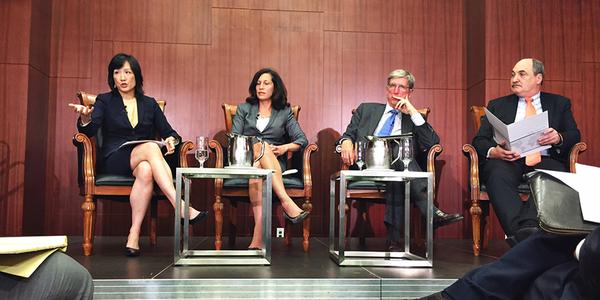 Summary: Another signal that whatever progress was made at the USPTO (tightening patent scope among other improvements) could soon be crushed by a Republican administration
THE US patent, copyright, trademark etc. system is likely to change under the new President. He has some rather notorious experience trying to tilt the trade marks system to his own advantage, being a reckless billionaire who was born very rich and privileged. Protectionism (perpetuating might, power, and money) comes naturally for Trump.
An opportunity to advise the
USPTO
is
reportedly being given
, but megacorporations and their lobbyists (and/or lawyers) will surely dominate the proposals and ensure that virtually nothing changes for the better.
"Protectionism (perpetuating might, power, and money) comes naturally for Trump."As expected, the new President will herald an era for billionaires (like Donald Trump) and their copyright/trademark/patent monopolies. IAM thinks that patent reform will be put on hold. Here is why: "In her keynote speech USPTO Director Michelle Lee predicted that once patent reform did come back on the agenda it would be more targeted than previous, more comprehensive proposals."

According to this article from IP Watch: "Now in her final weeks in office, United States Patent and Trademark Office Director Michelle Lee today looked back over the Obama administration's work on patents and made predictions for the next administration due to take over in January. She hailed the outgoing administration's successes and said to expect a continued focus on a strong IP system, legislative changes on hot button issues but not right away, and continued engagement around the world."

Here is what Wall Street's media said: "President-elect Donald Trump's pick to head the Patent and Trademark Office will likely be very different from Director Michelle K. Lee, who was Google's top patent attorney before heading the PTO."


"Under Kappos' leadership the USPTO granted terrible patents and led to a mess that only in recent years (post Alice, Mayo and AIA) started to improve a bit."Whoever is picked next, it hopefully won't be yet another corporate lobbyist turncoat like David Kappos. Under Kappos' leadership the USPTO granted terrible patents and led to a mess that only the recent years (post Alice, Mayo and AIA) started to improve a bit.

Found via Patently-O prior to all the above was this publication from the USPTO itself (directy).

MIP is meanwhile chatting with the commissioner for trademarks at USPTO. It doesn't seem like she too will be removed from her position. ⬆